Get to know IPF's Larry Lentz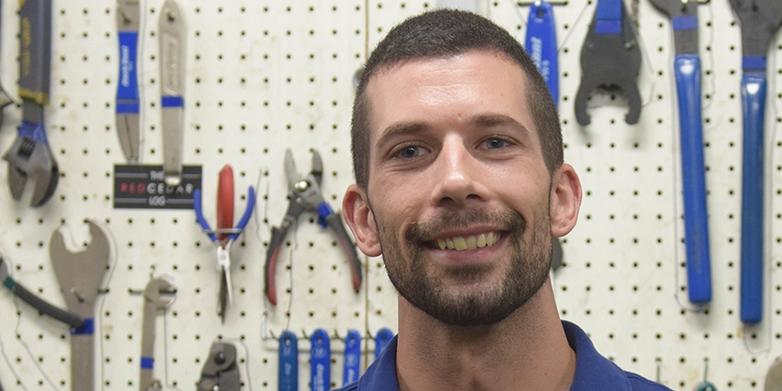 July 10, 2018
Passion can grow in many ways. For Larry Lentz, IPF Bike Shop manager and head mechanic, it grew from a childhood experience.
"There are many things I have been blessed with experiencing in my life," Lentz said. "One thing I occasionally share to inspire people to show selflessness is how I received a bike at a children's shelter when I was about seven or eight years old. It changed my life and quickly became a passion."
Lentz has been working in the bicycle industry for over a decade now and with MSU for about three years. His key responsibilities are to monitor the quality, efficiency and turnover of repairs as well as the safety of everything that happens in the shop.
"I do the work I do for the shop itself, and for the bicycle industry," he said. "I do it for each and every individual that walks through the door or places a call needing help."
His favorite part of his job is what he has to offer through his experience and passion. He believes he can easily improve things as long as others are willing to put in work at the shop, and they do.
"I like hard work," Lentz said. "So much so that I decided to join the Marine Corps. Sadly, it was short lived after a pre-existing back injury gave me trouble and rendered me a liability. But since being home, I use what I learned in most aspects of my life."
Lentz hopes to open his own shop one day, but for now, he enjoys helping at MSU.
"I am one for a challenge, and improving this shop is definitely that," he said. "Also, many of the student workers have said thanks for being hard on them and teaching them at a high standard. That's a pretty great."