Grand Rapids Innovation Park - Radiopharmacy Build-out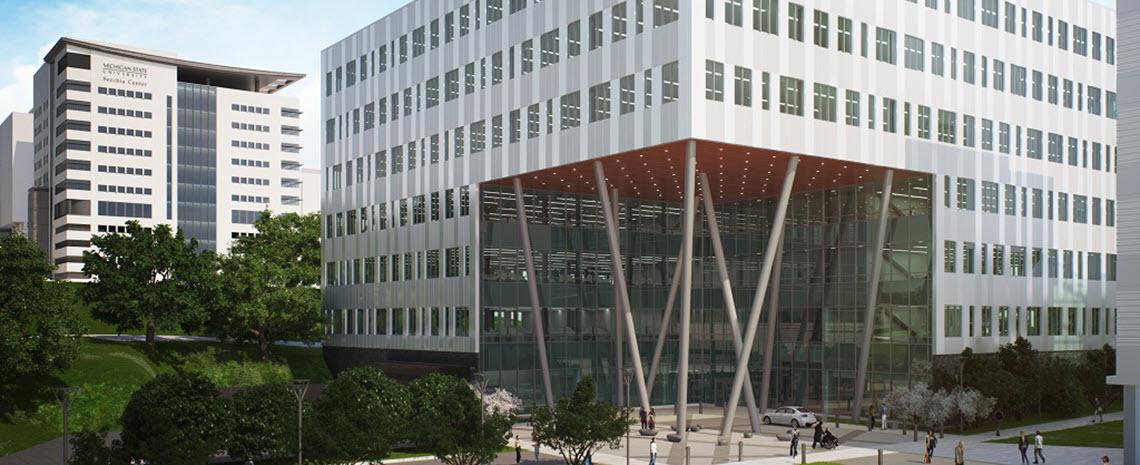 Project Information
Phase
Background
At its December 14, 2018 meeting, the Board of Trustees authorized the Administration to proceed with the Grand Rapids Research Center Phase II project (GRRC Phase II).
GRRC Phase II comprises a public private partnership to develop the remainder of the site owned by MSU on which the Grand Rapids Research Center is located, and together with the GRRC, creates the Grand Rapids Innovation Park (GRIP).
MSU entered into a ground lease with Health Innovation Partners LLC (HIP) on May 31, 2019, pursuant to which HIP will design, finance, construct, and operate an approximately 200,000 square foot Medical Innovation Building (MIB), along with a parking structure on the GRIP site.
At its February 15, 2019 meeting, the Board authorized the Administration to lease space in the MIB to be used by the College of Human Medicine (CHM) for research office administration, computational research/ machine learning/ AI space, office hoteling space for visiting faculty and research partners, along with conferencing and non-wet lab collaboration space for other MSU colleges.
The College of Human Medicine anticipates that the radiopharmacy lease will be approximately 12,000 square feet in the MIB. The MIB is anticipated to open in the fourth quarter of 2021. MSU will sublease the radiopharmacy to a private industry collaborator to operate the facility and to secure the NRC and FDA required licensing. MSU researchers from Grand Rapids and East Lansing will have access to the radiopharmacy to conduct and expand their research. First year rent will not exceed $25.41 per square foot NNN with an annual escalation not to exceed 3% per year, with the lease costs passed to the subtenant.
The square footage of the CHM lease will be finalized in 2021 based on needs and partnership synergies that develop during the three-year construction period.
Goals
The authorizations in this resolution will allow CHM to realize an additional opportunity to utilize space in the MIB made possible through a donor gift.
The gift will fund the establishment of a radiopharmacy that will serve as the foundation for a new Molecular Imaging and Translational Theranostics program.
This program will provide groundbreaking, world-class research leading to transformative health care related to oncology, neuroscience and mental health.
Schedule
Construction start: May 2020
Ready for occupancy: June 2021
Budget
$15 million, including a $1.5 million contingency
The lease, equipment, and leasehold improvements will be funded from gifts and may include debt financing for certain capital costs with debt repayment from gifts.
Capital project number