T.B. Simon Power Plant R.I.C.E. building original construction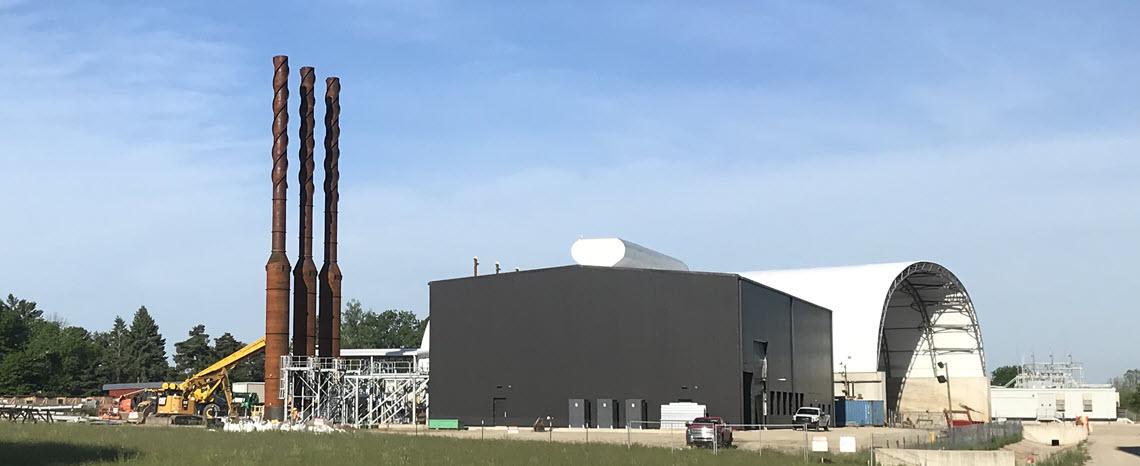 Project Information
Phase
Background
MSU's T.B. Simon Power Plant has provided cogenerated steam and electricity to the East Lansing campus for more than five decades. This cogeneration facility continues to provide competitive financial advantages to MSU relative to Big Ten peers and other Michigan universities, and has a proven record of unsurpassed reliability for providing electrical power and steam to campus.

The original generation equipment is almost 60 years old, conventionally considered the end of its useful life. Maintenance costs for outdated boilers and turbines are on the rise.

Changing technology allows MSU to consider a different approach for the next generation of power production. There are technical advances in electrical and steam generation equipment, improvements in the nation's natural gas infrastructure, and lower prices for energy storage solutions. A carefully balanced set of strategic investments will enable MSU to modernize its central power plant, save energy and significantly lower costs.

Changes in campus demand for electricity and steam have resulted in sub­optimal operation of our existing cogeneration plant. The demand for electricity will continue to rise much faster than for steam, thus moving the Power Plant's generation equipment further and further away from the balance that is optimal for efficiency. This project addresses the electric generation side of the equation with the installation of Reciprocating internal combustion engines (RICE). Installing separate electric and steam production equipment will result in higher overall plant efficiencies by reducing excess steam production in the existing plant to generate electricity. This will reduce fuel expense and will further reduce emissions of CO2 (carbon dioxide).

RICE represents the best balance of cost efficiency, reliability, and sustainable electrical generation among currently available solutions. RICE is more responsive than the existing cogeneration equipment and will help firm solar array production during rapidly changing cloud cover. A balanced set of strategic investments, including RICE, will enable MSU to modernize, meet changing needs, and lower costs.
Scope
The project will add natural gas-fired simple cycle RICE and associated balance­-of-plant equipment at the existing T.B. Simon Power Plant.

The full load electrical output capability of the facility shall be a nominal 27 megawatts, accomplished through the use of three RICE units with "white space" for a future fourth engine.

These units will be in an unmanned facility controlled remotely from the main plant with the exception of inspection and maintenance.
Schedule
Construction start: June 2019
Ready for use: December 2020
Budget
$47 million, including an $817,000 contingency
The project will be debt financed with debt repayment from the general fund - utilities.
Construction Junction progress update
Capital project number