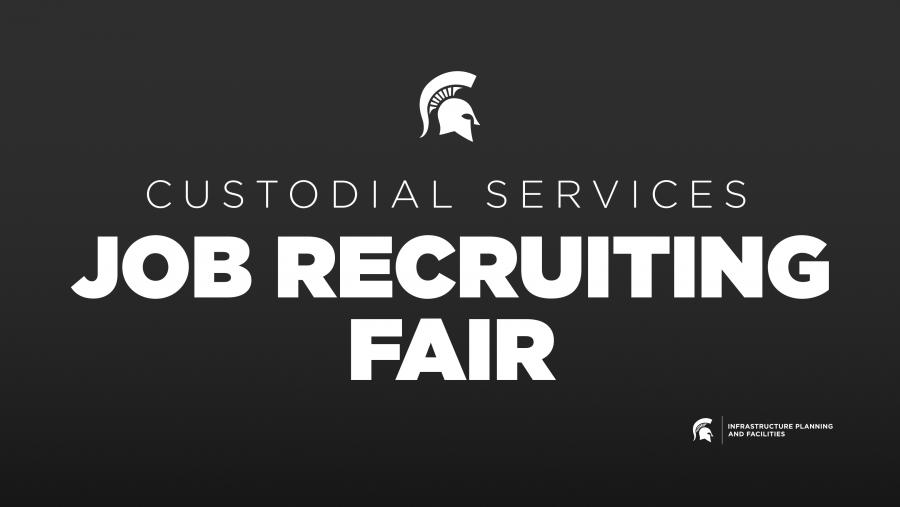 Custodial Services Fall Job Recruiting Fairs
Custodial Services is looking to fill many open positions! Come visit them at one of their job fairs this fall to learn more and apply on the spot. 
Location: IPF Building, 1147 Chestnut Road, Suite 39, East Lansing, MI 48824. Parking available in the large lot (59) on the east side of the building. Enter through Custodial Entrance. 
All fairs are on Monday afternoons from 4 p.m. to 6 p.m.
Fair Dates:
Sept. 26
Oct. 3
Oct. 17
Nov. 7
Nov. 21
All Staff Full-time, Temporary and On-call Positions from careers.msu.edu
(See MSU Careers website for all current position postings; below may not be a complete list.)
Building Services - Maintenance Services Mechanical
Building Services - Building Performance Services
Surplus Store & Recycling
Full, Part-Time, On-Call, and Temp Employees
Benefits

Access to MSU Intramural (IM) Sports Facilities (IM Sports West, IM Sports East, IM Sports Circle)
On- and off-campus employee discounts
Voluntary tax-deferred 403(b) Supplemental Retirement Program (SRP)
Joining our team means becoming an essential part of a global university dedicated to advancing knowledge and transforming lives. Our work helps Spartans change the world.
---

IPF offers many opportunities for students to gain valuable work experience.
(Go to Handshake website for all current student postings; below may not be a complete list)
Maintenance Services:
Mechanical Services - Maintenance Assistant II #2305045 ($13.26/hour)
Structural Services - Maintenance Assistant II #2305332 ($13.26/hour)
Electrical Services - Maintenance Assistant II #2304898 ($13.26/hour)
Custodial Services:  
Student Custodian, 4 shifts (all $15/hour, 20 hrs/week): 

#6385641  4:30-8:30pm M-F
#6385629  6:30-10:30pm M-F
#6385544  9:00pm-1:00am M-F
#6385608  10:00pm-2:00am Su-Th

Custodial On Call Worker #6385494  5-9am M-F ($15/hour)

Custodial Event Worker #6385570 ($15/hour)
Transportation Services:
Student Maintenance Assistant I Service Garage #726469 ($12.50/hour)
Landscape Services:
Student Grounds/Horticulture Assistant II #6147063 ($16.50/hour)
Surplus Store and Recycling Center:
MSU Recycling Student Assistant #451410 ($12/hour)
SSRC - MSU Bikes
Student Maintenance Assistant #4326746 ($12/hour)
Support Services - Capital Projects Accounting
Student Clerical Assistant II #

6824095 ($15/hour)
Building Performance Services
Central Control - Student Technical Assistant I, #6415533 ($13.66/hour)

Technical Assistant I, #2991688 ($13.66/hour)
Benefits for Students
Benefits

Real-world career experience in landscaping, planning and design, real estate, safety, construction, engineering, HR, finance, maintenance, mechanics, communications and more!
In 2004, Mary Jane and Theodore B. Simon, both graduates and life-long supporters of MSU, created an endowed scholarship fund to provide financial support for IPF-employed undergraduate students preferably majoring in Business or Engineering. All majors will be considered.
To qualify, you must have a 3.0 GPA or higher while being a full-time student, have documented financial need (determined by the MSU Office of Financial Aid), have a recommendation from a full-time IPF employee where you work, and be a student employee at IPF for more than a year. These requirements must be met each semester for up to three years. This is a renewable scholarship that will be applied to tuition costs.
Your completed application must be submitted prior to the annual deadline to be considered