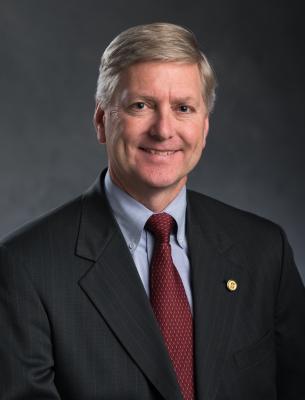 Dan Bollman
Vice President for Strategic Infrastructure Planning and Facilities
Dan Bollman oversees the functions of the Infrastructure Planning and Facilities unit. Bollman, a registered professional engineer with decades of experience in design- and construction-related activities, is the Vice President for Strategic Infrastructure Planning and Facilities. His most recent previous position was director of Planning, Design and Construction, where he was responsible for all estimating, design and construction activities on campus related to construction of new facilities, renovations, maintenance and repair, infrastructure and landscape. The annual construction volume for projects on campus ranges from $100 million to $150 million.  
After graduating from Michigan State University with a bachelor's degree in civil engineering, Bollman spent five years managing the construction of major projects with the United States Naval Civil Engineer Corps. He then returned to MSU to work in various capacities within Planning, Design and Construction before becoming director.
Bollman holds a master's degree in resource development, is a LEED Accredited Professional and a Certified Educational Facilities Professional. He is active in the Construction Owners Association of America, Association of Physical Plant Administrators and the National Society of Professional Engineers.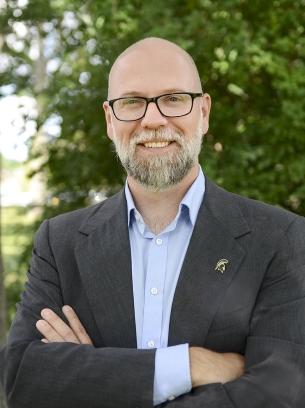 Dave Brewer
Director of Building Services
Dave Brewer, Ph.D., oversees operations for Maintenance Services, Building Performance Services and Project Services.
With more than 10 years of facilities experience, Brewer was previously the assistant and interim director for Housing Operations at The University of Alabama. He also served The University of Alabama in staff training, summer operations engagement, curriculum development and as a course instructor.
Brewer's bachelor's degree in organizational communication is from Central Michigan University. His master's degree in secondary, adult and higher education is from Grand Valley State University, while his Ph.D. in mass communication is from The University of Alabama.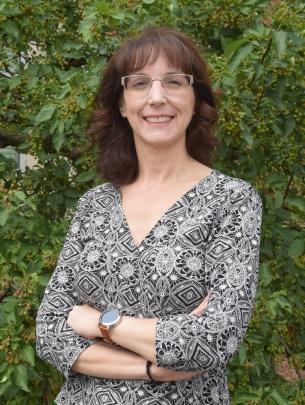 Sherri Jett
Director of Power and Water
Jett carries a variety of responsibilities as the lead for MSU's Power & Water department. As a business manager for the power and water plants, she oversees the utility's entire infrastructure. From the business side, she steers efforts in developing capital and operating expense budgets for the fiscal year, and from the operating side, she manages a team to keep power, steam and water supplied across campus.
Jett holds a Bachelor's of Science degree in chemical engineering and is a Licensed Professional Engineer in the State of Michigan. She attended MSU for her freshman and sophomore year before transferring to the University of Virginia to finish her degree.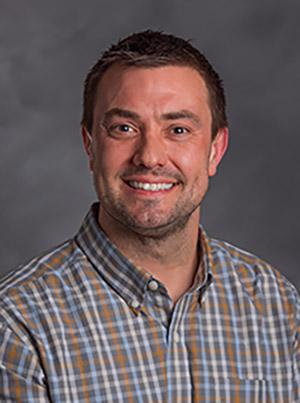 Adam Lawver
Director of Campus Services
Adam Lawver provides leadership and strategic vision for Custodial Services, Landscape Services, Surplus Store and Recycling and Transportation Services.
Lawver's goals include helping employees and campus customers advance their knowledge and transform their lives through MSU's mission, and to create a work climate that promotes and recognizes diversity, life-long learning and the achievement of results. He believes that people should experience an aesthetically pleasing, safe and sustainable campus environment.
Lawver is a national Baldrige examiner, licensed landscape architect and has held multiple roles at MSU beginning as a student employee. His most recent position was the interim director of Landscape Services. Lawver has an MBA in Integrative Management, Master of Science in Construction Management and a Bachelor of Landscape Architecture, all from MSU.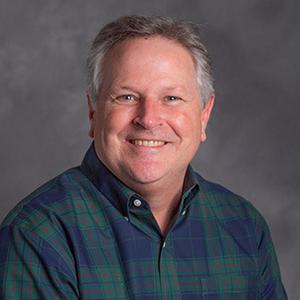 John LeFevre
Director of Planning, Design and Construction (PDC)
LeFevre oversees that Planning, Design and Construction teams that deliver major projects for the university, such as the Music Building addition, Business College Pavilion and Interdisciplinary Science and Technology Building.
LeFevre last served as the design administrator within PDC. Before returning to MSU in 2011, he was the senior associate and vice president of Fishbeck, Thompson, Carr and Huber, Inc. from 1989 - 2011. An engineer by trade, LeFevre has a Master of Science degree in civil engineering from MSU.  Following graduation from the College of Engineering, he worked as an engineering student and as a professional engineer on campus for several years.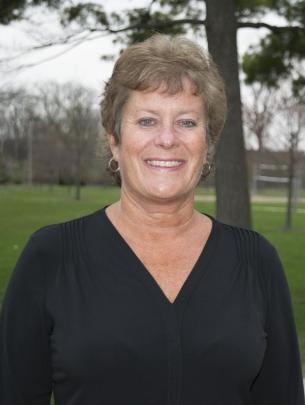 Jennifer McManus
Human Resources Manager
Jennifer McManus is the Human Resource Manager for IPF. Her area supports IPF as a strategic partner in Unit Strategy initiatives, procedure, policy administration, compliance and statistical metric reporting.
She works to strengthen employee development, an IPF strategic objective, by creating a pipeline of T-Shaped individuals through the employee life cycle touch points: recruitment, onboarding, performance & training, retention and succession planning.
McManus leads the Workforce Engagement Subcommittee which defined and developed the IPF T-Shaped competencies. She represents IPF and the University in contract bargaining, employee union grievance matters, and organizes and implements unit training initiatives and special events focusing on the employees of IPF.
McManus holds a Bachelor's degree in Psychology and a Master of Science in Administration from Central Michigan University. With 27 years of experience at MSU, McManus has been a valued member of not only IPF, but also Residential and Hospitality Services. She is a Certified Human Resource Specialist and serves on many committees in her field.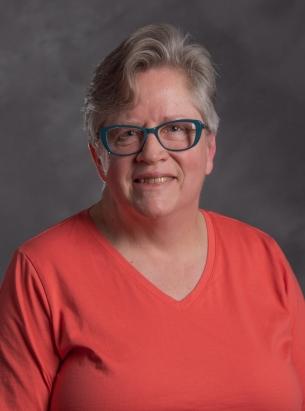 Barb Wilber
Support Services Manager
Barb Wilber has worked for multiple departments during her career at MSU. Wilber began at the MSU Physical Plant as a student gardener and then as a student assistant in Maintenance Services. Other responsibilities have included lawn care, construction project management, delivering internal mail, managing the unit's budget, operating building environmental systems, reading utility meters, supervising the Dispatch Operation and serving as a unit representative on a variety of university-wide committees.
Wilber earned her building construction management degree while on educational leave between 1993 and 1995. Upon returning to MSU, she represented the university as the construction project representative on the MSU College of Law building project. Other notable efforts include growing the Central Control Operation and developing use of energy management systems by skilled trades staff.