Custodial Services staff recognized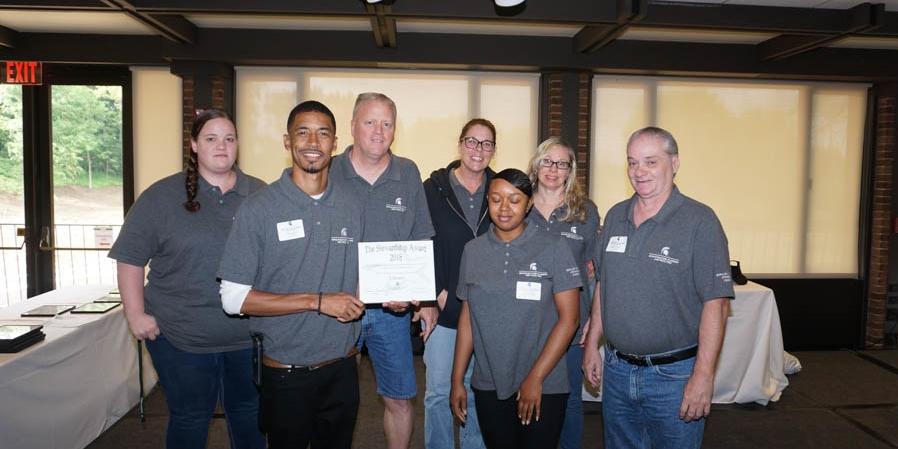 July 19, 2018
Nearly 50 awards were given out to IPF custodial staff at the 38th annual Custodial Training and Recognition Event for accomplishments ranging from low use of sick time to outstanding building crews.
The spirit of this event, which began in 1980, is sharing values with newcomers and recognizing team members' service, dependability, stewardship and continuing of education.
"Our team does not routinely report out of a common shop, so getting together in a setting where new members can be introduced to the family and where old friends can catch up in a fun environment is critical to communicating our values," said Brandon Baswell, service manager.
A total of 39 staff members were recognized for service awards. Custodians Byron Masso and Mike Hanson were also recognized for achieving 40 years of custodial service this year.
A peer-nominated "Living the Values" award was introduced this year. Fifteen full-time and temporary employees and nine students and on-call employees were nominated by their coworkers for this award, recognizing stewardship, service excellence and innovation during the course of their everyday work.
Custodians Art Aseltyne, Jody Marble, Larry Jones and Sierra Lara were nominated by the supervisory team to join the Custodial Innovation team and participate in projects and visioning for the department.
Congratulations Custodial Services! To view photos from the event visit the IPF Facebook page.