Get to know IPF: Mark Rokita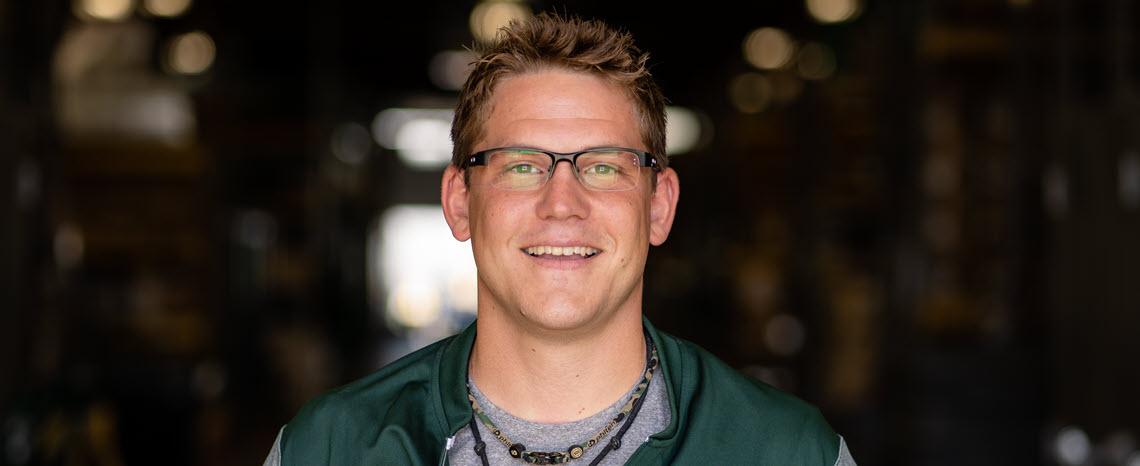 Anthony Yuhasz
September 8, 2020
Combine softball, chickens, criminal justice, hiking, kayaking, coaching, books, philosophy, law, carpentry and the Yankees and what do you get? 
You get Mark Rokita, renaissance man and 10-year veteran of IPF who has worked his way from student employee to Set Up Crew operations supervisor, with a whole lot of experiences in between. 
"I started as a student worker in the Tool Room, then Materials and Logistics, the Carpentry Shop and finally Safety and Security Services," Rokita said. "Then I worked in Set Up for three-and-a-half years as a temp, a year-and-a-half as a full-timer, and most recently as operations supervisor."  
He added, "After graduation I really wanted to continue working for IPF because of the relationships I had built and a true passion and belief I had developed in the importance of IPF to MSU."
His rise was not due to luck or circumstance. Rokita has proven himself time and time again to be a hard-working, knowledgeable and compassionate team member – in whatever job he's done. 
"In my current position, I manage the Set Up Crew and Building 210/Cold Storage operations," Rokita said. "It involves a great deal of communication with our campus partners – before, during and after the work is complete." 
He is also responsible for work scheduling, job estimation and warehouse receiving and management. 
"My team works outside, in all campus buildings and with all the trades," he said. "I love that we have constant contact with so many departments, faculty, students and visitors – we really do help keep MSU running."  
Outside of work, Rokita has a wide variety of interests including playing softball and golf, kayaking, travelling and hiking, and he's also a big reader. He has also coached baseball at Holt High School for the past seven years and is a devoted New York Yankees fan. 
"I'm also an animal lover – I have two chickens named Tuna and Pepper, two dogs named Bronx and Capone and two cats named Turtle and Munchie," he said with obvious affection. 
When asked about the success he's had at IPF, Rokita had this to say: "If you are willing to work hard every day, you can and will find your fit. MSU offers too many resources and connections not too. You must look, reach out and put in the work."