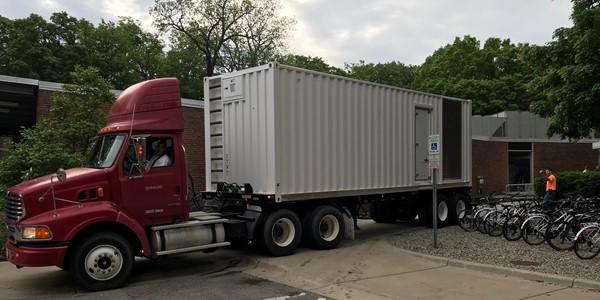 June 4, 2019
In the early hours of Thursday, May 30, electrical service entrance equipment at Owen Hall failed, causing a partial building power outage. A short time later, Team IPF was on the scene deploying their large, mobile electrical generator known affectionately as "Big Mo."
This flatbed-mounted generator supplies up to 800,000 watts of power, operates on diesel fuel and can run at full load for 24 hours before needing refueling. The generator is dual voltage rated to match the varying needs of the campus, and is capable of simultaneously powering two normally loaded campus residence halls.
While the generator is an awesome piece of equipment, without the skills of many Team IPF members, it might as well be just an enormous paperweight. The generator requires routine maintenance, trained operators, logistics support including trained CDL drivers, multiple levels of power cabling and a high-voltage utility team trained on its safe deployment.
All of this came together in harmony the morning of May 30, when the IPF electrical team seamlessly energized Owen Hall, and demonstrated to our campus partners the value of Team IPF working together in response to emergencies.
"Our ability to respond to emergencies and situations like this is probably our greatest strength," said Sabrina Hebeler, IPF chief of staff. "I often tell others that when I've had the opportunity to see the IPF Team in action during these types of situations, it's one of the purest forms of teamwork – all of the politics and other stuff fall away."
The acquisition of "Big Mo" began in 2015, when the IPF Emergency Team identified the need for a large generator that could be deployed quickly during critical events, with the capacity to power an entire facility.
"By acquiring the right equipment and ensuring that IPF staff members are trained in its deployment and skilled in its operation, we are able to keep campus operating when failures occur," said Building Services planner/inspector/analyst III, Scott Kyes. "The exceptional service provided this morning for the MSU community was not accomplished by accident, it was the result of sound decision making and advance preparation."