Behind the Scenes @ MSU: classroom tech carts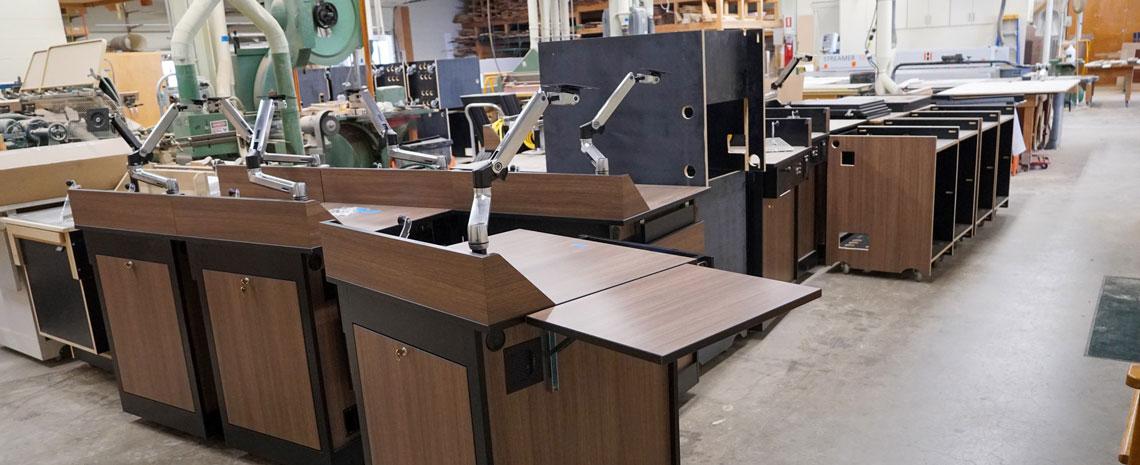 Danielle Fowler
August 25, 2022
This piece is part of an upcoming series which highlights the "everyday" work IPF does to support MSU's teaching, learning and research missions.
MSU's tech carts are a common sight in classrooms all throughout campus. But did you know that all of our tech carts are made right here at the IPF Building?
Creating MSU's tech carts is a collaborative process between IPF and MSU IT Services.
First, IPF receives an order for tech carts from a department on campus. IPF Materials & Logistics orders the necessary parts and, after verifying the customer's choice of laminate and any other modifications, the carts go into production in IPF's Carpentry Shop. Each piece is made by an IPF cabinetmaker on site.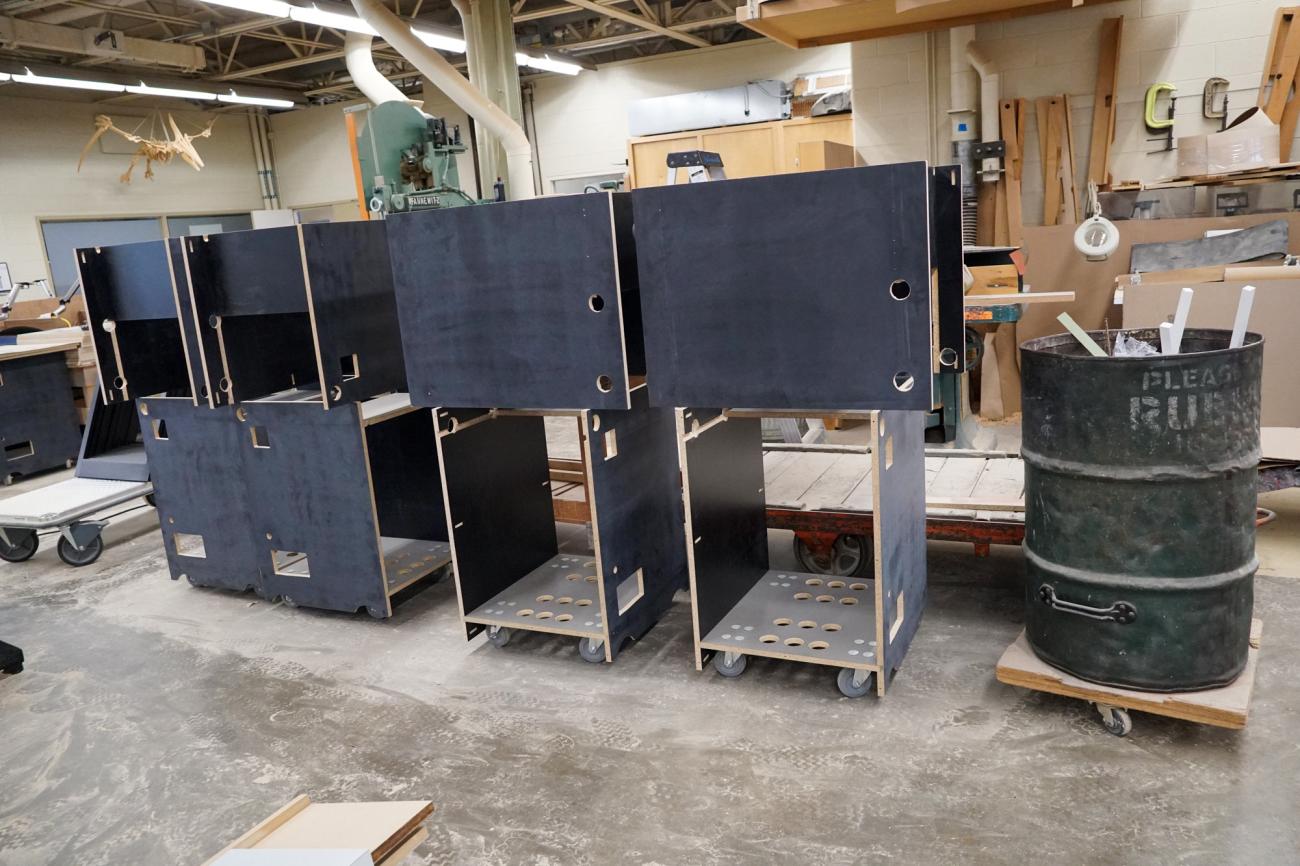 Eleven pieces of the carts go to IPF's Paint Shop where they're given multiple coats of black lacquer to provide a durable and consistent finish. The pieces return to the Carpentry Shop for final assembly and IPF electricians then wire the carts for power.
When the carts are fully assembled, they go to MSU IT Services where the hardware is installed for use in the classroom. This includes a wireless microphone, a document camera and wireless presentation through Crestron AirMedia, cables, and a host computer with multiple inputs and outputs for projection of both computer and video sources.
The design of the carts is continuously improving as technology changes and customers provide feedback on how they work. These changes can range from adding an additional built-in laptop stand to make the carts more accessible to reducing the width of the cart itself.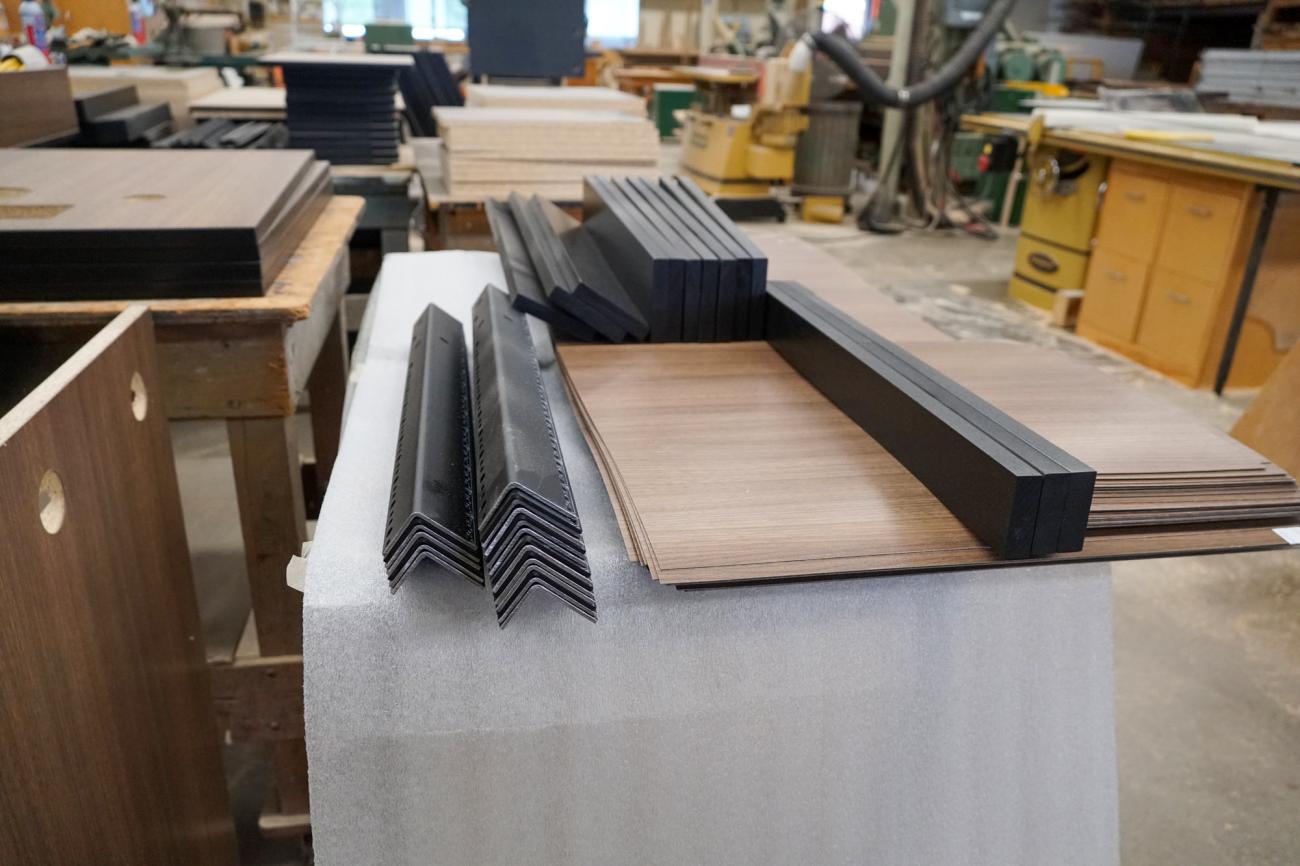 "Customers were saying that the carts bang into the door jamb when they're trying to move them," said Brian Arens, IPF cabinetmaker. "So we had a design challenge to reduce the width of the carts but still have enough space for IT's machines."
Arens was able to reduce the width of the carts with a hidden improvement: he routed out sections of the side of the cart to allow the wheels to spin freely while still keeping the carts stable. Students, staff and faculty will now have a smoother experience wheeling the carts in and out of rooms.
Stay tuned for more glimpses behind the scenes at MSU.