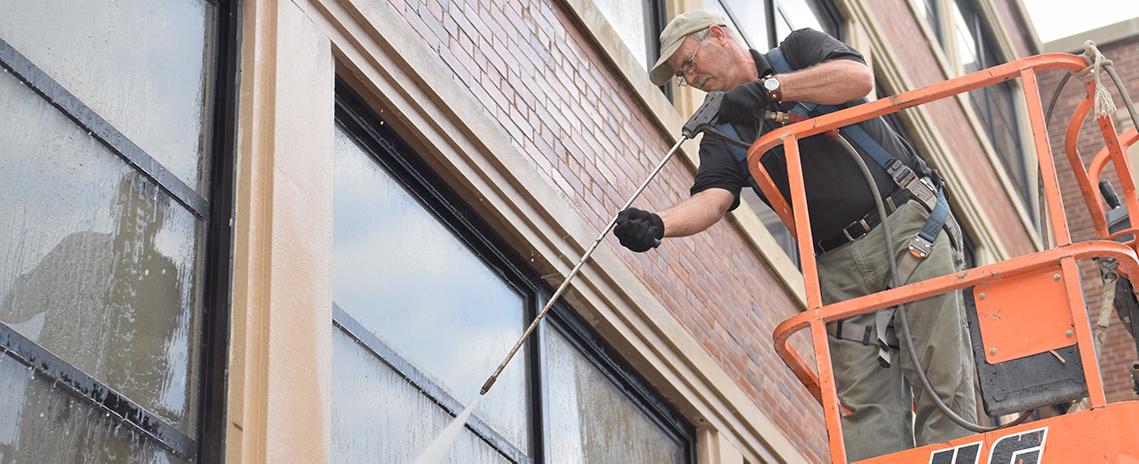 August 21, 2018
Crews from IPF's Landscape Services and Maintenance Services teamed up to beautify the outside of MSU's Psychology Building. Using a high-pressure power washer and environmentally friendly products designed to remove stains and add a protective layer over the limestone, the difference was like night and day, said Mark Lutkenhoff, structural maintenance manager.
The cleaning process also shed light on some building deficiencies such as diminishing caulk, weak joints and drainage issues.
"We want the exteriors of our buildings to be sealed up properly, roofs to be sound, so it not only cuts down on our maintenance calls, but it also protects teaching and research," Lutkenhoff added. "The results have been really good so far and made a huge impact."
Limestone is a porous material that is used in many architectural designs. The rock is susceptible to scratching and staining due to it being porous. Common types of staining on campus buildings result from metallic (runoff from copper sun screens) and decomposition of organic materials.
Crews hope to beautify other buildings on campus as well.
"The Psychology Building is a perfect example of how a building can look after a thorough cleaning," Lutkenhoff said. "We take pride in the maintenance of our buildings and we want them all to shine like this."