Congratulations to Maranda Holtsclaw: Employee of the Quarter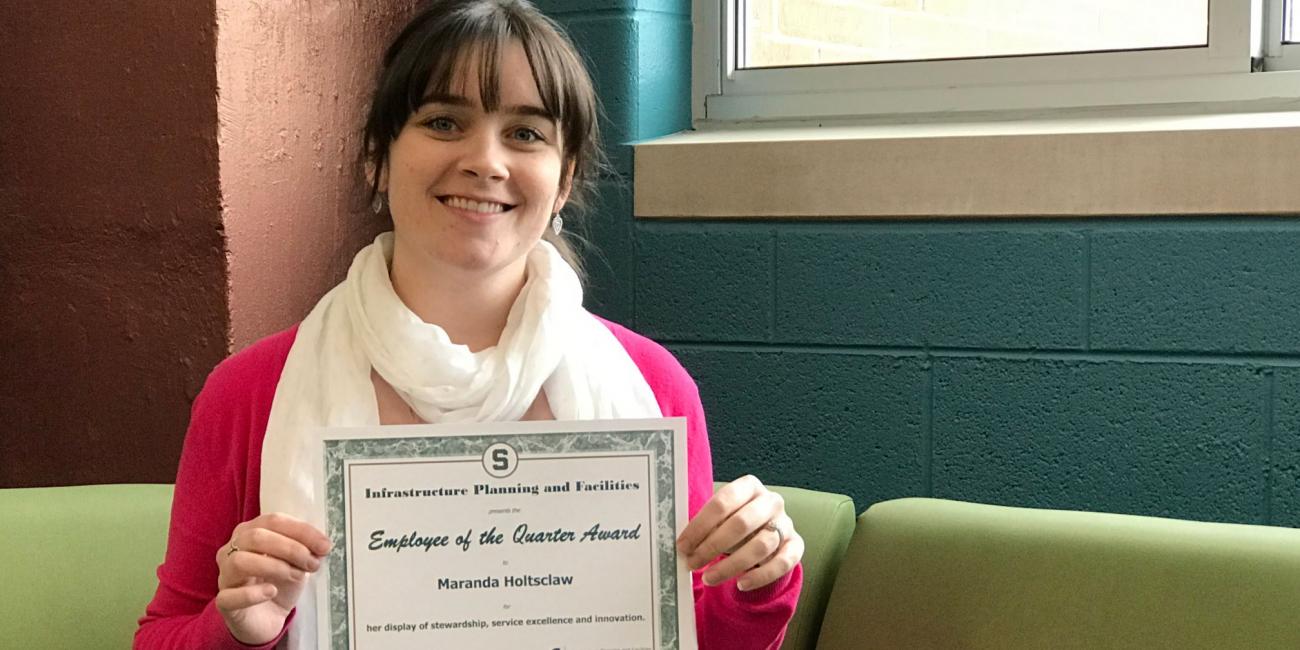 March 12, 2019
Maranda Holtsclaw is a people person, by her own admission. Thankfully, in her job as a planner/inspector/analyst for Asset Management, she has ample opportunity to interact with a variety IPF staff. 
One of Holtsclaw's primary responsibilities is maintaining an inventory of facility assets and scheduling preventive maintenance, which is currently handled via the FAMIS system. As you can imagine, there are numerous pieces of equipment, and employees who manage/maintain them. Holtsclaw routinely works with IPF team members to gather and track equipment data. She gets a lot of satisfaction "when I know that my work is helping other people get their work done." 
"I also like to make process improvements," she said. "I like it when different departments find ways to help each other." 
Holtsclaw has been in her position for three years and has been a full-time employee at the university for more than six years. She attended MSU, earning a bachelor's degree in global and area studies, and was a student employee at IPF all four years. During her undergraduate studies, Holtsclaw took 10 months off and traveled to Brazil, where she worked at an organization dedicated to helping children undergoing treatment for cancer and their parents. There, she taught children and their mothers to speak English, played games with them, and developed friendships with them. She also learned to speak Portuguese during her time there.  
Holtsclaw remained at MSU to earn a master's degree in public health. After graduating, Holtsclaw worked at the Michigan Public Health Institute, but, missing the campus environment, returned to MSU as a full-time employee. Currently, she is heavily involved in Phase 4 of the Mobile Action Plan, and a big task on Holtsclaw's plate moving forward will be her involvement in Facilities Connect, or Planon system implementation, which will replace FAMIS. 
"I'm really looking forward to the new Planon system and getting our asset data in there. I am excited to clean up some current processes," she said. "I can't wait to see that." 
In her off hours, Holtsclaw enjoys spending time with her family, including four-year-old son Rio and a new puppy. She is also expecting her second baby in June. Congratulations, Maranda!