Demonstration Hall renovations foster inclusion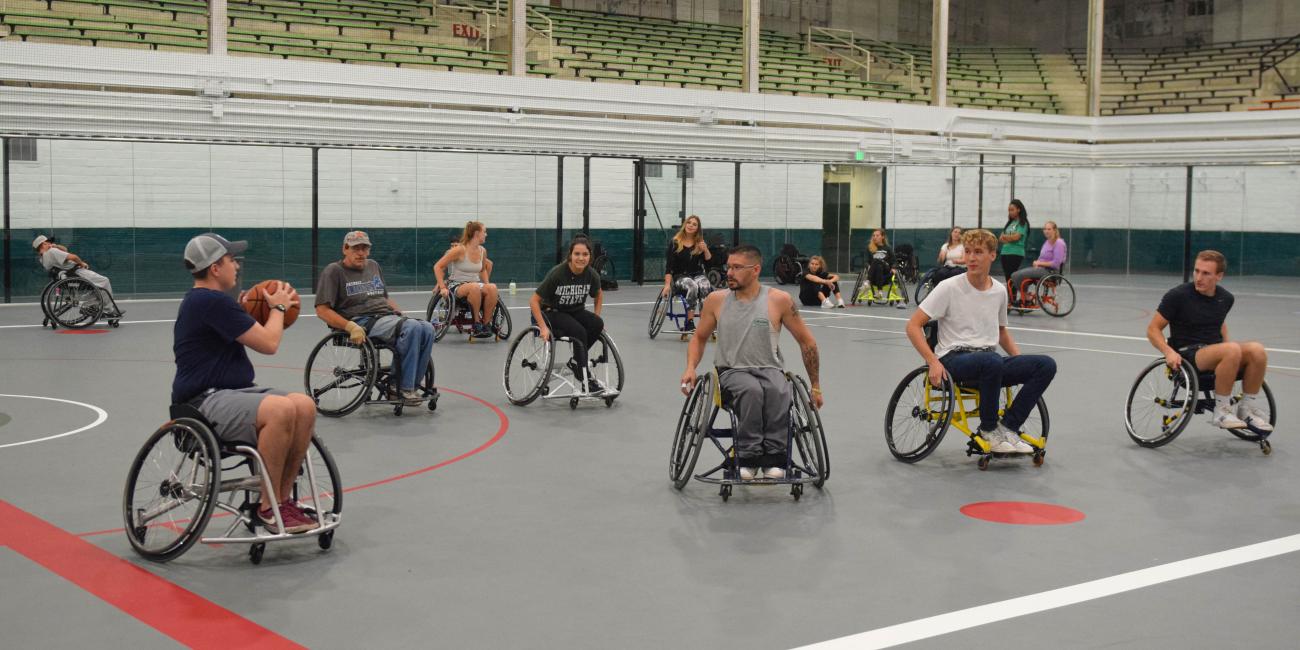 October 5, 2018
Demonstration Hall construction has wrapped up, creating a new multi-use court floor to promote MSU's goals of inclusivity, recreation sports and fitness as a part of the Healthy Campus Initiative. 
"It is a huge improvement and update that everyone should be proud of," said project manager Scott Gardner. "The renovations provide opportunities for the adaptive sports teams and the MSU community to become active in a new way." 
The new floor allows the arena to be used by adaptive sports, ROTC, intramural sports, soccer and the marching band. On top of installing the floor, IPF staff added ceiling fans, dashboards, netting systems, new lighting and paint. Individuals with disabilities can now freely enter and actively use the space due to accessible benches, widened door areas and the elimination of a raised area between the bench area and rink surface. 
Adaptive sports have used Demonstration Hall as their competition space for many years. However, new updates such as areas to store sporting equipment provides more convenience. The newly painted markings on the court readily accommodate a range of wheelchair sports including rugby, floorball and power hockey. 
Students in the Adaptive Sports and Recreation Club and Student Affairs were part of planning the renovations. "The way this space was designed and built was with us in mind. IPF took the time to listen and get input from us and then implemented it into the space," said Piotr Pasik, club program director. 
The Adaptive Sports and Recreation Club, made up of MSU students, employees, community members and high school students, practice six times a week at the new facility. The space provides numerous opportunities for those with disabilities to connect to a community and build relationships, while cultivating applied academic initiatives for able-bodied students. 
 "The renovations will draw students with disabilities to our campus," Pasik said. "These types of spaces just don't exist, so if we can illustrate to other universities that this is worth while and that they can do it, then we are fostering inclusion not only at our university but hopefully at colleges around the country." 
In addition to the adaptive sports program, Demonstration Hall is used by many different groups. "It is giving back not just to adaptive sports, but to the student body and the MSU community in general," said Jason Vanzee, construction project manager. 
WLNS Channel 6 covered the renovations. Check out the video here.