Engineering society honors Grand Rapids Research Center project for teamwork and innovation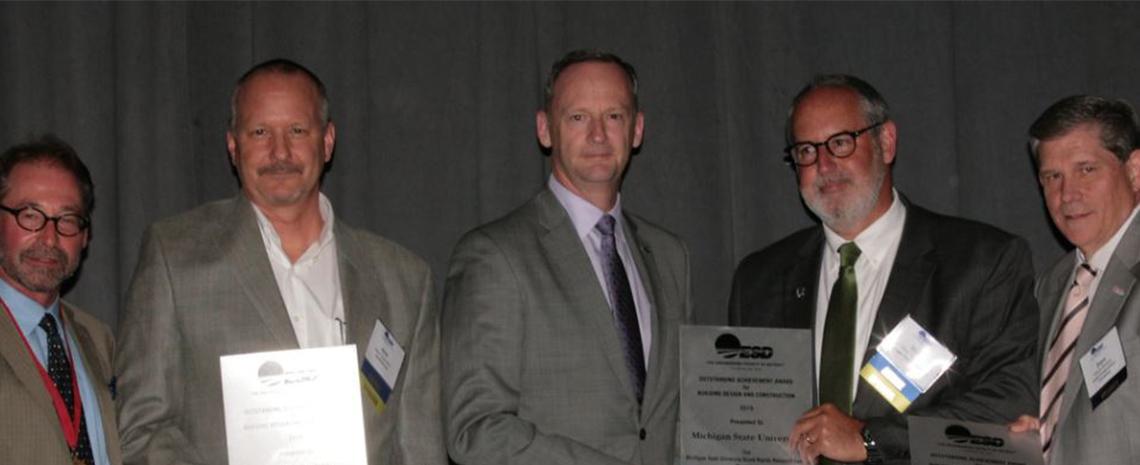 July 31, 2019
MSU and our construction and design partners recently took home the 2019 Construction and Design Award from the Engineering Society of Detroit for the new Grand Rapids Research Center.
Recognizing outstanding team achievement and innovative use of the technology by MSU; the designers Ellenzweig and the SmithGroup and the contractors, a joint venture of Clark Construction and Rockford Construction; the award was accepted at the society's annual dinner by Dick Temple, facility planner and project administrator who works with both IPF and the College of Human Medicine.
"It was a tremendous team effort that validates the project team's shared vision with a focus on collaboration," Temple said. "For me, the reward was having a dedicated team that delivered an exceptional value to MSU."
Construction of the research center began in 2015 and was completed in late 2017. The facility was designed to house MSU College of Human Medicine's research teams in Grand Rapids, with capacity for up to 44 principal investigators and their teams.
"The GRRC is the continuation of the College of Human Medicine's expansion to West Michigan," Temple said. "The facility and our researchers have had a significant impact on the community, our healthcare stakeholder partners, Van Andel Institute and faculty in East Lansing." 
Temple also noted that the building's design is 30 percent more energy efficient than national standards, and was built to Leadership in Energy and Environment Design's Gold certification standards.
The next phase of this project involves construction of a Medical Innovations Building that will focus on commercialization of the research being done at the research center. Breaking ground this fall, it will include a 200,000-square-foot facility and a 600-space parking structure, with a possible additional structure.