Get to know IPF: Carolyn Miller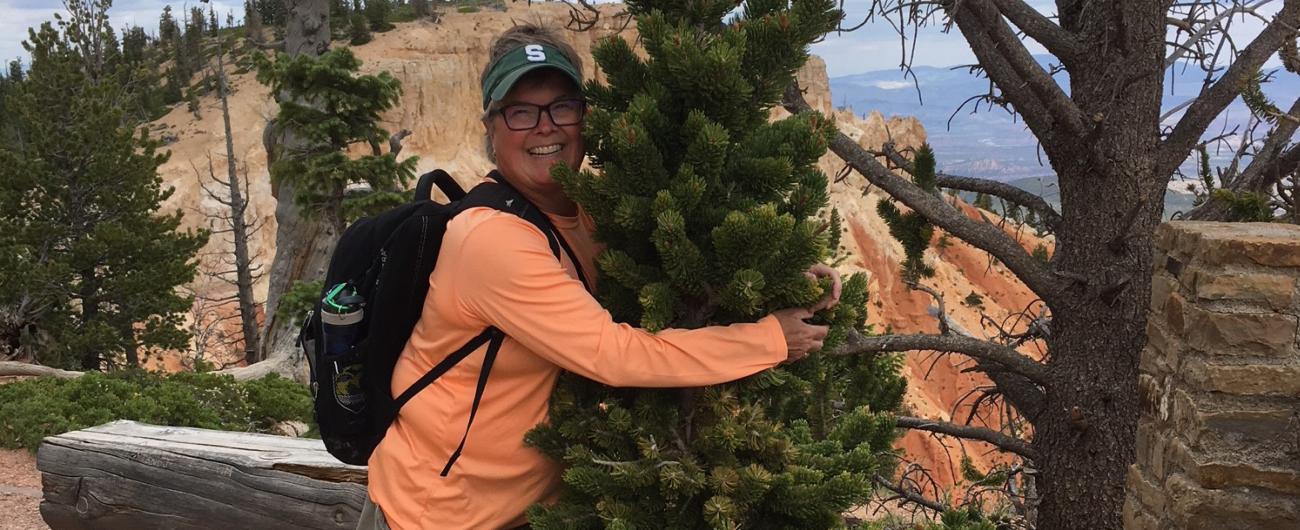 Jack Valice
October 9, 2019
For some, the phrase 'tree hugger' has derogatory connotations; Carolyn Miller wears it as a badge of honor. Having a passion for nature, habitats and landscapes is what fuels Miller to keep MSU's campus and its landscape beautiful.
Miller, a botanical technologist/plant recorder at the W.J. Beal Botanical Garden, has been with MSU just over 4 years. Her work includes annual phenology studies of all the garden's specimens; documentation of current/new campus trees' and shrubs' location, taxonomy and health; assisting with the Commemorative Tree program; labeling/recording trees for faculty/student research; and an enormous amount of data entry needed to maintain the garden's database (BG-Base).
"I'm also the Beal Garden information person; so, when someone calls the garden, I'm the one who assists them with their questions," Miller said.
"I graduated from MSU with a degree in botany years ago and absolutely loved the landscape – being a part of that again makes me ecstatic," Miller said. "I really enjoy 'hugging' a tree every day and looking into archival landscape maps to figure out aspects of MSU's landscape."
Before coming to work at MSU, Miller worked for the ex-wife of Charles Schultz (creator of the Peanuts comics) who had created a new botanical garden in Hawaii (Na Aina Kai Botanical Garden). She helped landscape and maintain the plant collections and planted 60,000 tropical hardwood trees during her time there – good grief!
When Miller is not busy caring for the gardens, she and her wife enjoy hiking, biking, nature photography, traveling, gardening and birding. Even outside of work, Miller spends much of her free time outdoors!
"I'm passionate over the protection of Michigan's native habitats," Miller said. "You'll often find me helping various state organizations with invasive plant removal."
Miller encourages fellow IPF employees to "strive to do your best every day". Though the advice is simple, it is something that everyone can incorporate to feel fulfilled both at work and in their personal lives.