Get to know IPF: Derek Cuthbert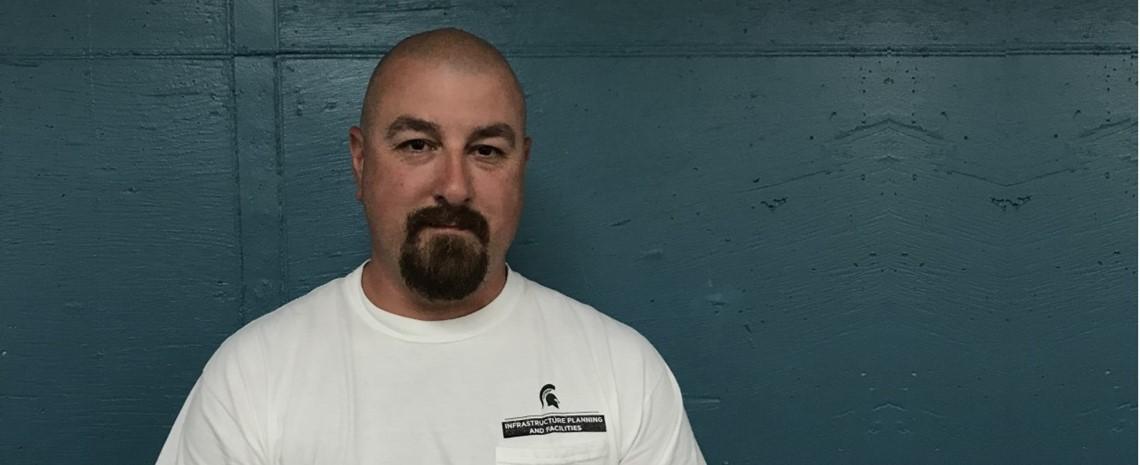 June 4, 2019
Derek Cuthbert, one of three IPF electricians who primarily maintain campus fire alarms, has always had an interest in electrical work.
"As a kid, I used to take my allowance and buy batteries and light switches to tinker with for fun," said Cuthbert.
Like his childhood hobby, Cuthbert's volunteer activities likewise overlap with his career. He's served as a volunteer firefighter with the Ovid-Middlebury Fire Department since 2004, helping fight fires and assisting the rescue team.
"Working to control fires is right in line with the work I do for MSU," Cuthbert said.
An electrician with IPF since 2015, each of Cuthbert's days is unique, as different circumstances arise with different fire alarms, including students accidentally setting them off. "We are in constant communication with the police department and dispatchers about alarms that go off," Cuthbert said.
However, Cuthbert says he has some tasks he regularly performs.
"There are always buildings that we need to bypass, which means shutting down portions of the fire alarm system to accommodate construction, so they don't accidently trigger the alarms," Cuthbert said. "We get multiple projects that will have us rework, add or take out fire alarms."
Cuthbert and his wife have two kids, a cat and three dogs. "Family is my biggest passion," Cuthbert said. "Both of my kids play traveling sports, so my wife and I try to attend as much as we can." He also enjoys working on his new house, adding his own touches to the family home.
Cuthbert adds, "You get out of your work what you put into it. I worked on the outside for a while and then came to IPF; it's a great place to work."