Get to know IPF: Jeremy Palus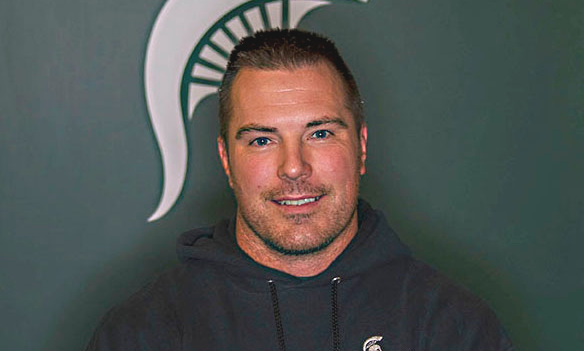 January 18, 2019
Jan. 14, 2019
When a customer is too hot, too cold, hearing strange noises or is noticing odd smells, Jeremy Palus is oftentimes the first person to show up.
"I get called for any number of issues, including building temperature, pump leaks and bad odors," said Palus, a first responder who was promoted to HVAC mechanic II in May, 2009. "I like to troubleshoot, and I like the hands-on type of work that I do."
"We also have a lot of equipment that is unique to our campus customers that I love to work on," Palus added.  Some of the equipment includes the smoke house and saws at the Meat Lab, freezers at the Dairy Store, fume hoods in research labs, snow melt systems for the sidewalks, HVAC and refrigeration equipment for Munn Ice Arena, and the new Data Center units and controls.
Palus, who has been at MSU for 12 years, has a work zone that consists of several residence halls including Holden, Wilson, Wonders, Case, Shaw and Owen, to name a few, along with several research buildings. 
"I encounter people from all different corners of the world, and I like that they have confidence in my abilities to fix and repair," Palus said. "I enjoy meeting all different types of people." 
When asked what he would like to accomplish at MSU, Palus already had a vision in mind.
"I'd like to supervise a whole department," he said. "If you look at professional sports, everyone has to buy into the vision, and I'd like to be able to utilize everyone's skill set and implement them to better the team." 
Palus has been an active youth sports coach for 20 years. Outside of his work at MSU, Palus enjoys spending time with friends and family, along with a number of outdoor activities such as hunting, fishing, white water rafting and downhill skiing. 
When asked what he has learned to help him be successful at his job, Palus says "IPF is full of great people with great knowledge and skill sets. You have something you need help with and there is someone at IPF that can help you with it. Great group of people to work with."