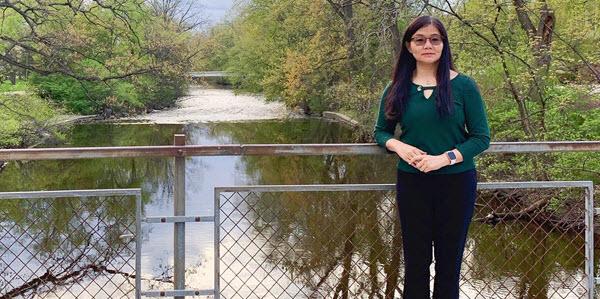 May 21, 2019
Meet Yun Cao, a landscape architect, who is passionate about creating sustainable yet aesthetic environments for MSU.
Cao has been with IPF for almost two years and focuses on site development projects. She also teams up with co-workers, consultants and other campus professors to work on MSU Red Cedar River bank restoration.
"MSU operates much like a miniature city," Cao said. "Our campus landscape plays an important role to our students and facilities, and it is usually the first impression of MSU to potential students and their families."
Campus has buildings with LEED certification, so the goal is to provide healthier, energy and resource-efficient indoor spaces for the facilities and students.
"I would like to work on creating a sustainable and resilient environment especially on the MSU Red Cedar River corridor for more people to enjoy," Cao said.
When she was little, Cao believed she wanted to be a teacher. However, at MSU she still has the chance to help students on their projects. "Working on these projects makes me feel like my dream came true in some degree," Cao said.
Cao also enjoys listening to music, singing, playing music instruments, reading and cooking. After work she spends her time with her family, and loves to create small art pieces.
Given that Cao is relatively new to IPF, she feels there is still more to learn. "I would like to thank my supervisor, my co-workers and the many people who have been giving me their support and help since I joined the IPF group," Cao said.