Get to Know Kim Consavage, Jack Breslin Distinguished Staff Award recipient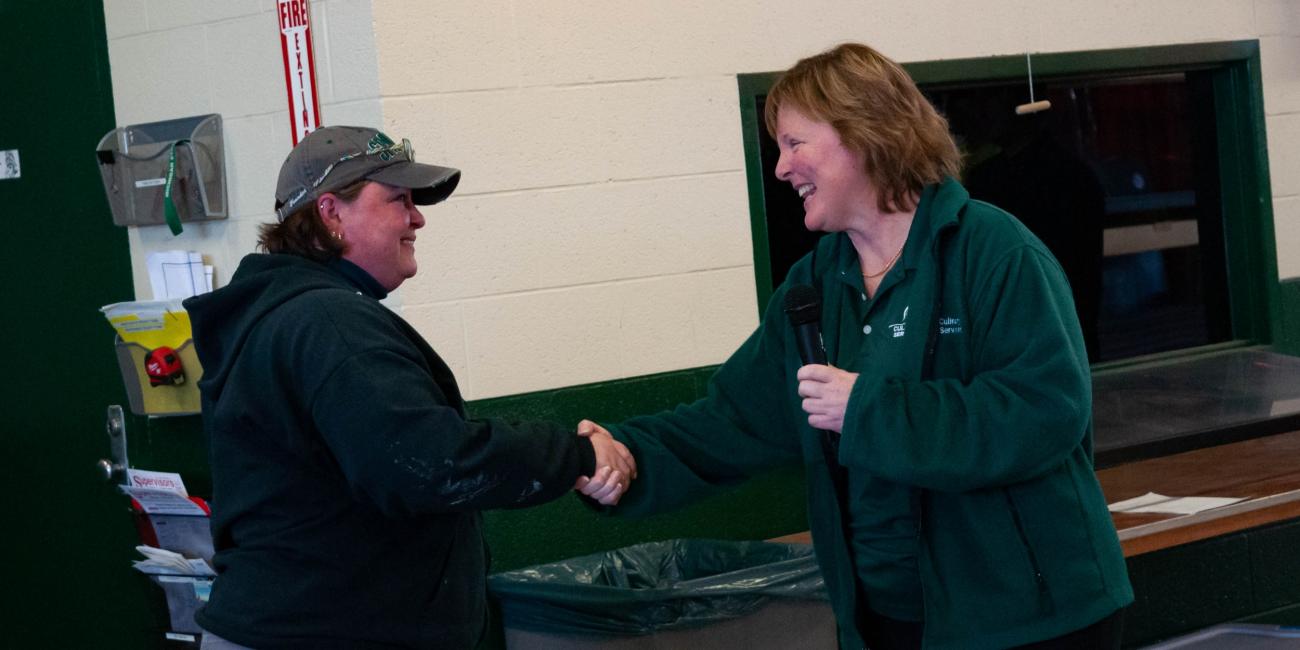 April 10, 2019
Kim Consavage, Landscape Services utility worker, has received the 2018-19 Jack Breslin Distinguished Staff Award. This prestigious award is given to six support staff member each year who excel in their job performance, have a supportive attitude and contribute a valuable service to the university.
Consavage has worked at MSU for over 30 years, including nine years at various locations within food services before moving to Landscape Services where she specializes in hard surfaces and signage.
"The hard surfaces crew has a lot more responsibility than most people recognize," Consavage said. "It is more than road patching."
The five-person crew responds to requests for sign installations, barricades, line striping and more. Most of these requests come from the MSU Police Department. Consavage is responsible for project intake and delegation to crew members.
"I come in and do my job to the best of my ability every day," Consavage said. "I know our name is on the line, so I want the job to be perfect."
This is a quality her supervisors, Matt Bailey and Matt Fehrenbach, recognized early on. "It's obvious to both me and the rest of the team that she has a natural talent for what she does," Fehrenbach said. "Her customers consistently give positive feedback about the work that she performs."
Consavage has been known to be a bright spirit within the office. To Consavage, connections with her coworkers are one of the reasons she is passionate about her job. "Seeing my coworkers everyday is one of my favorite things about my job," Consavage said. "I love coming in and saying good morning to everyone. They are a part of my family."
Outside of work, Consavage loves to garden and take care of her two dogs and two cats. In her younger days, she was once offered an art scholarship to Hope College. Art still remains a passion today. She enjoys pottery, creating pieces and taking classes to become more proficient. Lately, she has been interested in recycling, reusing different objects and incorporating them within her art work.
Consavage recently learned about her nomination for the Jack Breslin Distinguished Employee Award. "It is an incredible honor to be a recipient," Consavage said. "I personally did not think anyone was paying attention to the work I was doing. So receiving this award has been extremely humbling and overwhelming."
However, her supervisors had noticed. "Kim is truly a positive individual with a very strong passion for people," Bailey said. "She is honest, caring, compassionate and a strong leader."
"Kim is always upbeat and her witty sense of humor keeps people smiling," Fehrenbach said. "She is quick to help regardless of the task. Kim is very dependable, trustworthy, kind, and hard working.
This award holds special significance to Consavage, as her grandfather, John Zink (a former Landscape Services staff member) won the Jack Breslin Distinguished Staff Award in 1986. Consavage and Zink are the only recipients in the history of the award who are both related and from the same department.
"I grew up in an MSU family," Consavage said. "I have a lot of family members on my side and my husband's side who have worked here. Ever since I started working on campus, my goal was to work for Landscape Services because everyone in my family spoke so highly about their experience."