Going mobile – persevering during a pandemic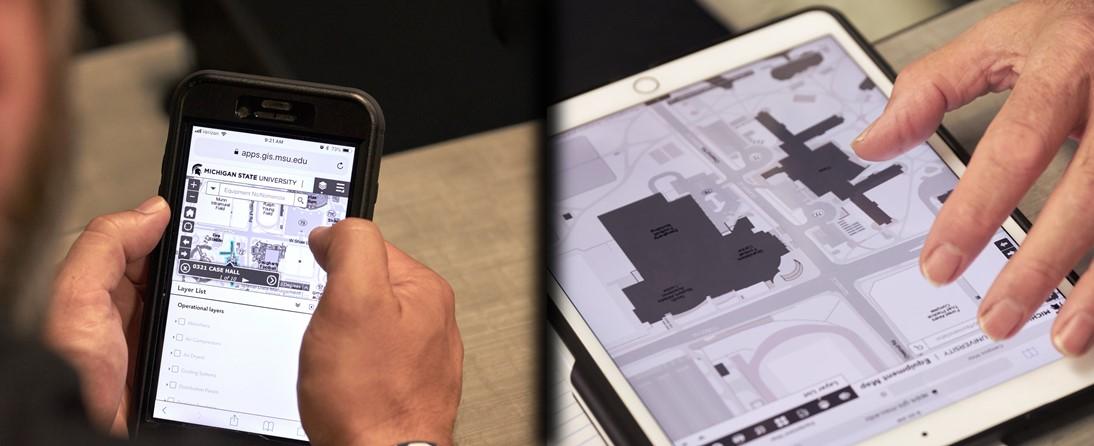 Anthony Yuhasz
May 6, 2020
It started as way to improve the IPF experience for our customers – deploying mobile device technology to our front-line staff to enable them to access essential information and tools on-site to improve efficiency.  
The Mobile Action Plan did this and more and has demonstrated additional value during the recent novel coronavirus outbreak. 
With much of MSU working remotely, those front-line IPF staff whose on-site presence is essential to keeping the university operating have found their mobile devices invaluable in keeping the lines of communication open, enabling them to work more independently within a reduced workforce. 
We spoke with Matt Bailey, Landscape Services manager and Mark Lutkenhoff, Structural Maintenance manager, about how the Mobile Action Plan implementation has benefitted their employees and allowed IPF to continue supporting the university in these challenging times. 
How has equipping our front-line staff with mobile devices helped them stay connected to each other and their supervisors (many who are working remotely)? 
Lutkenhoff: "Smartphones provide many communication options for our employees – Facetime, phone, text, email, etc. This gives employees choices on the best type of communication tool for their needs."  
Bailey: "Having mobile devices for our front-line staff has enabled us to push trainings to them that they can complete. It was nice to get all of this done with our mobile phones so that when staff return to work, they can get right out into the field. Also, it enabled supervisors to hold virtual one-on-one meetings while staff were at home so that we could stay connected and help them with their individual issues or concerns." 
How have mobile devices helped front-line staff work more independently, especially during times such as these when staffing levels have been reduced to keep exposure to COVID-19 to a minimum? 
Lutkenhoff: "AppTree provides access digitally to their work bench that also allows them to look up details about their work orders and charge their time and material to each job. In the past, supervisors had to spend a fair amount of time printing out work orders and explaining project details face-to-face, signing daily timecards, etc. That is no longer needed thus saving supervisor time. FIT and operational drawings are also now available on mobile devices, which are very useful to technicians when they are in the field to locate rooms, assets, etc."  
Bailey: "It has enabled us to have morning check-ins with staff to share information, ask questions, and confirm survey results all while remaining at a safe distance."  
How would our response to the Stay Home, Stay Safe executive order and our ability to continue to maintain campus during the outbreak been different had we not implemented the Mobile Action Plan? 
Lutkenhoff: "A lot of staff don't have computers at home; having a mobile device has enabled me to share information more efficiently so that they all feel updated and aware of what is going on."  
Bailey: "Trying to VPN in from home and access a program like FAMIS. Even if we could access FAMIS from home, there would be no way to print and get work orders to crews without physically going to the office. Digital work bench also allows things to change throughout the day and the technician to be constantly in tune with those changes."