The grass is growin'...and Mowbot's mowin'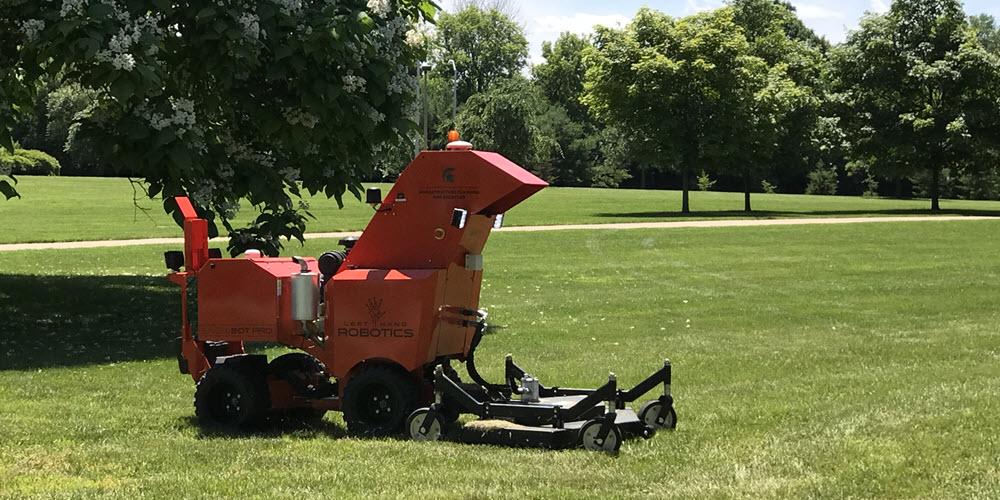 July 8, 2019
By guest writer, Lainey Vandesteene (Landscape Services)
The thermometer says 87 degrees, the sun is shining and the birds are chirping; winter seems like a distant memory…thank goodness!
Normally, those trusty machines we count on to get us through winter's wrath are tucked away, warm and cozy, just waiting for those first snowflakes to fall once again.
But not Snowbot.
Come summer, it throws off its walkway clearing brush, snaps on a handy 48-inch cutting deck, and shazam…it becomes Mowbot! Ready to tackle field-after-field of growing grass; leaving no dandelion in its wake.
This is the first summer that Landscape Services is testing their autonomous lawn-mowing robot. So far, Munn, Cherry Lane, Veterinary Medicine, Spartan Village and I.M. Sports – East fields have all been cut using this new technology.
Landscape Services' GIS analyst Jeremiah Saier heads the Snowbot/Mowbot project. Saier, along with Landscape Services' student employees, Alex Bolin and Lainey Vandesteene, are out in the fields every week conducting test runs and documenting any issues or concerns. This is the first of several steps that must be taken before a more wide-scale launch on campus. The goal is to have 200 test hours completed before the snow season starts once again.
Saier is working with the robot's manufacturer, Left Hand Robotics, to engineer additional attachments. "Ideally, we want this to serve as 360-degree equipment; meaning we can utilize it year-round. In summer we'll have it mow, in winter it will broom snow and in the fall it will help with leaf clean up," said Saier.
Bolin assists with testing, field mapping and the logging of data.
"Right now, our concern with the Mowbot is that it isn't yet as fast as we want it to be. Eventually, I'd like to see multiple units working on campus, helping each of our crews with their own unique needs. I think it has a lot of potential," said Bolin, who added it has helped him develop his skills. "Mowbot has taught me how to analyze safety measures, improve my communication skills and to use GIS programming."
Vandesteene, who is doing a summer internship in the department, is using the Mowbot testing period as part of her research project.
"I chose the Snowbot/Mowbot project to do my research on because I am an Environmental Economics and Management major interested in the field of sustainability. I believe autonomous systems like the Snowbot are a great step toward the sustainability of the Landscape Services department."
Landscape Services coordinator Fred Kester and his turf and irrigation crews are projected to benefit most from the Mowbot. They will be able to keep an eye on the Mowbot and work alongside it while doing slit seeding and irrigation work on the fields.
Once the initial testing phase is completed for the Mowbot, Landscape Services plans on using it to mow the big open fields around campus either late at night or early in the morning, once it's shown to be safe to use. Landscape Services' ultimate goals are to increase efficiency and save money all while ensuring the safety of the campus community.