IPF arborists help students branch out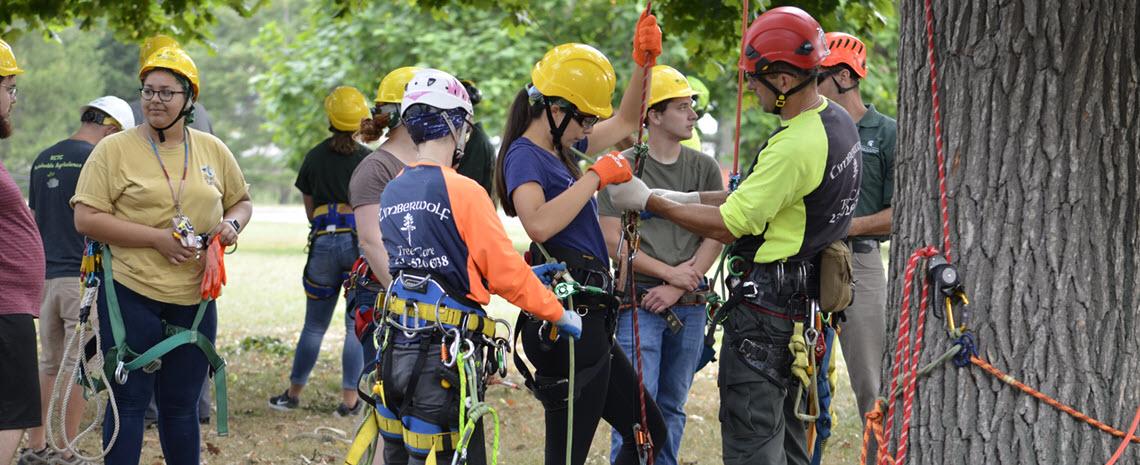 Anthony Yuhasz
September 24, 2019
The south lawn of the IPF Building became the classroom on Sept. 10, as 44 students from Department of Horticulture instructor Marcus Duck's HRT 213L Landscape Maintenance Field Laboratory classes took to the trees as part of workshops designed to help them develop an understanding and appreciation for safety and climbing techniques used in the care of large trees.
"IPF arborists Allen Matthews and Dustin Bates, along with staff from a local tree care company, instructed students on rope and saddle tree climbing with both single- and double-rope techniques," said campus arborist, Jerry Wahl. "They were also coached on the importance and proper use of personal protective equipment"
The workshops, which have been an annual tradition for many years, give Forestry, Horticulture and Turfgrass students exposure to basic arboricultural practices.
"Events like this also benefit the IPF employees involved, because it is very rewarding to teach people something that you are passionate about, and exchange ideas with others that also work in the arboricultural field," Wahl said.
Duck added, "the help provided by IPF arborists not only fulfills the purpose of exposing the students to safety and arboriculture techniques, it also provides a great example of a career path for students interested in pursuing Arboriculture once they graduate from MSU."