IPF crews pull together in historical flooding, cleanup efforts underway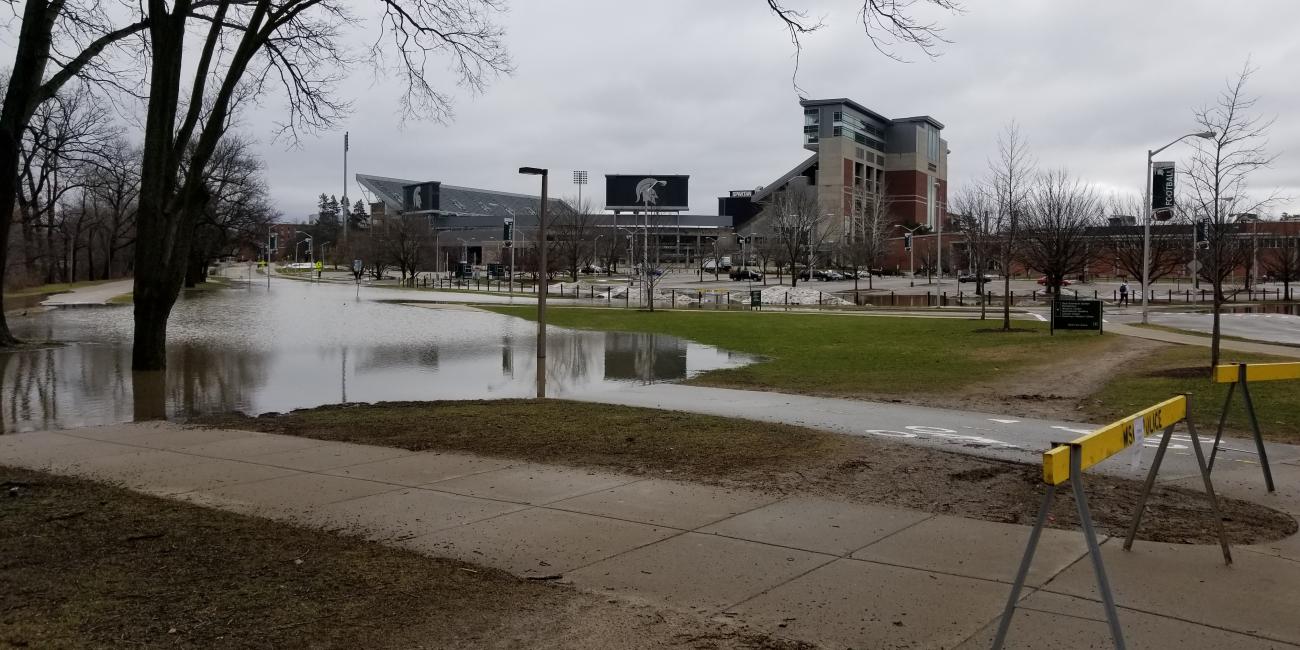 February 27, 2018
The most significant flooding event in 43 years hit MSU's campus last week – and at the point of early warnings from the National Weather Service, IPF staff quickly opened the command center and began planning to protect campus and keep disruptions at bay. 
Strong rainfalls coupled with melting snow and ice pushed the Red Cedar River to flood major parts of campus along the river banks. The depth of the Red Cedar is measured at the Farm Lane Bridge, with normal depth usually around four to five feet. Minor flooding occurs at seven feet, and by Feb. 21 it had surpassed 10 feet. 
IPF crews from Landscape Services cleared tree debris from the river and built more than 700 feet of HESCO flood barrier wall to protect buildings along the river. IPF crews also coordinated the removal of hundreds of items from the Computer Center. 
HESCO walls are sand filled barriers primarily used for flood control. It's made of a collapsible wire mesh container and a heavy-duty fabric liner and used as a temporary to semi-permanent levee. Originally designed for use on beaches and marshes for erosion and flood control, the HESCO quickly became a popular security device in the 1990s. They were used in 2005 to reinforce levees around New Orleans in the few days between Hurricane Katrina and Hurricane Rita. In late 2016, 10 miles of HESCO barriers were used in Cedar Rapids, Iowa, for the fall flood of 2016. 
Several roads, sidewalks, parking lots and ramps were closed much of last week. Classes scheduled in the Computer Center and Kresge Art Center were relocated. A robotics competition scheduled in Jenison Fieldhouse also was moved. 
By this week, most everything had re-opened, said Landscape Services Manager Matt Bailey. Crews are now working on cleanup efforts. 
"The fast response and coordinated efforts really made all the difference last week," Bailey added. "Considering the circumstances of the event, everything went really well. IPF really came together and worked hard to keep everything under control and protect campus."