IPF employees highlight hunting wins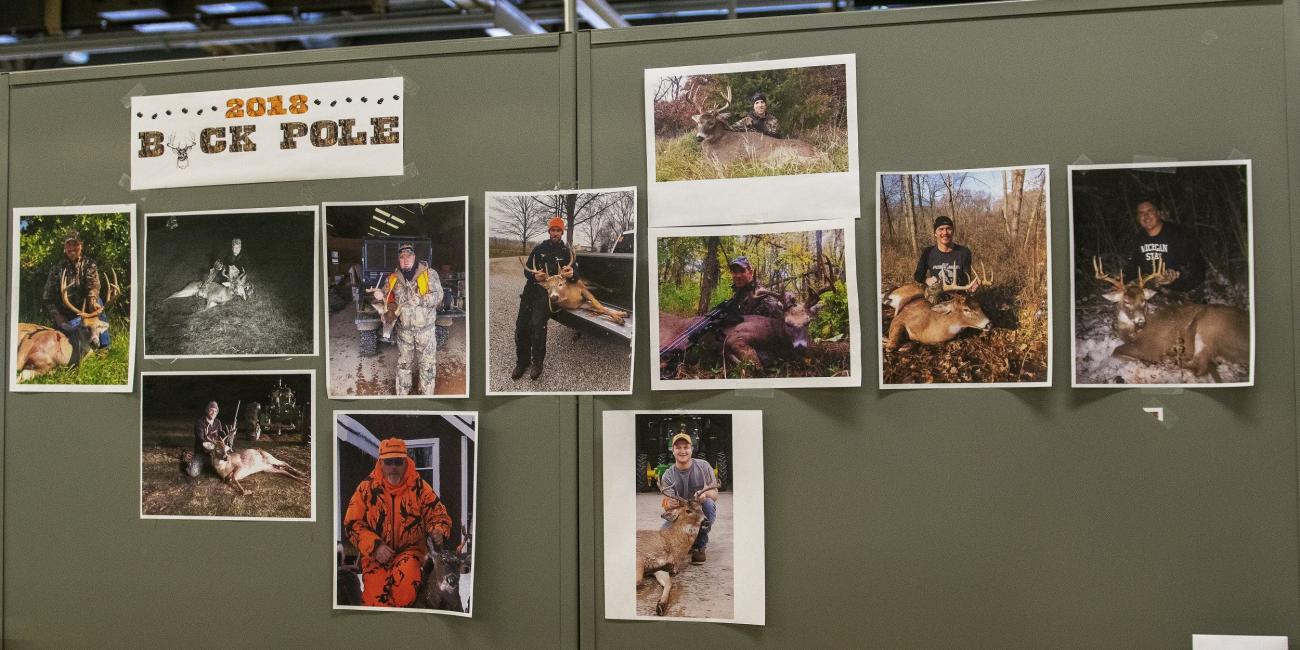 January 18, 2019
IPF employees work hard and hunt hard, evident in the 2018-2019 Buck Pole – a photo display highlighting employee hunting success. All IPF employees are welcome to participate in the hunting challenge that began on Oct. 1.
The original Buck Pole was created in 2010 by Jim Davis, high voltage electrician. "It was a way for all the hunters in IPF to hear each other's stories and bring people together," Davis said.
Davis and his crew have a Buck Pole located in the west end of Building 209, near the stock room, although all IPF employees are welcome to participate. Each year when the bucks are posted, Davis scores them on multiple categories using score sheets to declare a winner.
"The tradition of deer hunting in Michigan is getting lost on the younger generation," Davis said. "I think the more we can put it out there and get people involved the more interest it will hopefully spark."
Since the original annual Buck Pole, there has been the start of a second Buck Pole located near the machinery shop.
Over the last few years, Stacy Nurenberg has printed off the Buck Pole banner and hung it outside of Sam Fortino's office by the machinery shop. Employees can then either submit their pictures to Fortino or print them off themselves. Although there is not a clear winner, bragging rights are on the line.
"I think the challenge is a good way to build a team because sometimes the little things aren't so little," said Fortino, mechanical services supervisor. "It is a great way to start conversation between groups that normally may not interact."
To date, the 2018-2019 Buck Pole features bucks hunted by electricians, planners, inspectors, analysts, pipefitters, maintenance mechanics, supervisors, one MSU student and the child of an IPF employee.
"The crew really seems to enjoy it and we get a ton of traffic throughout the fall looking at all of the big bucks that IPF staff have been able to harvest," Fortino said. "Hunting is one of my passions, so I love the Buck Pole because it is an easy way to see everyone who had a successful year, and I love seeing people stop by and look at everyone's pictures."
Although the season is wrapping up, the buck pictures will remain posted until this fall. The tradition will continue as an annual event in both the 209 Building and by the machinery shop.