IPF helps Engineering students gain real-world experience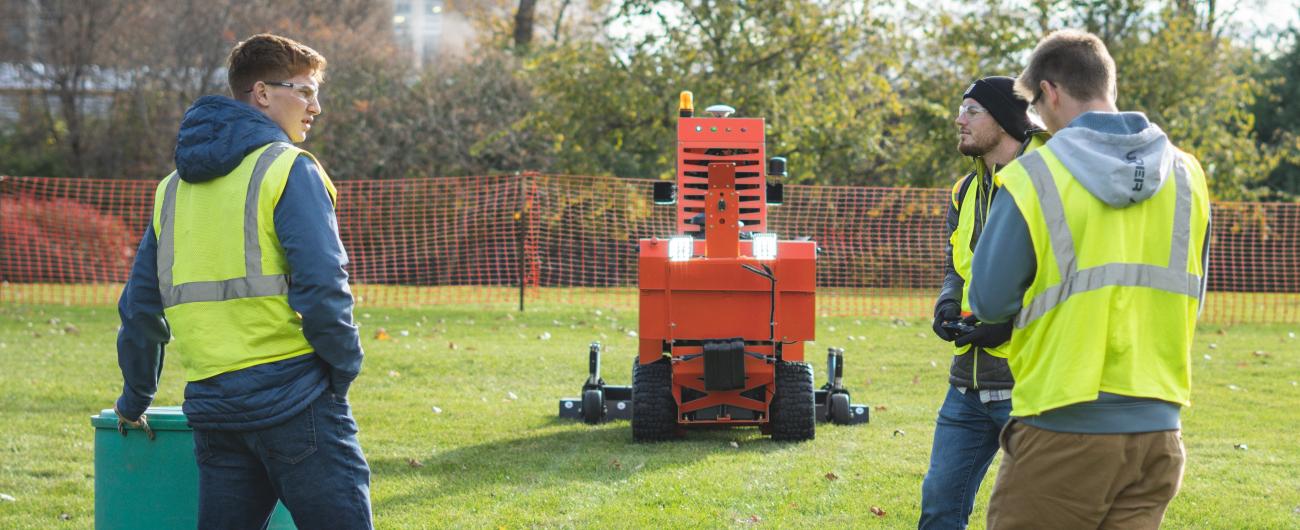 Anthony Yuhasz
November 20, 2019
Imagine a fleet of robots, mowing their way across acres of campus fields, freeing up skilled staff so they can tackle the hundreds of other essential landscaping duties that keep our campus looking beautiful.
IPF Landscape Services has taken the first step towards this future with the purchase of an autonomous mower named Mow-bot.
Now, rigorous testing must be done to ensure that the robot can operate safely in a busy campus environment.
Taking on this challenge is a team of Mechanical Engineering 481 students including Torre Crown, Eric Stauffer, Ryan O'Quinn, Jordan Odehnal and Nic Wiggins, who are making this testing part of their capstone project.
"The goal is to make it operate safely on campus," Odehnal said. "The team put together a plan that includes testing Mow-bot's detection of objects, both moving and stationary, to understand what its sensors can and cannot detect so changes can be made to make it safer."
Data they gather is shared with the robots' manufacturer who can remotely make improvements based on the results.
"We're working closely with Lefthand Robotics; if they feel that the sensors need adjustment, they can do that on the software and then send the update to us," Odehnal said. "We can then quickly test the changes to see how they've affected the robot's performance."
The culmination of hours of testing has resulted in the creation of a functional safety plan that is being submitted to MSU Risk Management prior to the robots' deployment on campus.
"We're providing a metric to show the public, IPF and the manufacturer whether the level of safety it can achieve warrants its use," O'Quinn said.
This partnership has also given these students the opportunity to work with autonomous equipment that would otherwise be too costly for an academic unit to purchase.
"This gives us experience doing actual testing on a real-world example with a structured approach," Odenhal said. "It's hard to simulate this kind of experience in the classroom because of time constraints." He added, "everything in the classroom is set-up, it's an artificial problem, and this is a real-life problem we're trying to solve."