IPF helps MSU prepare for drive-through COVID-19 testing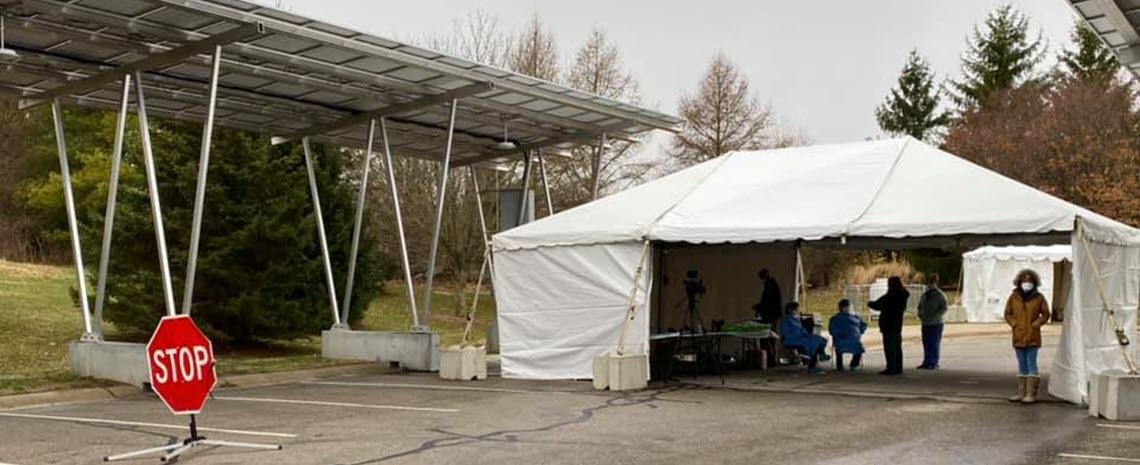 Anthony Yuhasz
April 6, 2020
Several Infrastructure Planning and Facilities (IPF) staff members helped MSU Health Care prepare for drive-through COVID-19 testing near the Clinical Center.
Alex Redfern, a Materials and Logistics planner/inspector/analyst, and Don Kronewitter, HVAC skilled trades supervisor, worked with outside vendors to provide tents and heaters to the testing team. Heating systems mechanic Luke Alexander, refrigeration mechanic Thomas Dewitt and HVAC mechanic Craig Fedewa, assisted with the installation of propane tanks for the tent heaters.
Dan Bell, electrical skilled trades supervisor, coordinated with clinical center staff to provide electricity to the testing tents, with electrician Brennan Neumeyer connecting two of the tents to adjacent building power and providing the third tent with generator power.
Landscape Services provided directional signage for traffic.
In addition to this assistance, IPF departments have implemented several operational changes to help ensure the safety of the campus and surrounding communities, while still keeping MSU running 24/7/365:
Building Services has implemented building walk-through observational staffing to maintain presence and ensure safe systems operations in vacated or reduced-operations facilities.

Custodial Services has modified cleaning protocols and has purchased additional supplies and equipment to respond to crisis.

Power and Water continues ongoing water systems operating, sampling and regulatory reporting needs; and continues commissioning of the new Water Treatment Plant (WTP).

Materials and Logistics d

onated some inventory of personal protective equipment and related supplies to Sparrow Hospital, and have acted as the

 distribution/receiving team for donated PPE and supplies for community health care providers in connection with EHS, MSU Health Team and University Services.