IPF hiring and onboarding gets a RAPID reboot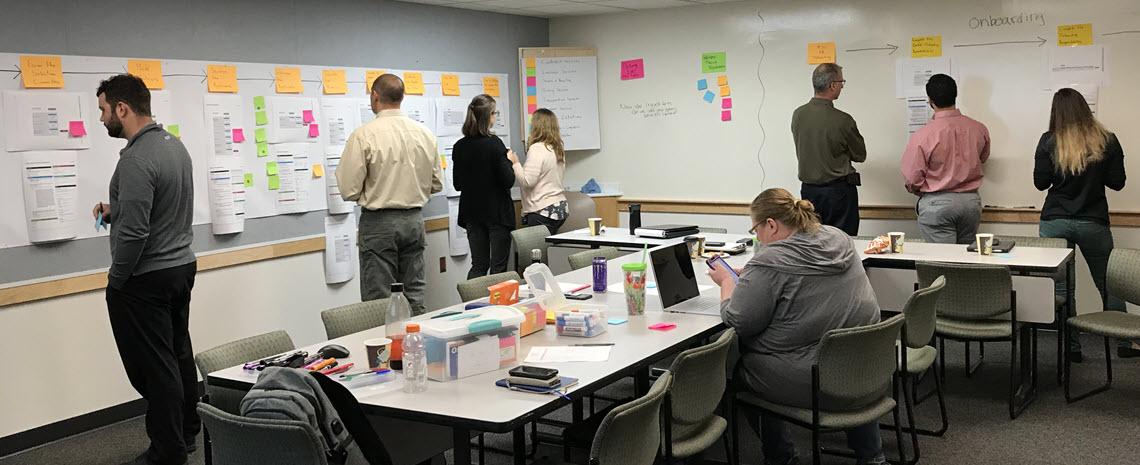 Anthony Yuhasz
October 5, 2020
The IPF Process Improvement Team, in collaboration with IPF Human Resources, has employed a new process improvement methodology, known as RAPID, to make the job of hiring and onboarding new full-time employees easier and more consistent.
Review the problem
Assess the current state
Plan for the future
Implement solutions
Determine sustainability
"Think of RAPID as a hybrid of existing process improvement techniques and tools such as Six Sigma and LEAN, but geared more towards higher education," said Danielle Hook, IPF Learning and Development specialist. "It was created from a grass-roots effort between several universities interested in creating innovative process improvement techniques." 
After attending the Network for Change and Continuous Innovation annual conference in 2018, Kelly Feister, IPF Asset Management and Preventive Maintenance coordinator, reached out to several of the universities using their own version of the RAPID methodology.
"What we noticed after reviewing data from multiple institutions is that RAPID was working well for higher education, so the process improvement team began to customize it for a better fit for IPF's needs." 
Additionally, IPF Business Leaders reviewed processes in need of improvement and prioritized hiring and onboarding. A "Process-Palooza" event was then held in fall 2019 in which participants reviewed all of the initial input, had the opportunity to ask questions, shared ideas and created a large amount of data regarding suggested changes.
"It was great to see various department staff sharing the innovative ways they have helped make the existing process work better for them and be able to incorporate some of those tips into the new process," Hook said.
For several months after, members of the IPF Process Improvement Team, including Surplus Store's Sarah Every and IPF Building Services' Tony Murdoch, and led by IPF HR's Ken Londos, combed through the huge amount of information and compiled it into new, comprehensive hiring and onboarding processes. IPF HR's Tina Alonzo also helped ensure that the newly created processes aligned with IPF's DEI goals and values.
The finalized processes were rolled out to IPF administrative assistants at their quarterly meeting on Sept. 17 and are now ready to fully roll out to the entire unit.
"Ideally, this will make the job of those involved in hiring easier," Hook said. "It will give them one place to review all steps related to the hiring and onboarding processes, and they can trust that the processes are accurate, reliable and up-to-date." 
The new hiring and onboarding processes are now available in Promapp.