IPF hosts Consumers Energy CEO for presentation and lunch meeting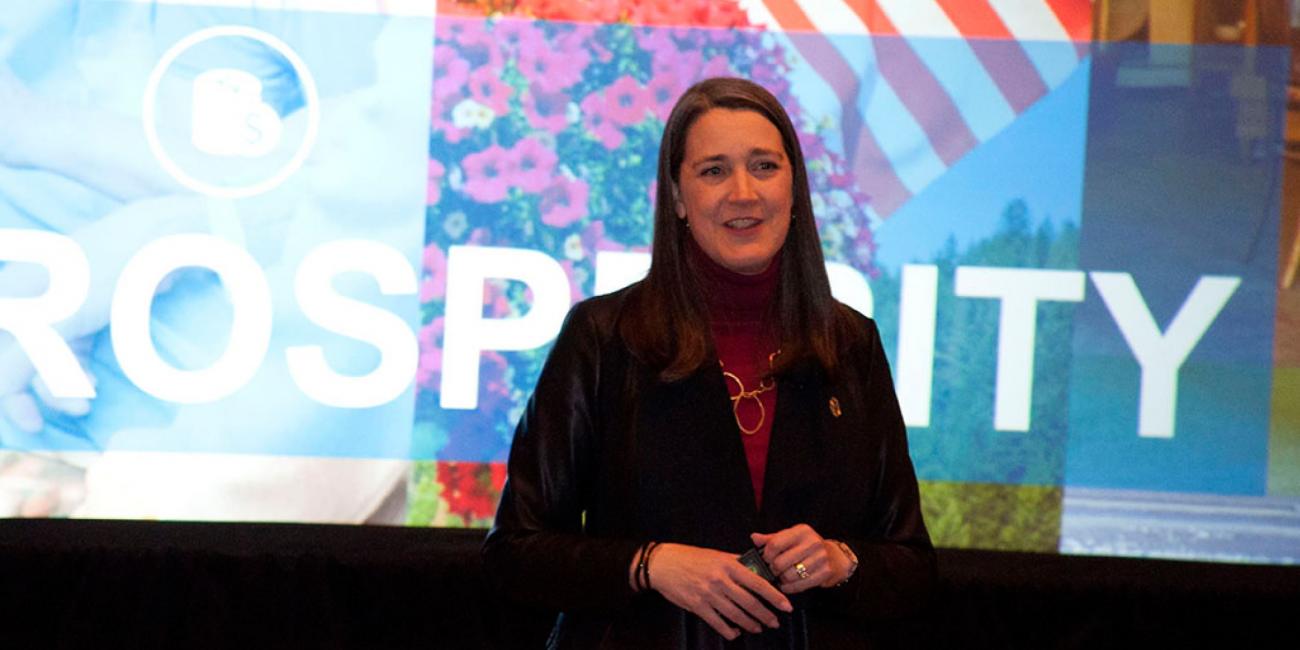 April 9, 2019
MSU and Consumers Energy share a long and beneficial partnership, such as when the power plant worked with Consumers when it switched from coal to natural gas.
The latest collaboration between the university and the Jackson-based power company brought Patti Poppe, the president and CEO of Consumers Energy and its parent company CMS Energy, to campus to speak to students, faculty and staff as a guest of IPF recently at the Kellogg Center.
While the original event aimed to provide an opportunity for leaders to connect from both organizations, it quickly turned into a collaboration across campus, as those involved noticed a greater opportunity to bring in people across campus into the conversation. The team worked together to find options that allowed the diverse set of audience members to get the most out of the experience, bringing benefit to all involved.
Poppe, one of only two female CEOs of Fortune 500 companies based in Michigan, engaged the audience speaking about her experience as a female engineer rising through the ranks to leadership, how Consumers is a leader in innovative and clean technologies, and the value of diversity in the workplace. She also took questions from the audience, including explaining what happened during the polar vortex when residents in lower Michigan were asked to reduce their heat after a fire broke out at a natural gas station. Recruiters from Consumers also were on hand at the event to talk to students and collect their contact information if they were interested in internships or jobs. She even paused to take a selfie with students after the event.
A lunch meeting with Patti and some of her staff was held at Brody after the presentation that included acting president Satish Udpa, AVP Wolfgang Bauer, VP Merri Jo Bales, VP Dan Bollman, IPF chief of staff Sabrina Hebeler, IPF director of utilities Sherri Jett, Dean Sanjay Gupta, and Assoc. Dean John Verboncouer. Staff from MSU Corporate and Foundation Relations also attended and met with Consumers' director of corporate giving.