IPF interns have designs on success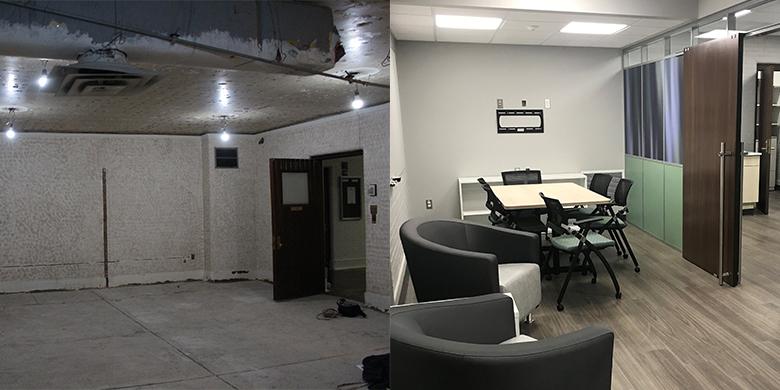 March 12, 2019
Feb. 12, 2019
Taylor Howes and Jessica Maynard, IPF student design interns, recently collaborated with Brandon Charland, engineer/architect II in Planning, Design and Construction, in the creation of a cardiovascular exercise physiology lab in I.M. Sports – Circle.   
"There are a lot of internships where you do not get hands-on experience," Howes said. "IPF gave us a chance to work on a real project and be involved throughout the whole process." 
Charland received news about the renovation project in the summer of 2018 and felt that it could be a great opportunity for IPF to connect students' academic learning to their work here. He decided to let Howes and Maynard take charge of the floor plans, layouts, sketch-ups and ordering of materials for the lab. 
"We got to collaborate with so many people and departments," Maynard said. "We were able to apply what we learned in the classroom while also learning new things." 
Howes, a sophomore and Maynard, a senior, are both studying interior design at MSU. In the basement of I.M. Sports – Circle, they designed a lab with student computer work stations circling the room, a small waiting area and a dividing wall with a room similar to a doctor's office patient room behind it. 
Two doctors will be working out of the newly renovated room. They will specialize in monitoring the heart before, during and after exercise. Their goal is to inform students and patients on which exercises will be most beneficial to them and appropriate for their specific body type and heart condition. 
"IPF helped steer us in the right direction but still gave us the opportunity to be leaders and make decisions," Howes said. "Actually ordering furniture, work stations and other materials was a little foreign to us, so it was nice to receive advice from different people throughout the process." 
The newly opened lab will be available to students and to the MSU community. "I really appreciate getting this opportunity to lead a project, especially as students," Maynard said. "That is why we are so excited about the finished product."