IPF's Tiaha Johnson wins MSU Student Employee of the Year Award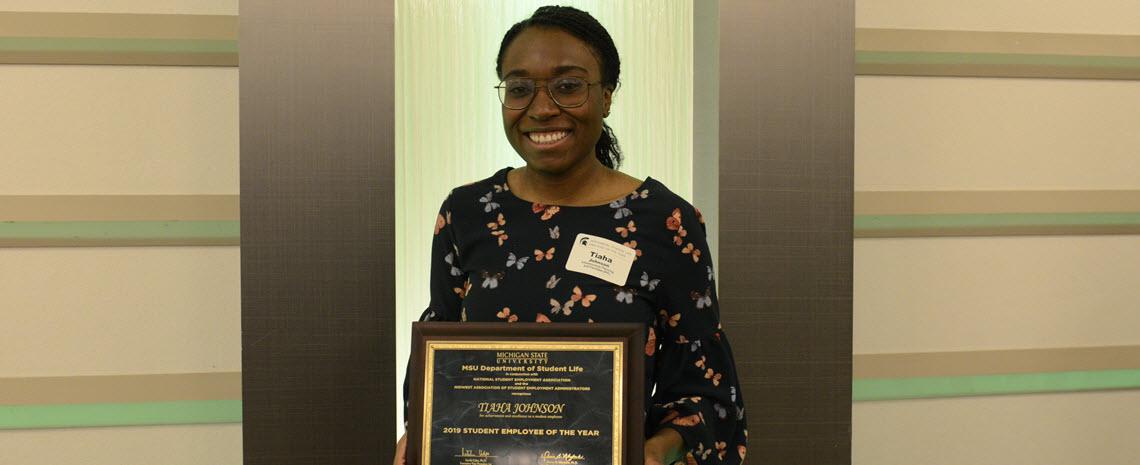 April 23, 2019
Out of just 40 MSU students nominated, IPF Human Resources student Tiaha Johnson's positive attitude and strong work ethic set her apart and made her the 2019 Student Employee of the Year for MSU and also the state of Michigan.
A human capital and society junior, Johnson was presented with the MSU award at the event held on April 9.
"Tiaha's quality of work is something I rely on and count on," said Jenni McManus, Human Resources manager. "She will always volunteer for special projects, opportunities and independently take the initiative to put in extra time and work to meet a project deadline."
Johnson's duties in IPF HR include general reception, working with the onboarding process for new employees, event planning and assisting with metrics data. Some of the metrics work Johnson is involved in includes succession planning, diversity and performance evaluation.
"My favorite part about working for IPF is the people. I get to meet a lot of the supervisors of different departments and a lot of employees," Johnson said. "The HR team members' personalities make our office lively and pleasant to work in."
Johnson's work to support IPF's mission of diversity and inclusion was one of the things highlighted in her nomination.
"I looked at all of the different statistics regarding IPF's makeup such as race, gender, pay and other departmental demographics," Johnson said. "I then compiled all the information and created graphs which were presented to the Executive Leadership Team."
Johnson's experience working for IPF encourages her to pursue her hope of working in HR after graduation.
"All of the things they let me assist with exposes me more to actual HR functions," Johnson said. "This allows me to relate to other HR professionals and have an edge during interviews."
This summer Johnson is travelling to Texas for an internship opportunity. However, she will return to IPF in the fall to continue her work in HR.