Local fire departments learn the ropes at the Power Plant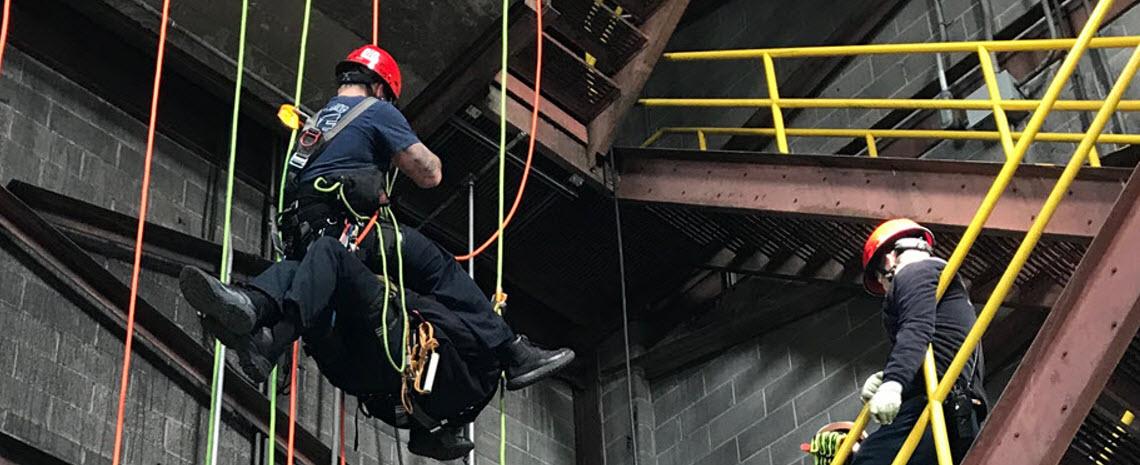 April 23, 2019
T.B. Simon Power Plant was recently transformed into something right out of a Hollywood blockbuster, as 117 fire fighters from five metro-area fire departments set up shop for Confined Space Rescue and Rescue Rope Training exercises.
The Confined Space Rescue Training sessions, held from March 11-14, were conducted in a decommissioned coal bunker, and included rescue of a victim from the bottom of the bunker.
The Rope Rescue Training sessions, held from April 16-18, included climbing and repelling a decommissioned coal transfer tower by rope to rescue a trapped victim, as well as practicing proper use of the Stokes rescue basket. 
"Hands-on training results in well-prepared rescuers," Sherri Jett, IPF director of utilities, said. "Repetition increases the speed of the rescue operation while enhancing proper execution techniques and reducing injuries."
"In addition to the training benefits these fire departments received, the partnerships between them and the power plant allows municipal emergency services to become more familiar with IPF facilities and their unique operations, strengthening our relationships," said Jett.
Spencer Perales, IPF Power and Water maintenance mechanic and safety representative, worked with the fire department daily during the Confined Space Rescue Training exercises. 
East Lansing Fire Chief Randall Talifarro and several City of East Lansing administration staff including city manager George Lahanas, Human Resources director Shelli Neumann, administrative assistant Nicole Bartell and city council member Erik Altmann observed the Confined Space Rescue Training exercises conducted in March.  
After conclusion of the training exercises, ELFD Lieutenant John Newman expressed his, and other Metro-area trainees' appreciation.
"MSU's hospitality is greatly appreciated and the extensive amount of work the Power and Water staff completed in preparation for the Confined Space Rescue Training was above and beyond," Newman said.
IPF is proud of its ability to provide local communities with these type of valuable services, and looks forward to partnering with them in the future.