Maintenance Services staff craft props for Sparty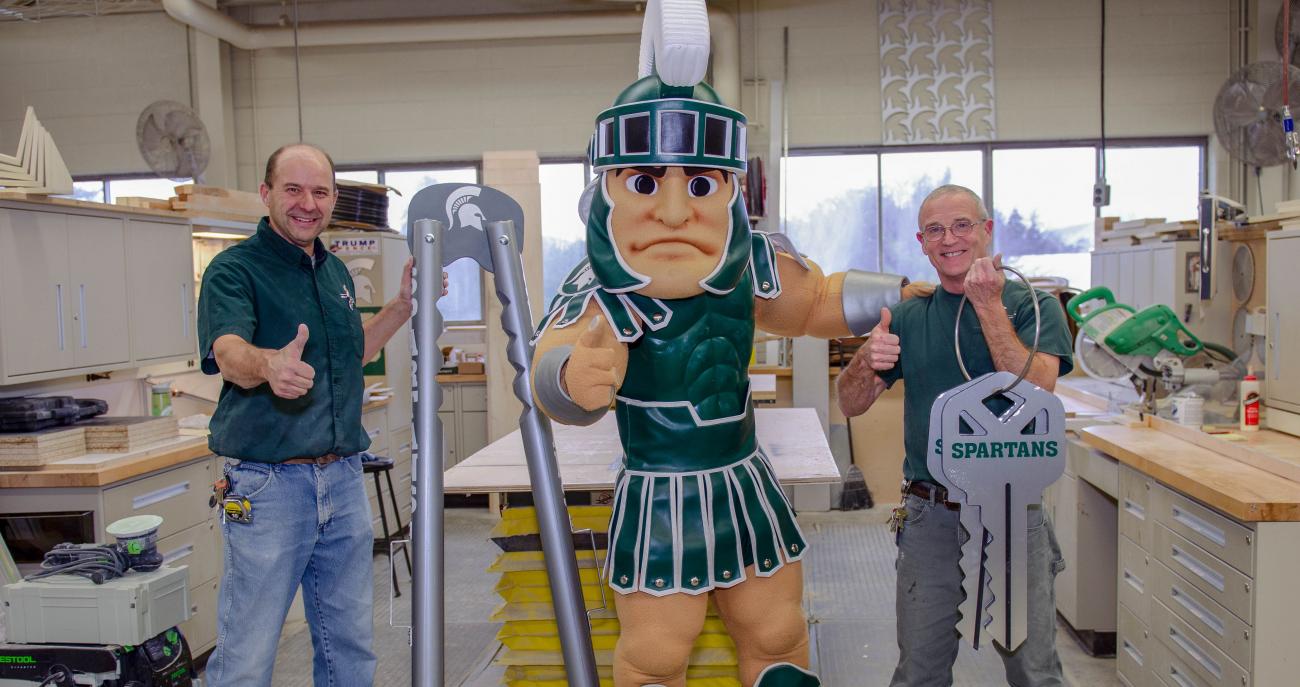 January 18, 2019
Dec. 5, 2018
Sparty's toolbox is growing bigger by the week thanks to employees at IPF's Maintenance Services. The newest addition, a chrome nutcracker, delighted Big10 fans on national TV in November when Sparty held it near Brutus the Buckeye's giant head.
"This is our first year making props for Sparty," said Nick Rowe, carpenter II. Rowe has been with Maintenance Services for 12 years and gave the nutcracker its teeth. "Susan Petrisin, an administrative assistant at the MSU Alumni Association, got a hold of me and wanted a nutcracker made for the Buckeye game."
But making a tool to crack nuts was a hard nut to crack in itself. "It was kind of a challenge to figure out how to do it," Rowe said. "At first, I thought she meant the Christmas Nutcracker."
Brian Arens, carpenter II who works with Nick in the shop, suggested using PVC plumbing to make the tool light enough, and big enough, for Sparty to hold. "I cut notches in it for the teeth, and we filled it with foam and then re-cut the notches," Rowe said. "The top was wood with bolts, so it could open and close. It works great, but I hope Sparty didn't hurt the buckeye."
Other props made in the shop include a Boilermaker sledge hammer and Paul Bunyan's ax for the UM game. "The ax looked really neat, but we never got to see it because they wouldn't use it unless we won. It's in storage for next year," Rowe assured.
The newest prop is a set of giant, silver keys Sparty shakes when the team makes "key" plays. It showcases lettering done by Kimberly Piper in the sign shop and a massive metal key ring made by Donald Meyers in the metal shop.
"It's a combined effort for sure," Rowe continued. "It's always a collaborative effort and really is kind of cool how many different skilled trades there are at MSU and how well everyone works together. Making props is kind of fun, a nice change of pace."
Sparty hasn't been in to the carpentry shop to test the new equipment, but he may stop by to see where his clever props are made, and to pick up his keys.