Meet IPF's campus arborist, Jerry Wahl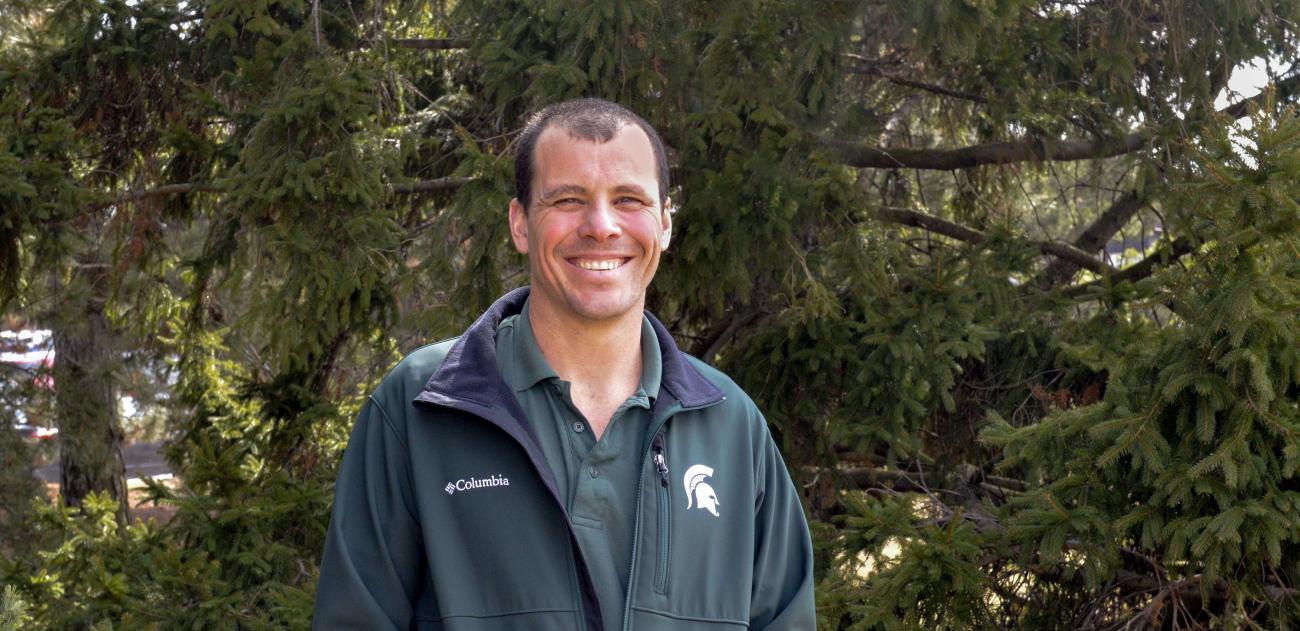 April 9, 2019
March 26, 2019
Jerry Wahl is passionate about the beauty of MSU's grounds and fortunate enough to have made it his profession. His journey into landscape service began while attending MSU and working for IPF.
After graduating from MSU with a degree in fisheries and wildlife, Wahl got a job with Smith Tree and Landscape, where he worked for 10 years. Wahl came back to MSU as a group lead arborist, and when campus arborist Paul Swartz retired last year, Jerry assumed the role.
Some of the challenges faced by Wahl and his crew are the ever-present pests and diseases that threaten campus trees. To combat the pests, Wahl and his team use pesticides that are precisely targeted.
"We drill small holes in the trees and inject pesticides instead of spraying," Wahl said. "This is an effective way of treating for pests and helps us avoid the drifting of sprayed chemicals. We are vigilant in watching for any number of tree diseases that could come along."
Landscape Services routinely adopts new technologies to improve efficiency, such as a smart phone app that catalogs each and every tree on campus, its health and maintenance status. Each of the more than 20,000 trees on campus have been catalogued.
"We also employ injection equipment improvements and electric chain saws" Wahl said. "We are looking into the possibility of using drones for tree inspections."
One of Wahl's favorite parts of his job are the people he works with.
"I really like working with the crew," he said. "They are a great group. It's also nice being able to help the students with their projects. It's a real blessing to work here."
MSU will receive the 2019 "Tree Campus USA" award April 10 from the Arbor Day Foundation. Tree Campus USA is a nationwide effort to increase the number of trees in urban areas.