MSU Bikes - back in the saddle again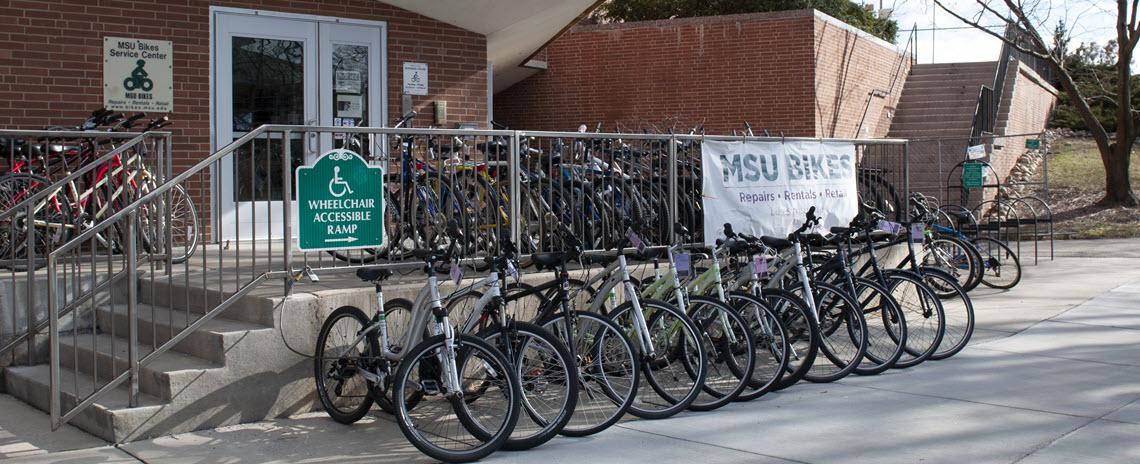 Anthony Yuhasz
June 15, 2020
Seventeen years ago, the seeds were planted for what would become one of the most innovative university biking centers in the country, when Physical Plant's Gus Gosselin and Sustainability's Terry Link (both since retired) launched the MSU Bikes Project which was designed to encourage bicycling on campus by repairing impounded bikes and loaning them out, free of charge, to faculty/staff.
Gus, Terry and a couple of volunteers, including then MSU Alumni Association staff member Tim Potter, operated under an overhang at the Materials and Logistics 209 building with one lockable cabinet for parts and tools provided by the volunteers themselves. The repaired bikes were painted with school colors, and these "green bikes" started getting attention on campus. 
In fall 2003, with help from the MSU Cycling Club, operations moved to the basement of Demonstration Hall. Club members and project volunteers worked to secure grants to equip and build out the shop. In support of the project, some local bike shops provided parts to the shop at wholesale. The loaning program also evolved into a donation-based, year-long lease to individuals that included a lock to keep the bikes secure. In spring 2004, they expanded the project to allow students to participate.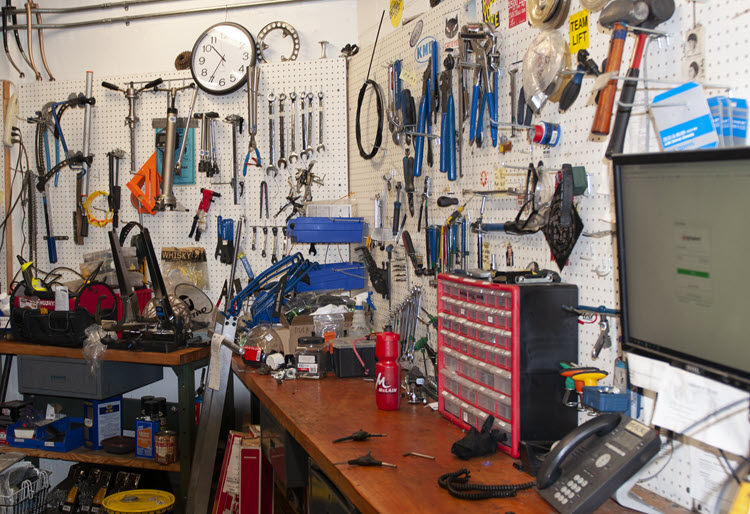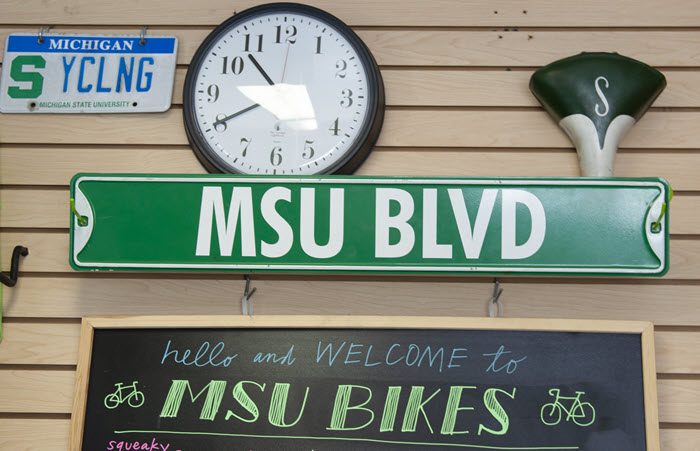 This expansion of service increased the number of bikes in the program from 25 to 200. The team held some big events in the Demonstration Hall Ballroom to further raise awareness as well as funding. Demand for services grew so quickly, that they began offering weekly open shop nights, where for a donation, folks could work on their own bikes with help from the volunteers. This was hugely successful with people routinely lined up at the door. Unfortunately, this also represented a time when volunteers were dwindling.
In early 2006, Potter started attending All University Traffic & Transportation Committee (AUTTC) meetings to improve the visibility of bicycling and to ensure that it was included as part of transportation discussions. Diana Twede, Packaging professor and one of the committee members (since retired), was an avid cyclist and began promoting the MSU Bikes Project. She put together a proposal to fully fund a campus bike center as a recommendation to then Vice President for Finance & Operations Fred Poston, who himself was a champion of "green" initiatives.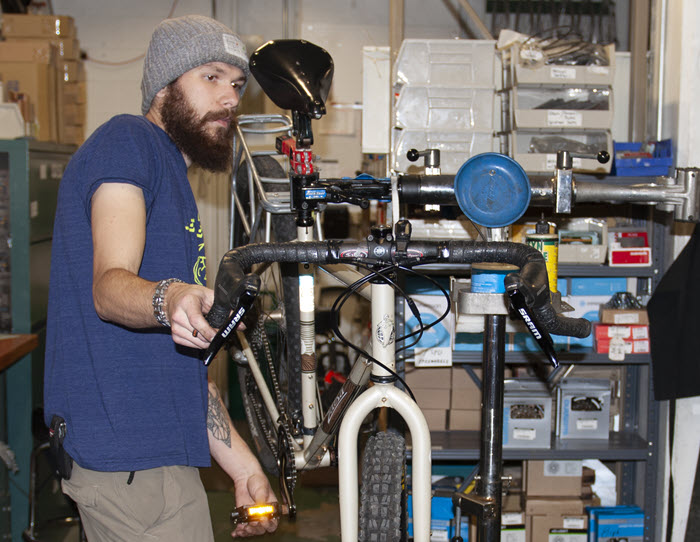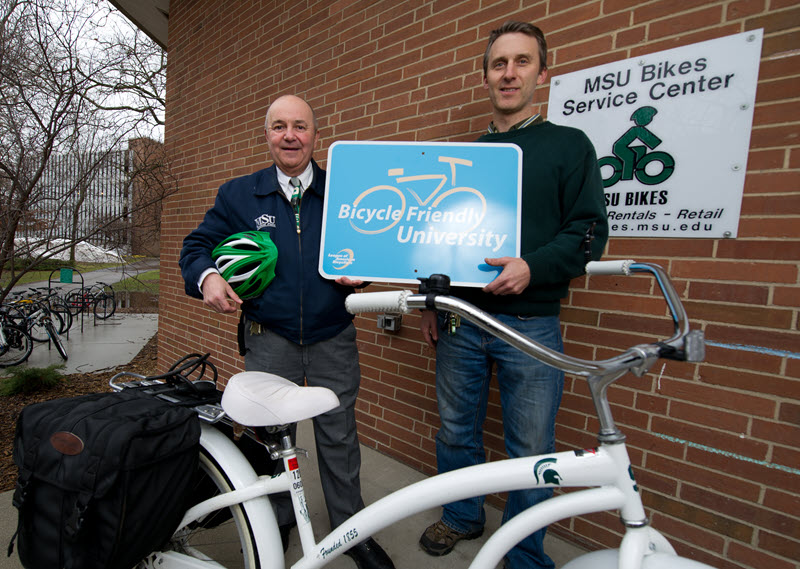 Poston visited the basement shop and was so impressed with what they were doing that he agreed to a five-year plan that would have MSU Bikes take over the old canoe rental space in Bessey Hall, with Potter as full-time shop manager.
Fourteen years later, Potter, now campus sustainable transportation manager, remains a champion for campus bicycling. He is bicycling's voice in campus planning projects, and has been a leader in the development of dedicated bike lanes, bike rack replacements and MSU's designation as a silver-level member of the Bike Friendly America Universities Program.
MSU Bikes has grown to include an additional full-time service manager, Aubrey Hoermann, along with a handful of student staff. They specialize in refurbishing old bikes, but also carry new bikes – both for sale and rent. They recently put their inventory online to allow the campus community a more convenient way to obtain sustainable transportation.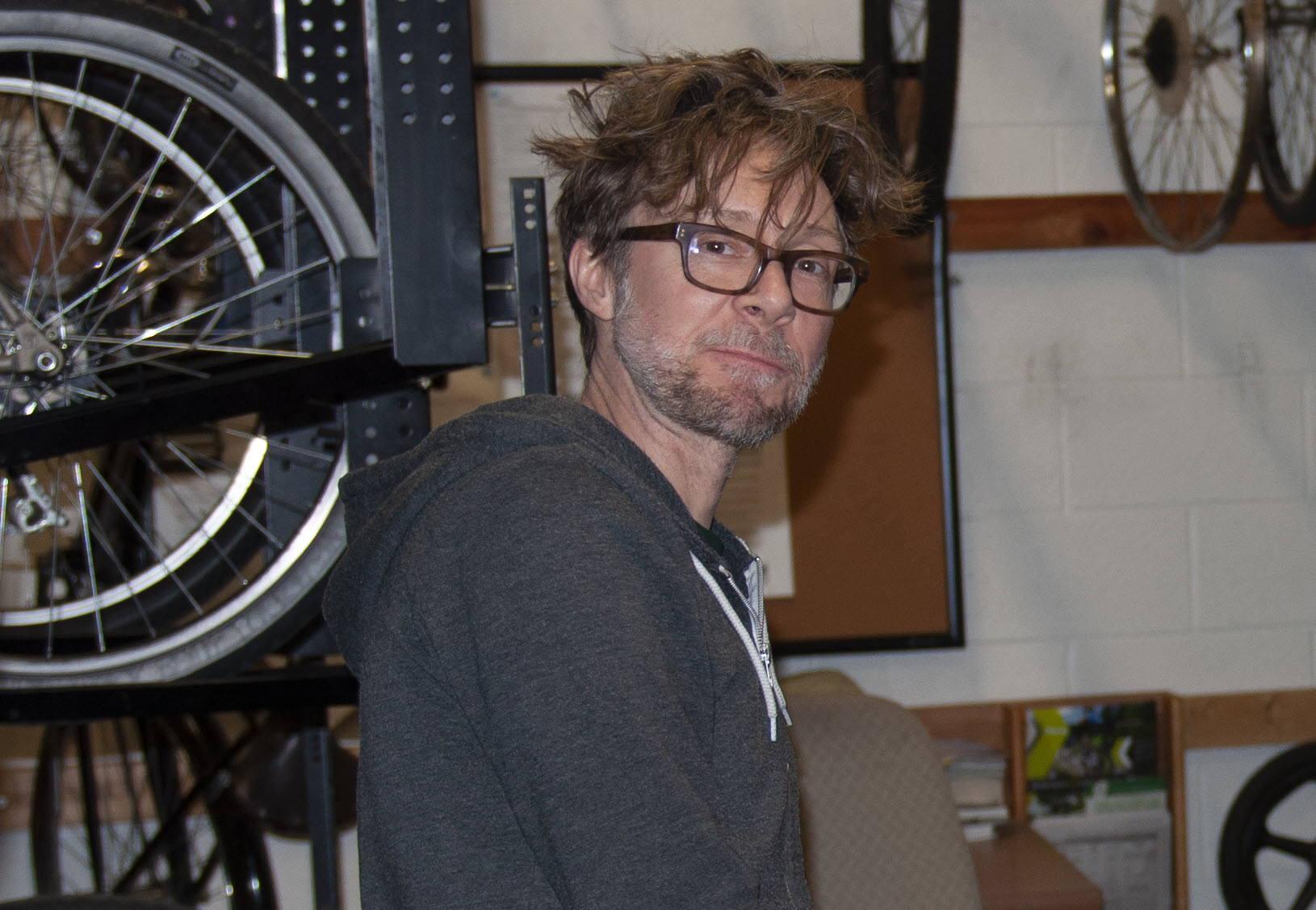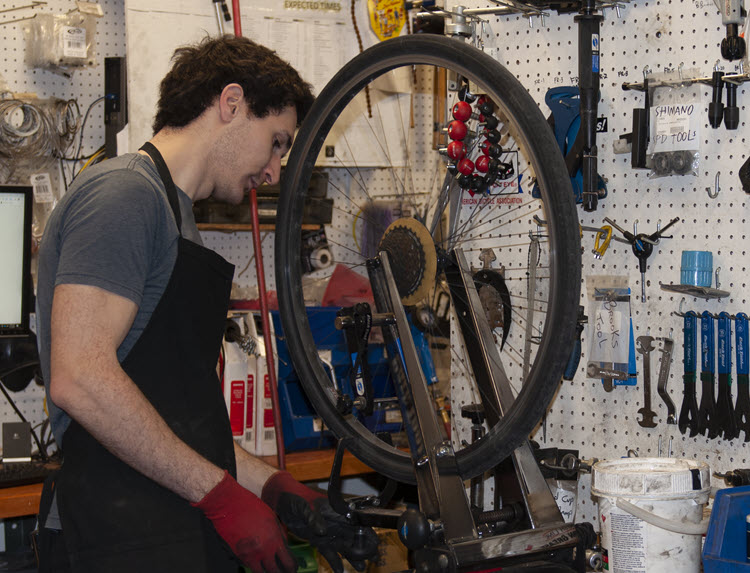 The original project space in the Demonstration Hall basement is still in operation as a self-service and learning bike repair shop. The "Brake Room" is open every Wednesday evening during fall and spring semesters with staff on hand to help MSU cyclists learn to maintain their own bikes.
In March 2020, face-to-face services at MSU Bikes were temporarily paused as part of the university's response to the COVID-19 outbreak. Service Center full-time staff made good use of the down time by providing remote services via Facebook, phone and email to area cyclists, many who were rediscovering riding as a way to stay fit while social distancing. Potter and Hoermann also worked with Okemos Public Schools in producing bike maintenance and safety videos geared towards school-aged children.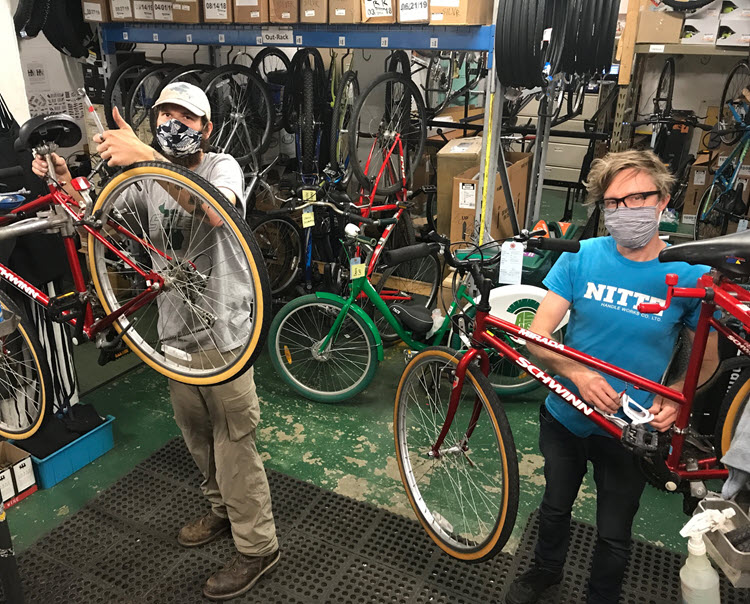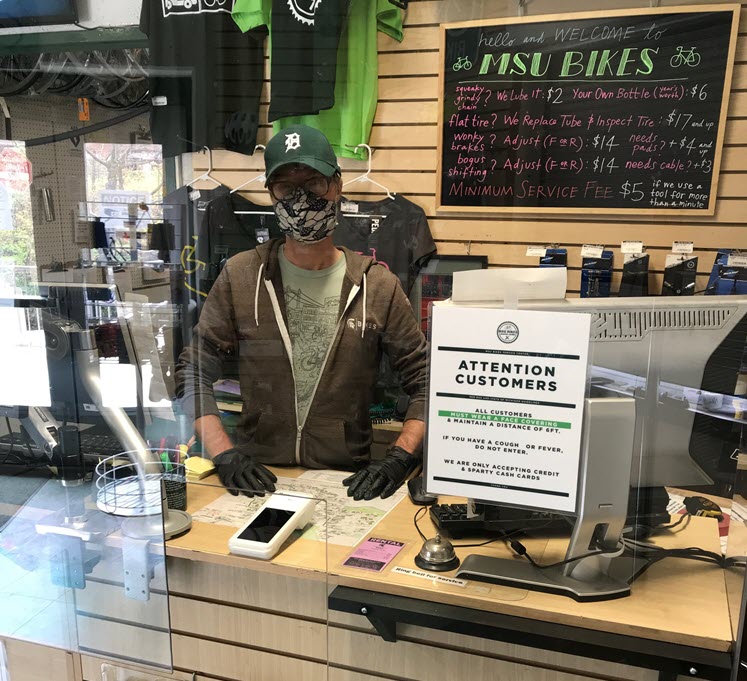 The Service Center itself received a bit of a makeover with the installation of a protective plexiglass shield at the front counter to safeguard both customers and staff. With the gradual lifting of some restrictions by the university, staff were able to resume online sales with contact-less delivery, and more recently resumed repair and walk-in services. Since then, they have helped customers from as far away as Bowling Green, Ohio with purchases of increasingly harder-to-find bicycles.