A new chapter for a Library roof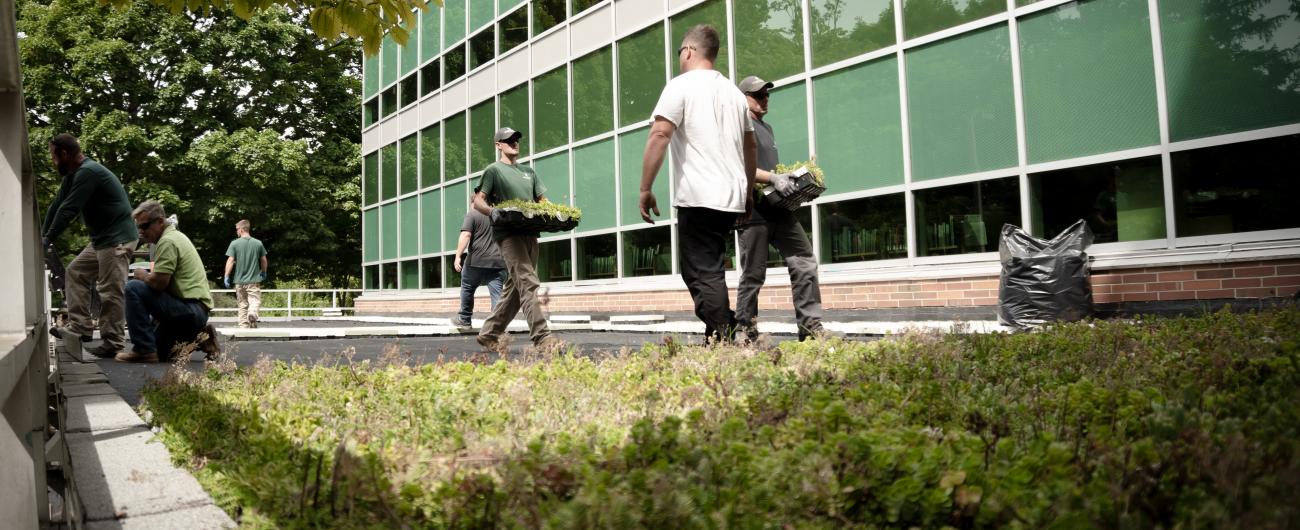 September 10, 2019
For some, the idea of a "green" roof conjures up visions of landscaping staff pushing lawn mowers over the tops of campus buildings. But in reality, installing a green roof is a low-maintenance way of replacing natural spaces that were lost as part of building construction.
On Aug. 26, the MSU Library received the "green carpet" treatment on its southwestern roof, where 2,200 square feet of varieties of sedum, succulent plants that can withstand both drought and deluge, were installed. The Library joins the other campus buildings which sport green roofs including Plant and Soil Science, Wells Hall, Rather Hall, Bailey Hall and Brody Hall.
Developed in Germany in the early 1960s, modern green roof technology involves covering a rooftop with a waterproof membrane, growing medium and vegetation.
"The waterproof membrane does the work of keeping the building dry," said Wayne Buck, Roofing skilled trades supervisor. "In addition, there is a drain mat and root barrier system sandwiched between the waterproofing and vegetation." He adds, "the root barrier prevents the vegetation from growing into and damaging the waterproofing, and the drain mat adds separation and helps in proper drainage of runoff."
The plants arrive in modules, trays complete with soilless growing medium and vegetation, designed to be installed side-by-side on top of the waterproof membrane. The modular design allows sections of the roof to be removed for maintenance without disturbing the remainder of the plants.
"Green roof systems have many benefits other than just a good view," Buck said. "They reduce airborne pollutants, produce oxygen, provide habitat for various animals, reduce sewer overflows by absorbing excess rainfall, save energy by providing additional insulation to a structure, absorb sound and soak up sunlight which contributes to the decay of existing roofing materials."
He adds, "European studies have found that a green roof can double, or even triple the life expectancy of a roof."