Painting Department and Carpentry Shop go rustic, create beautiful furniture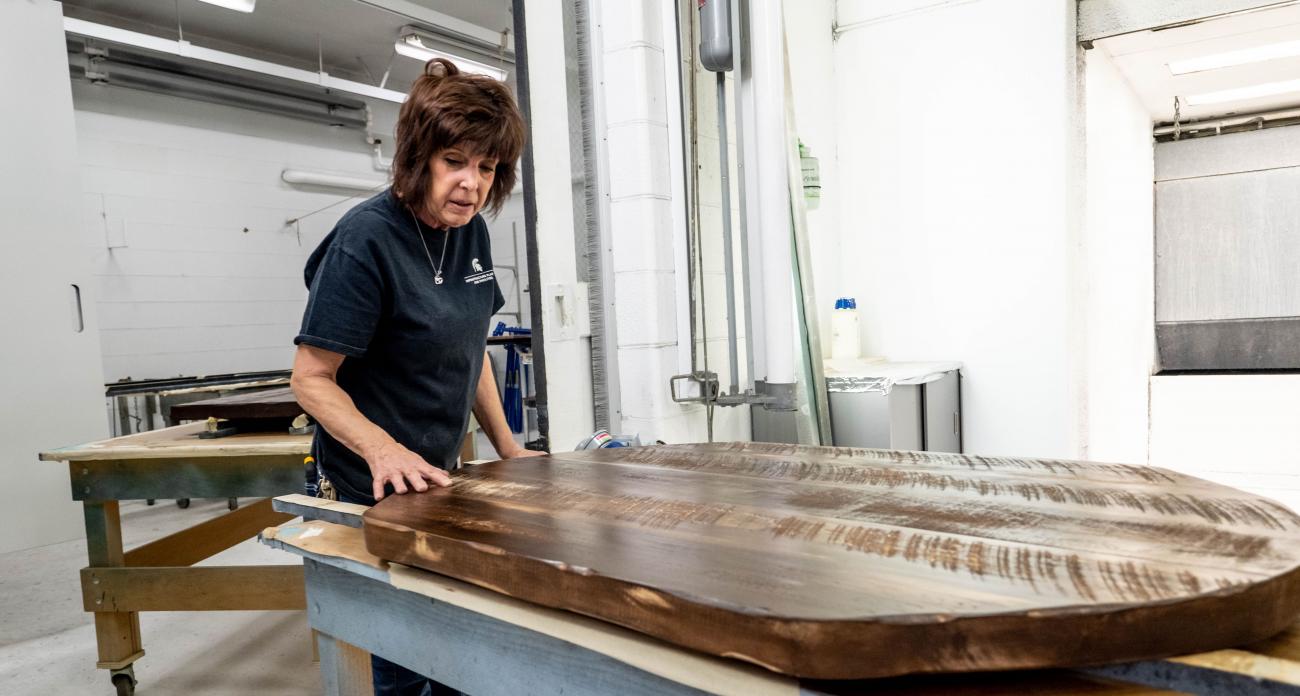 January 18, 2019
Dec. 17, 2018
The painting department and carpentry shop were faced with a new challenge this year when a customer acquired a rustic taste for office furniture. IPF employees accepted the challenge, resulting in unique, beautiful pieces of Spartan teamwork and creativity. 
Pam Hebeler, painter I who has worked at MSU for over 12 years, coordinated the project. 
"This vintage look was something I had never done for a customer before," Hebeler said. "Normally everything has clean lines and must be perfect, but this project was about making each piece unique. I had to walk away from painting things to look uniform and work on keeping it messy instead. We really wanted to do a great job and make the customer happy." 
Michael O'Rourke, professor of philosophy, brought in a rustic table to act as a guide for the rest of his furniture. Hebeler painted a table-top and a bookshelf to complete the overall ambiance of his office. 
Nick Rowe, carpenter II, designed and built the pieces for the project. Rowe decided to use basswood so the pieces would be sturdy, but light. He also left radial saw marks on one side of the table top, which allowed different shades of paints and stains to fill the specific cuts. 
"I always enjoy working on custom projects," Rowe said. 
Although this project was outside of her comfort zone, Hebeler says it was a great learning opportunity. 
"Now, if someone came in and asked for something like the 'rustic look,' I would have a better idea of what to do," Hebeler said. "It's always good to step out of your box, no matter how uncomfortable it is." 
According to O'Rourke, "The pieces look great. I wasn't sure what to expect, given the initial table top was so distinctive, but Ms. Hebeler and the team that designed, made and finished the furniture did a really excellent job. The furniture definitely gives the office the look I was hoping for."