PDC helps staff chart out their futures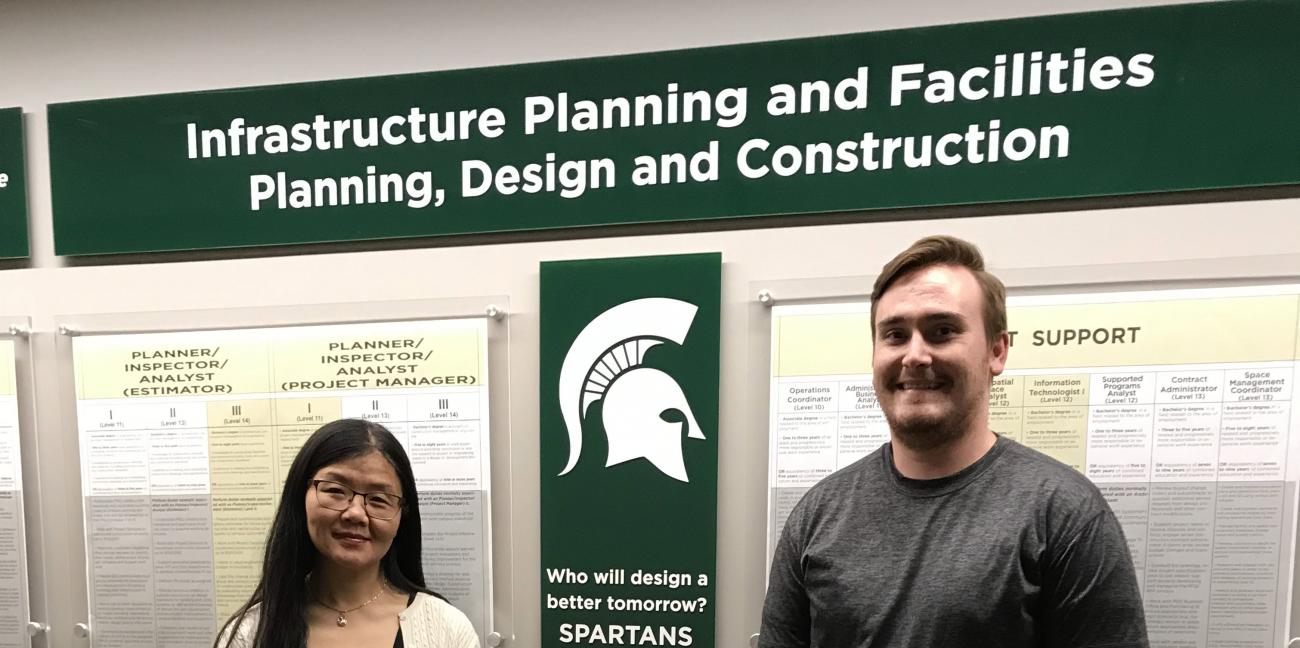 July 2, 2019
Over the last year, PDC staff have collaborated on the creation of an eye-catching wall graphic that promotes career development in each of the department's unique disciplines.
The graphic, inside of Suite 102, incorporates updated job descriptions, T-shaped competencies, job classifications, IPF and PDC mission statements and IPF's strategic objectives.
"This was created to be a communicative and transparent graphic showing staff what they need to do to progress," said John LeFevre, PDC director. "It gives them opportunities to have conversations with their supervisors on career development and goals."
The project was spearheaded by the PDC Training and Development Committee to address an employee engagement action item. Phase one and two of this action plan enlisted team members Jannene Andrews, Ken Beach, Yun Cao, Carol Cool, Allison Peterson, Cameron Waldron, Kelsey Weiler and LeFevre.
Twenty-five job descriptions were re-written and updated for the graphic, and four new classifications were created. "A lot of collaboration was needed to accomplish this; there were about 20 staff members who contributed to the creation of the new descriptions," LeFevre said.
Using Landscape Services' career graphic as a foundation, the PDC team decided it was time to update the jobs and place all the information in one convenient location.
 "In the past, a staff member would have to do a fair amount of research to find the information that is available on the graphic," LeFevre said. "Hopefully our board can act as inspiration to other departments just as Landscape Services was to us."
The graphic is unique in that the T-shaped competencies presented are specific to each role. "This gives each staff member a better understanding not only of what is expected of them, but also provides a global understanding of PDC as a unit," LeFevre said.