Power plant upgrades to move MSU closer to greenhouse gas reduction goals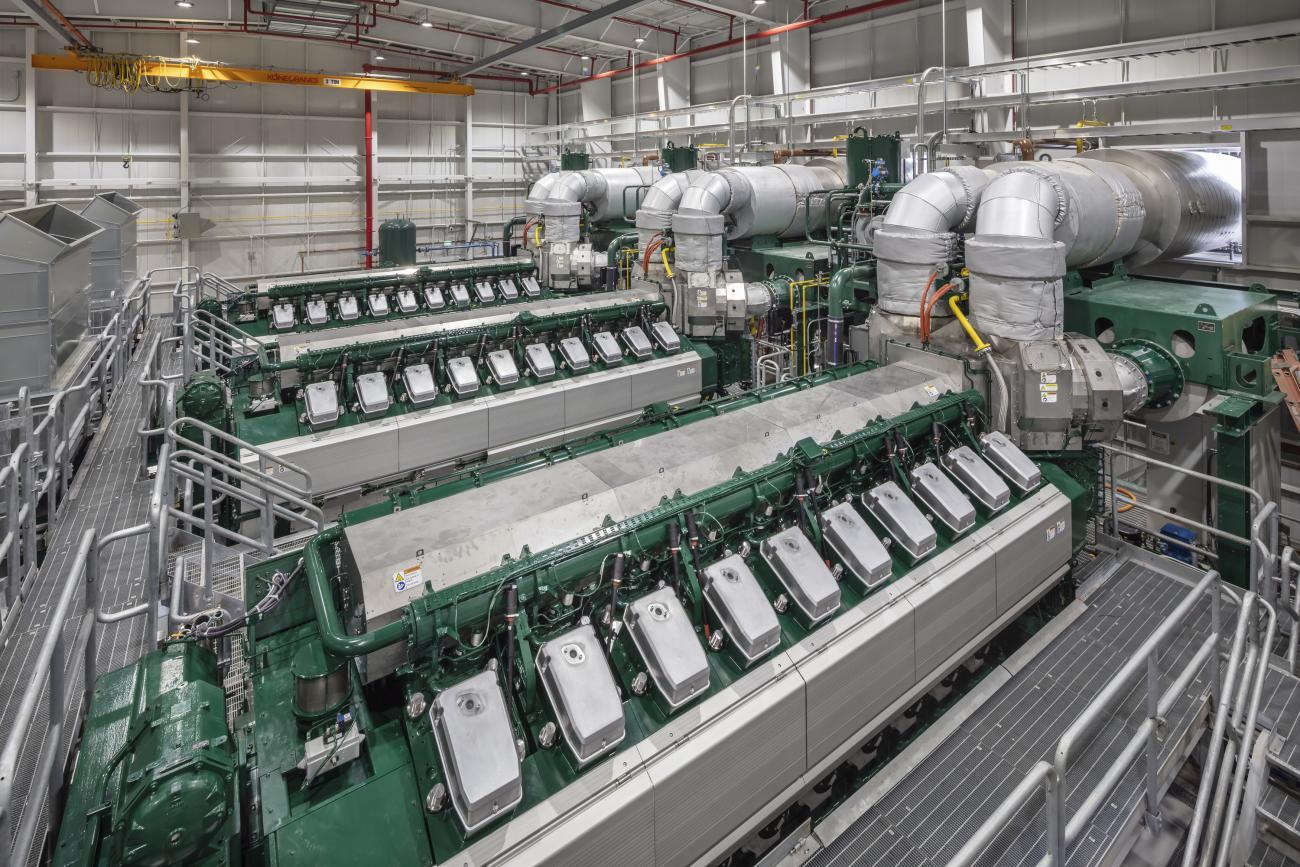 February 28, 2023
$65 million investment makes plant more efficient, cost-effective
New energy generation systems now operational at Michigan State University's T.B. Simon Power Plant will greatly advance the university's efforts to cut its greenhouse gas emissions.
A new $17.75 million, natural gas-fired steam boiler officially entered service at the plant in January, supplying up to 200,000 pounds per hour of steam output to campus for building heating and cooling. While physically smaller, the new boiler is more efficient and flexible than the older boilers at the plant, giving it the capability to reduce emissions and expenses without compromising reliability.
In a nearby structure, three new natural gas-fired reciprocating internal combustion engines that generate up to 27 megawatts of electricity at peak output help power most everything on campus from mobile phones to the heavy-ion accelerator at the Facility for Rare Isotope Beams. The new $47 million engine plant started producing electricity in February 2022, and unlike the old boiler and steam turbine systems, the engines can be started and stopped more readily to adjust quickly to changing campus power needs.
"Thanks to this $65 million investment, we can run the plant more efficiently and cost-effectively," said Sherri Jett, MSU's director of utilities. "Now we can better separate steam and electrical production to meet campus needs and reduce our operating costs by eventually retiring at least one 60-year-old boiler and steam turbine."
"Those systems have served Spartans well over the years, but they've reached the end of their useful life and are increasingly less reliable and more costly to maintain."

Jett said since the power plant started operations in 1965, campus electrical and steam needs began changing at different rates. By the late 1990s, peak demand for steam plateaued while peak electrical demand kept growing, and by the 2010s, steam demand reduced due to advances in building construction and heating and cooling systems. That resulted in the plant producing more steam than campus needed.
A university utilities planning team is carefully reviewing campus' expected future power needs and will recommend which aging boilers and steam turbines can be retired to meet both MSU's power needs and its climate goals. A decision about the equipment is expected by the end of the year, and actual equipment decommissioning would occur in future years.
"MSU takes a holistic approach to climate change by embedding sustainability and climate change throughout our mission and embracing them in action," said Melissa Woo, MSU's executive vice president for administration. "This investment reflects continued progress toward the university's goals to cut greenhouse gas emissions by 50% by 2030 and achieve climate neutrality by 2050."
The university also has begun adding dozens more electric vehicles to its vehicle fleet to meet its emissions goals with plans to add hundreds more by the end of the decade. These recent efforts build upon other major milestones in reducing the university's footprint. The university's solar carport arrays cover over 5,000 parking spots in five commuter parking lots, making it one of the largest carport solar arrays in North America and producing up to 5% of the university's power needs. Most significantly, MSU switched entirely from coal to natural gas as an energy source in 2016, dramatically reducing its carbon emissions.
MSU's sustainability goals can be found at the 2030 strategic plan website.