R.I.C.E. – helping reduce MSU's carbon footprint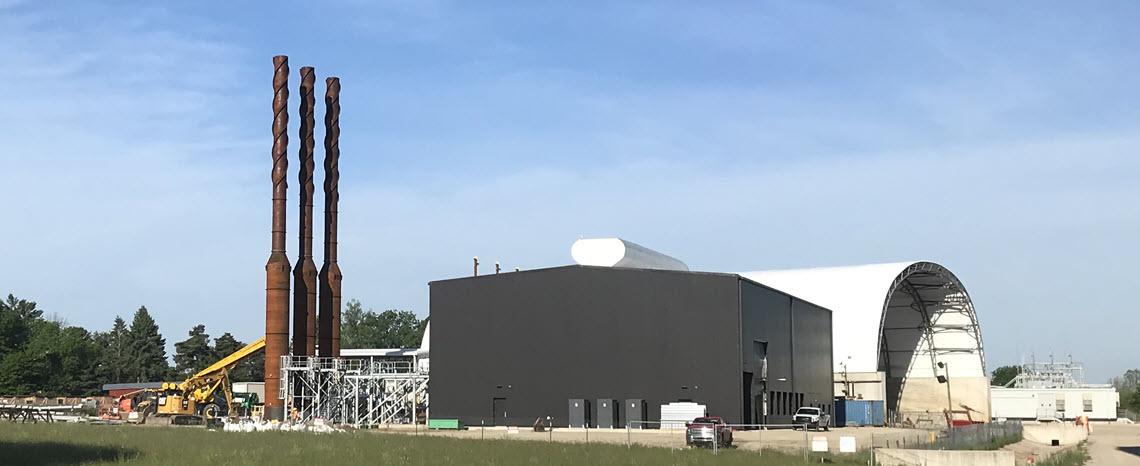 Anthony Yuhasz
July 10, 2020
The building itself may be rather plain by MSU standards, but what is contained within its walls will help MSU further reduce its carbon footprint by enabling additional solar energy production from the planned south campus solar farm, as well as positioning the power plant to be able to retire existing generation units that have reached the end of their lifespan.
The Reciprocating Internal Combustion Engine (R.I.C.E.) technology that is being deployed at the T.B. Simon Power Plant is more responsive, offers additional flexibility, and operates at higher efficiency than the traditional generation units currently in use.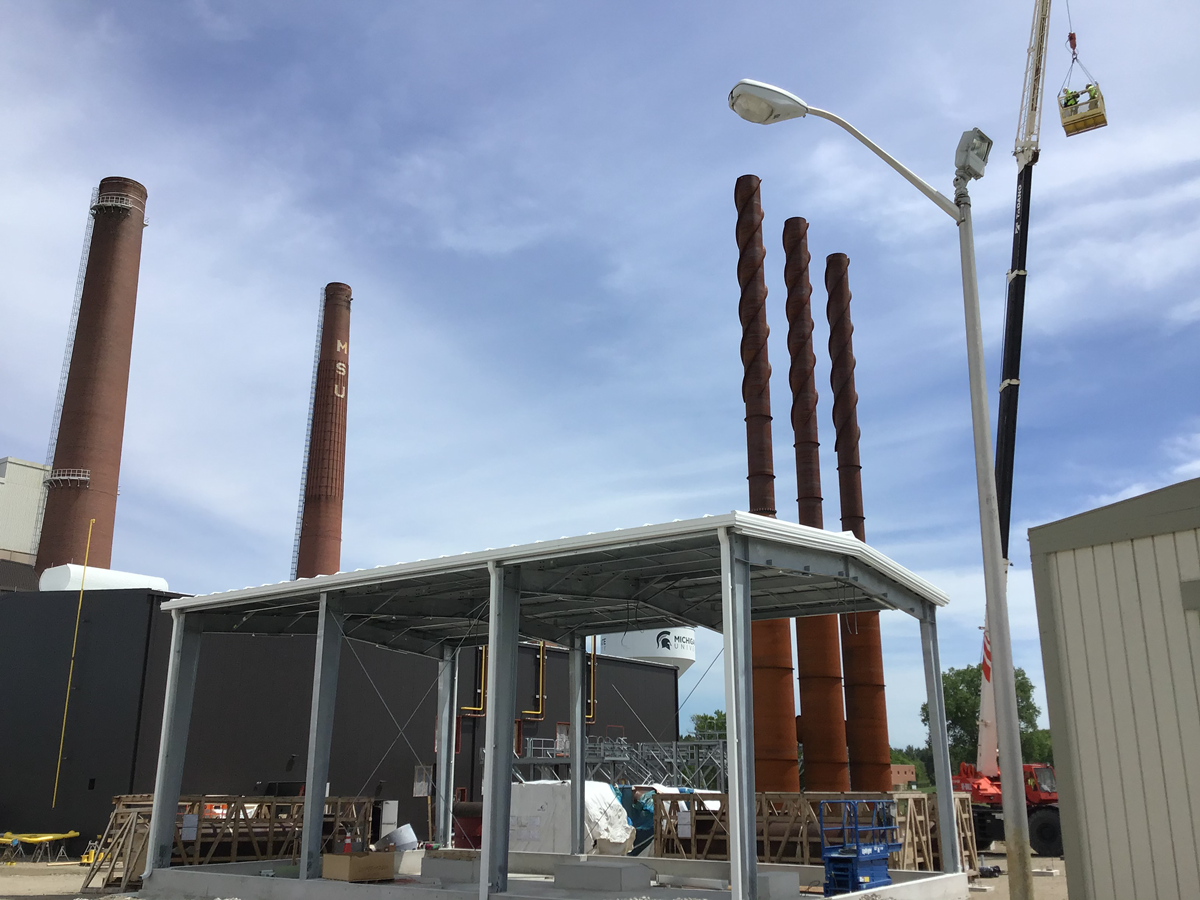 To understand the affect these new generation resources will have on MSU's microgrid, a rigorous electrical stability study was conducted.
"An outside consultant built a model of our microgrid electrical generation and distribution system, examining generation sources, campus demand, our connection to the utility grid and load flow scenarios," said Sherri Jett, director of Utilities. "This helped us understand what the addition of R.I.C.E. units and the solar farm, whose power production will vary dependent on weather conditions, will have on the stability of our microgrid."
The R.I.C.E. units will produce electricity directly from the combustion of natural gas without requiring the co-production of steam and will allow the plant to respond more flexibly to campus demands for steam and electricity. In the spring and fall when steam demand for heating/cooling is lower but electrical demand is high, the plant will be able to use the R.I.C.E. units to produce the additional electricity needed by campus so that extra steam production can be avoided.
The quicker response time of R.I.C.E. technology also makes it an essential addition to the power plant as the university expands its solar energy resources. The highly variable nature of solar production requires the ability to satisfy campus power demands even as renewable power production changes. R.I.C.E. technology will enable the power plant to provide a stable electrical output, regardless of weather conditions affecting solar production, by quickly ramping electrical production up/down much faster than the traditional generation units in the plant.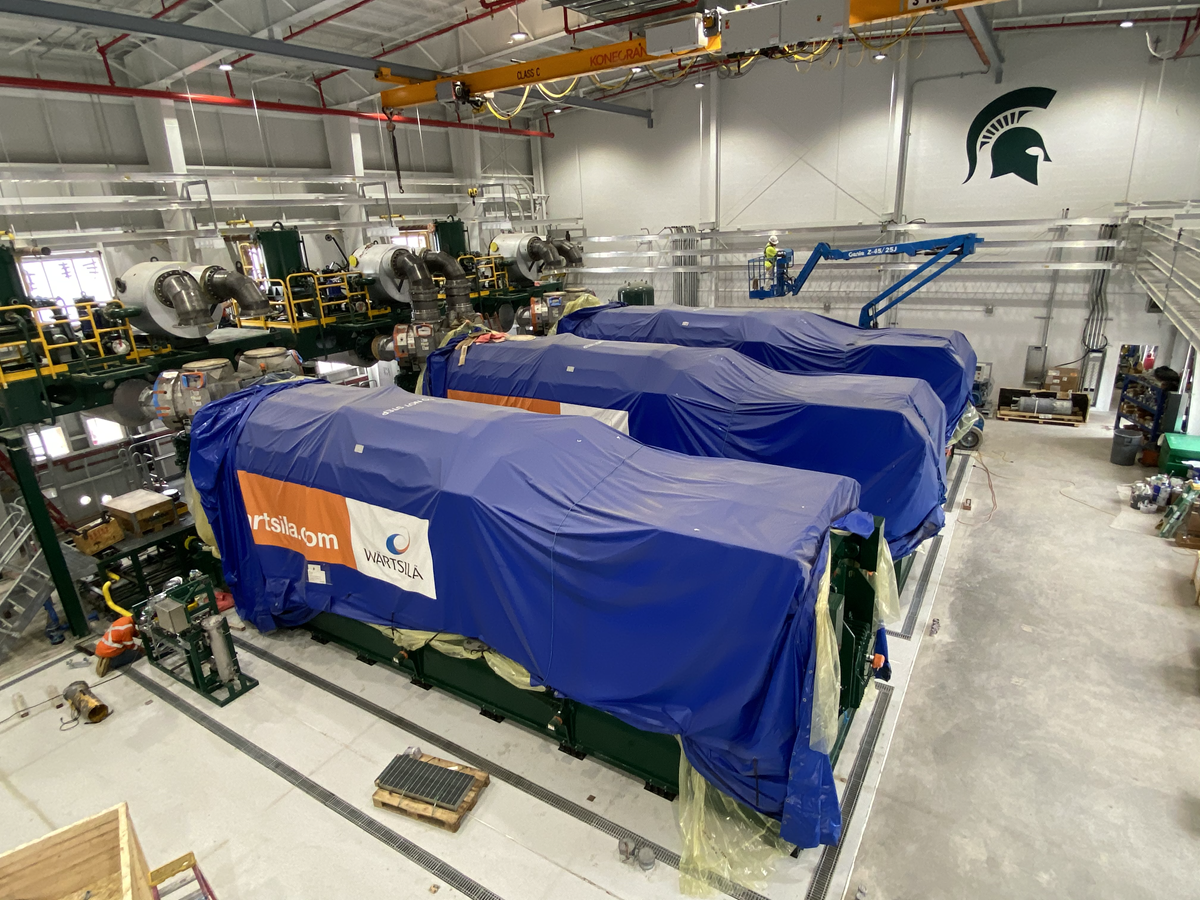 However, even with their faster response time, R.I.C.E. alone will not solve the issue of meeting campus power demands while utilizing energy resources whose output can vary wildly.
"R.I.C.E. will help with the need for quick response to offset the inherent volatility of renewable energy production, but will not be the full solution" Jett said. "We will still need to make up for the difference between the speed of solar production swings and the R.I.C.E unit ramp rate." She added, "We are exploring different alternatives including energy storage and utilizing our connection to the outside utility grid to bridge this gap."
Regardless of what the final system will look like, employing R.I.C.E. technology is a smart and necessary step towards reducing MSU's carbon footprint now, and into the future.