River Trail Upgrade Brings Safety for Pedestrians and Bikers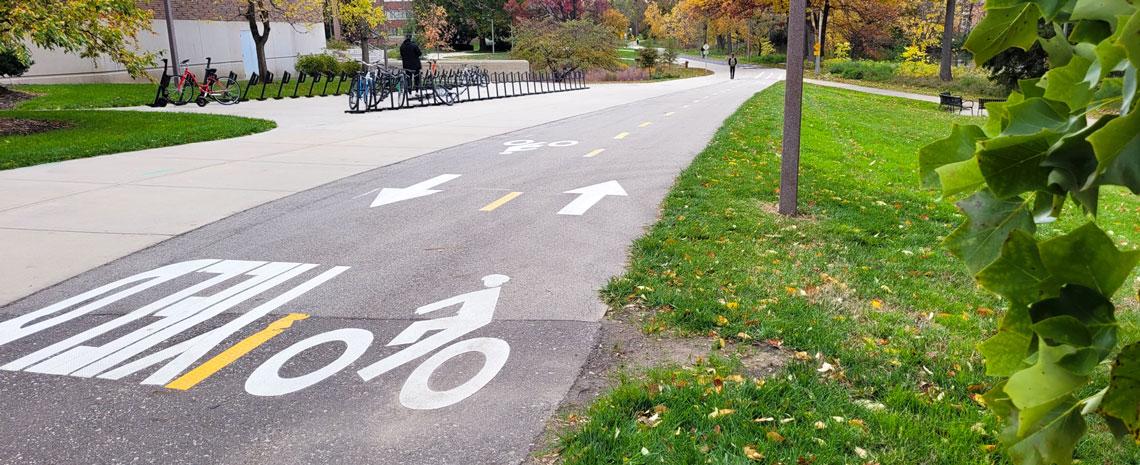 Danielle Fowler
November 3, 2021
Completion of a recent phase of construction on MSU's river trail, which follows the Red Cedar River, means users have access to a separated bike and pedestrian trail across three miles of campus.
The improvements, the result of a collaboration between the Michigan Department of Transportation (MDOT) and the city of East Lansing, now mean that pedestrians and bikers alike can enjoy a safe trip from Hagadorn Road all the way to Harrison Road.
"Before completion of this work, these two sections of the trail didn't have pedestrian and bike separation," says John LeFevre, director of Planning, Design and Construction with MSU's Department of Infrastructure, Planning and Facilities. "Now that the expansion is complete, all users can share the newly widened and striped trail.
Users of the trail can continue their trip past Harrison Road: the section of trail on MSU's campus is a part of the capital-area's Lansing River Trail, the first leg of which opened in 1975. The trail spans the Lansing area, as far west as Waverly Road and as far south as Holt Road and covers over 20 miles total.
During the construction work, IPF continued its partnership with the MSU Campus Archaeology Program, allowing students and researchers access to the site during the construction phase. Though no major discoveries were made, this continuing partnership ensures that construction that serves to advance MSU's academic mission is undertaken with respect to the history of the university. 
The project leads also worked with the State Historic Preservation Office (SHPO) to ensure the changes were permitted and completed safely and sustainably.
The expansion of MSU's river trail has been tackled in multiple phases. This phase of the work is the first to use outside funding, a grant from the state of Michigan through the MDOT Transportation Alternatives Program. Stephanie O'Donnell, a university traffic engineer with the MSU Police, assisted IPF in applying for the grant.
"I work with the Capital Area Regional Transportation Study committee to be sure MSU is positioned to receive funding from state or federal sources if we're eligible," says O'Donnell. "IPF helped me a great deal, and I'm sure we'll continue working together to obtain future funds."
MSU has been awarded gold status from the League of American Bicyclists this year to recognize the university's continuing efforts to enable safe, accessible bicycling on campus.
For more information about the river trail, visit lansingrivertrail.org. You can also view pictures from the October 23, 2021 celebration event on Facebook.