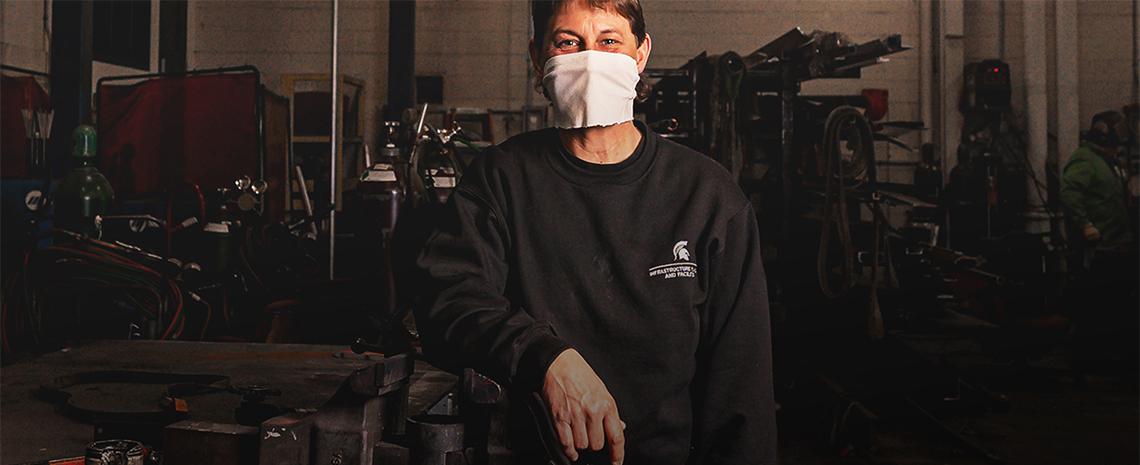 Nick Schrader
March 30, 2021
The skilled trades is a vast landscape covering an array of professions including carpenters, electricians, roofers and sheet metal workers. According to Women in Skilled Trades, women make up 40 percent of the world's workforce, but only 5 percent of skilled tradespeople.
With an anticipated worker shortage in the skilled trades in the next ten years, it's more important than ever to highlight the important role women play in these traditionally male-dominated professions.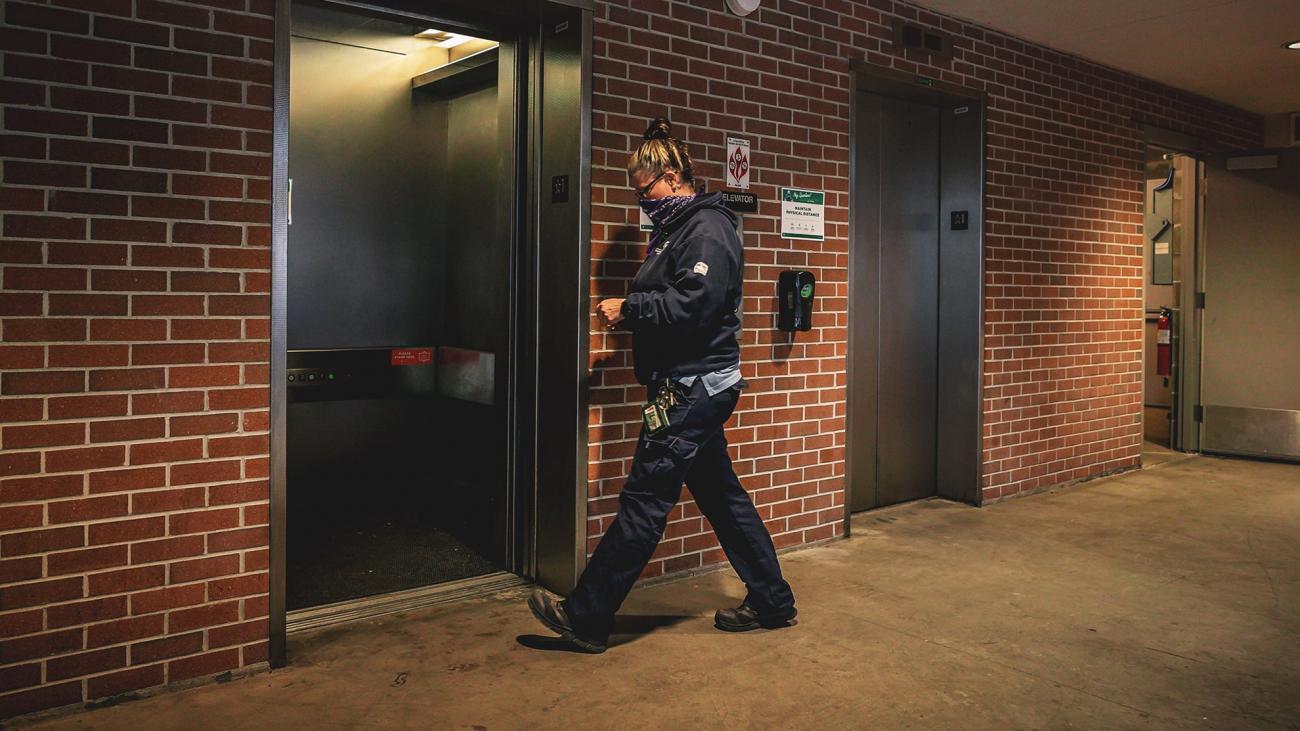 As the morning sun crests the East Lansing skyline, a crisp breeze greets Melissa Peek as she briskly walks from her work van to a bank of elevators located in Ramp 5, commonly referred to as the Comm Arts ramp.
The elevators are tucked in a heated public space where patrons wait for the next CATA bus. Peek, an elevator mechanic, is speaking to the state elevator inspector there to review her work in updating the elevator's oil tank and pressure valves.
Ramp 5's elevators make up a few of more than 300 on the Michigan State University campus. Campus elevators range from small, one-person occupancy to large, industrial-sized elevators that can hold thousands of pounds.
Each elevator is monitored 24 hours a day by a team of six elevator mechanics, including Peek, who is one of a hand full female elevator mechanics in the country.
"There are only two other women in the trade in Michigan," she said. According to the U.S. Department of Labor, women make up 3.7% of elevator mechanics nationally.
"I worked construction for 10 years, and I knew that my body wasn't going to take it." Through family connections, Peek was soon given the opportunity to follow in her father's footsteps. "My dad's a retired electrician who worked for GM his whole life, and so I was going to go that route."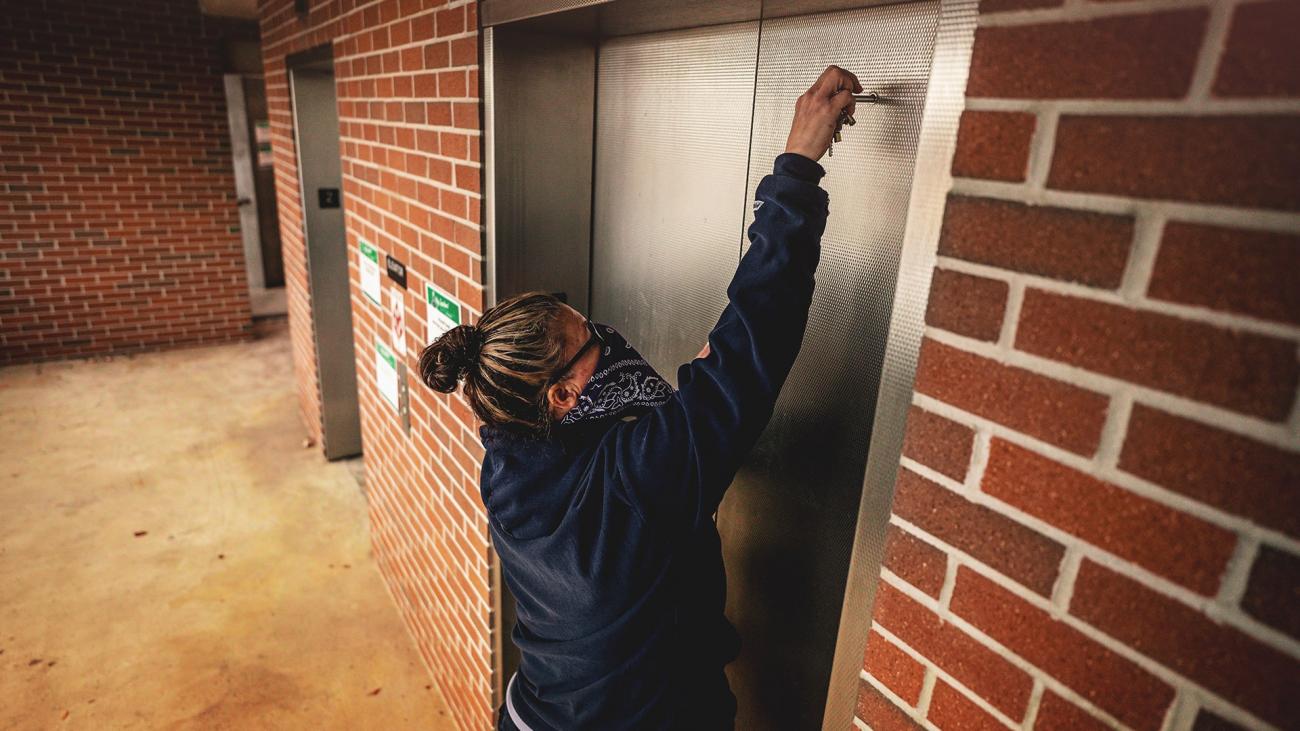 But like most skilled trades stories, her career path changed when a new opportunity arose.
"My father did a side job for the guy who ended up hiring me," said Peek. "One day he called and asked if I was interested in the elevator trade."
At the time, Peek wasn't aware of a trade dedicated solely to elevators. "I just thought they came and dropped an elevator in from off site. What did I know?" Elevator mechanics install and repair transport equipment, adjust braking and control systems, and perform preventative maintenance to keep users safe.
"I wasn't a little girl saying I want to be an elevator mechanic when I grow up," she said with a laugh.
It's a long journey to gain the experience needed to be an elevator mechanic. And while many trades offer degree-granting programs, elevator mechanics undergo on-the-job training that can take years.
As an elevator mechanic at MSU, Peek has embraced learning opportunities to further her experience and skillset. With more than ten years of experience, Peek is licensed to not only repair and service elevators, but she can also perform modifications to existing equipment like fabricating a new valve and oil tank for the Ramp 5 elevators.
And while she cannot inspect her own work in Michigan by law, Peek holds a Qualified Elevator Inspector certification qualifying her as a state inspector in all other states throughout the country.
"I always wanted to be a state inspector," she says. "I got lucky."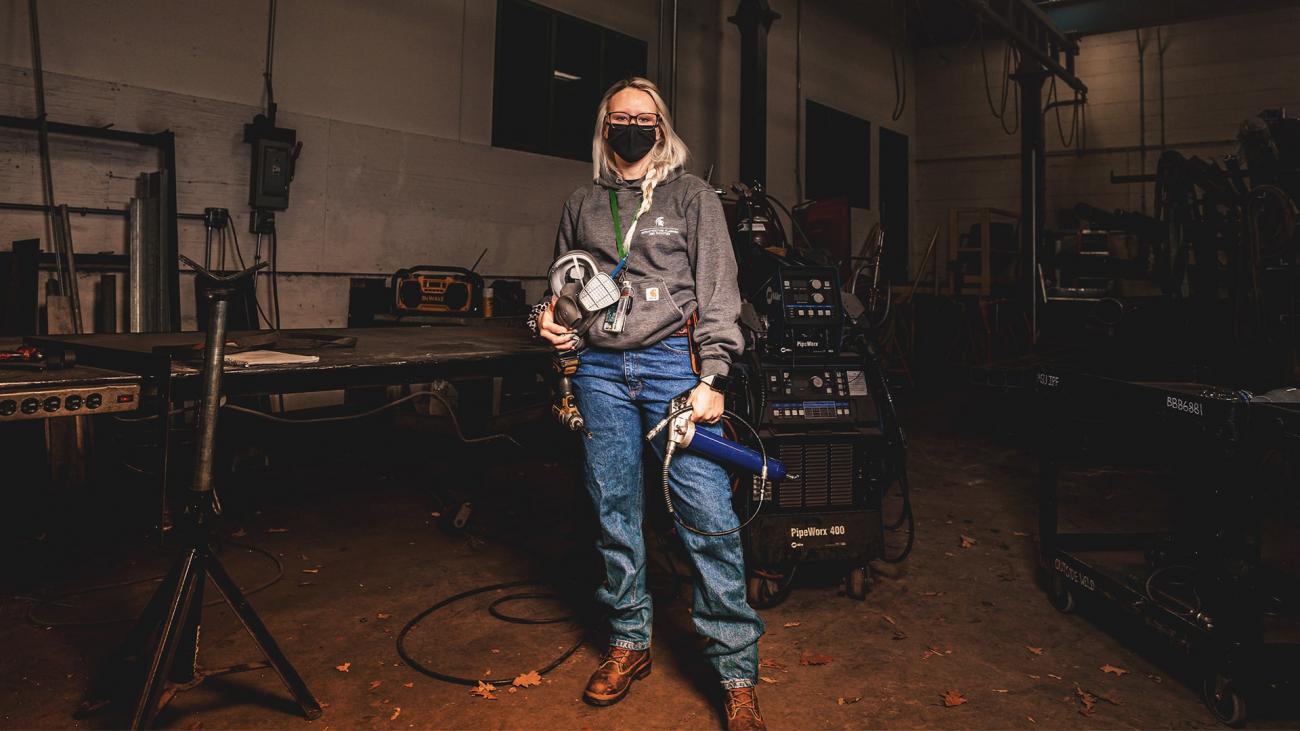 A welder's spark casts shadows across the room as Courtney Hasse sets her work bag on the floor, removing a power drill, grease gun and respirator.
The room – a hub for MSU's metal tradespeople – feels gritty and smells of burnt metal. Employees cycle in and out of the oversized garage door framed by rows of piping and welding equipment. Speaking just loud enough to overpower the ambient noise, Hasse, a preventative maintenance worker/mechanic, explained how she came to this field.
"I started as a temp in the refrigeration shop working on window air conditioners, and then I went to school for welding. It's definitely challenging. Every single class that I was in, I was usually the only female," Hasse said.
Hasse's classroom experience is not unusual. Nationally, only 5.9 percent of welding, soldering, and brazing workers are women. With more than 539,491 people in the trade, standing out among the crowd can be especially difficult.
"Because there are so few women in the field, I feel like I've had to prove myself twice as hard just to get my foot in the door."
Positions like Hasse's are vital to structural longevity, especially at an institution as old as MSU with more than 500 buildings requiring attention.
Building systems are like living entities that require considerable maintenance to function as designed. Even during the COVID-19 pandemic, continuous maintenance on campus structures must be performed to ensure system readiness for when occupancy increases.
Facilities maintenance teams at MSU have been charged with upgrading various building systems to keep faculty, staff, and students healthy. The attention to detail and physical stamina needed to perform these tasks at such a high volume is oftentimes overlooked by the general public.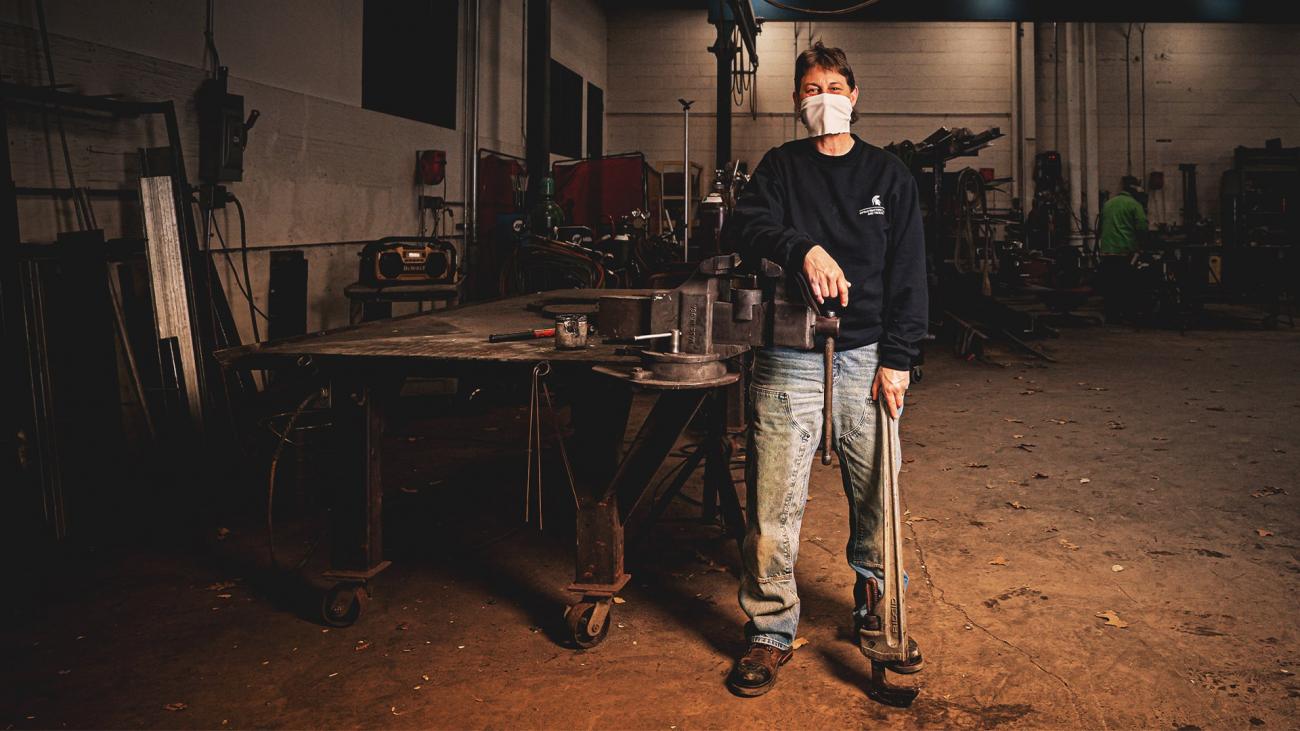 Much of the work Hasse and her colleagues do is invisible to the students, staff and faculty at the university. "It's not visible, what we do," Hasse said. "We're changing out filters and putting in high-quality filters for students to be able to breathe fresher air."
Marcie Nickols, a plumber with more than eight years of experience in facilities maintenance, added that, "sometimes we're up in the ceiling, underground, or in the walls. We're all over the place. Even in spots you wouldn't think about going into."
As an umbrella term, facilities maintenance accounts for numerous fields in the skilled trades, including plumbing. The Labor Department reports that of the 509,708 plumbers, pipefitters, and steamfitters in the country, 7,228 are women, only 1.4 percent of the total workforce.
Lindsay Hasse, a licensed plumber and Courtney's sister, saw an opportunity in plumbing and took it. "I was 20 years old looking for a job. At the time I had no idea what plumbing was as a career, and I thought it wouldn't hurt to learn," she said. "It was an accident, really. I didn't know what I was getting myself into."
But it is really rewarding," Hasse added. "People light up when you're there. You get to be a hero."
While the national trend of women in skilled trades has increased over the years – in some cases by 20 percent – men still dominate most fields. That disparity isn't lost on Hasse.
"We can do it," she said. "And I feel like I try to prove to myself that I can, more than I do for someone else."