Transplanted IPF landscape architect creates a tail-wagging design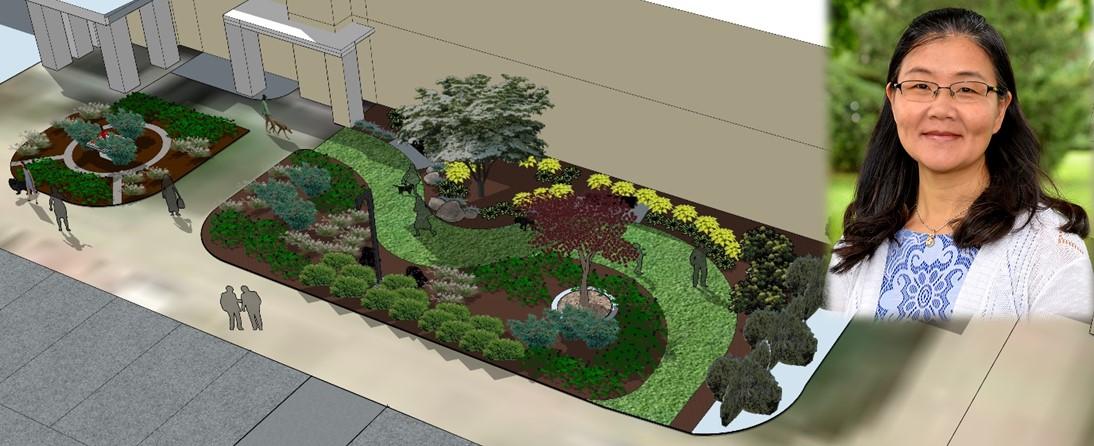 August 24, 2020
When IPF's Planning, Design and Construction (PDC) department recently underwent major organizational changes due to anticipated reductions in demand for new construction, Yun Cao, landscape architect, found herself presented with an opportunity to spread her wings.  
Cao's skillset, her oversight of last summer's Red Cedar Riverbank Restoration Project, and the fact that IPF's Landscape Services department was looking to integrate just such a position, led to Cao being transferred to that department, working under Matt Bailey, Landscape Services manager.  
Many employees find that a transition of this type takes time in order to get acclimated, but not Cao. She was eager to jump right in and prove to her new teammates that she was up to the task. 
The first project she was assigned involved renovation of the main entrance area at the Veterinary Medical Center (VMC).  
Cao recently presented two concepts to the donor family for the VMC project, with the Dean and department faculty present. They were so impressed with the extensive work she put into her design and presentation that they not only agreed to fund the project, they also agreed to set up an endowment for preservation of the area. 
We recently spoke with Yun and Matt about the work that went into this important undertaking. 
Q: Please tell us something about the project's background. 
MB: "Over three years ago, Landscape Services identified the need to update the area around the main entrance of the Veterinary Medical Center. Since that time, various members of my team, in collaboration with PDC landscape architects, have worked on the design and renovation of the site. Coincidentally, just before we were to begin breaking ground, a donor family came forward indicating their interest in improving the same area. When I showed them our proposed plans for the site, they were immediately interested in funding the project. After the renovations were complete, the donors were so impressed with what we had done that they wanted to fund additional projects at the site. Yun was just coming on board, and I thought this would be a perfect opportunity for her to show her skills."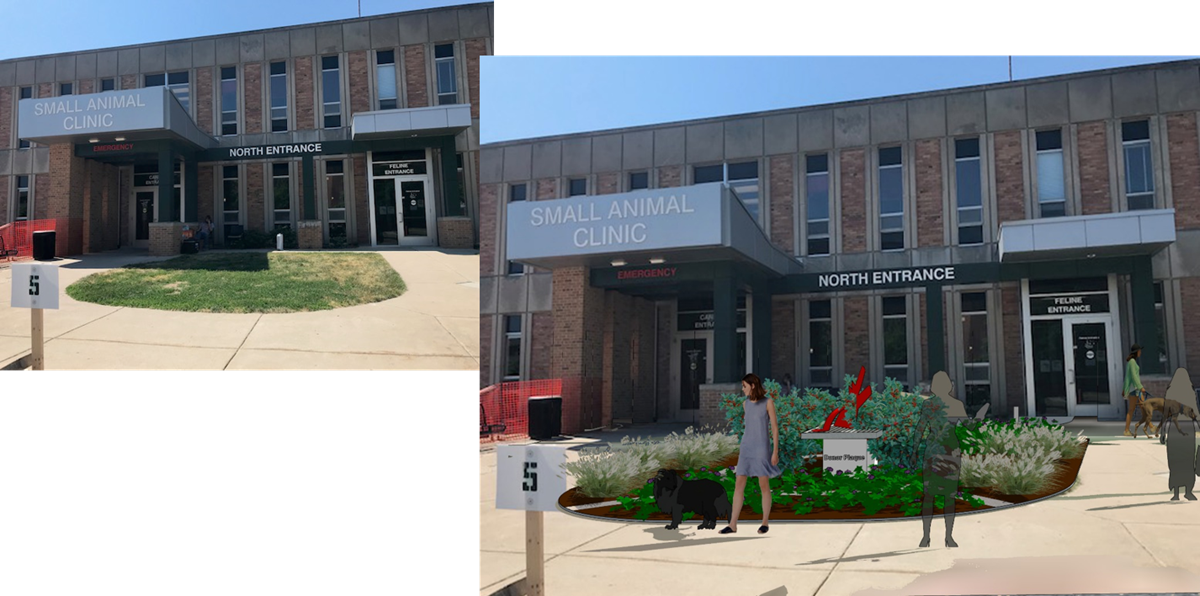 Q: How did you approach the concept for your design? 
YC: "Any project, no matter what size or complexity, always starts with site analysis, which allows the designer to understand the site's resources and limitations such as traffic pattern, pedestrian behaviors, major access, views, underground utilities, existing vegetation, etc. I also employ shadow analysis to understand the sunlight patterns which helps me choose the right plant materials for the conditions."  
Q: Have you been involved with similar projects in the past? 
YC: "In the past, I have been involved in city park projects including pet-friendly walks, but I've never designed a garden specifically for pets and their owners." 
Q: Were there any themes involved in your design?  
YC: "There is no particular theme, but I visited the site many times to understand the needs for the space. On my visits, I would see nurses bringing patients outside and one visit stuck in my mind. A dog with a wounded leg was walking outside. I wondered how the dog felt finally being able to return outside. Are they sensitive to the size of objects and potential smells? I don't have dogs at home, so I scoured the internet for information about their behaviors and tried to see things from the dog's perspectives. Of course, this space is not only designed for pets but also for peoples' use."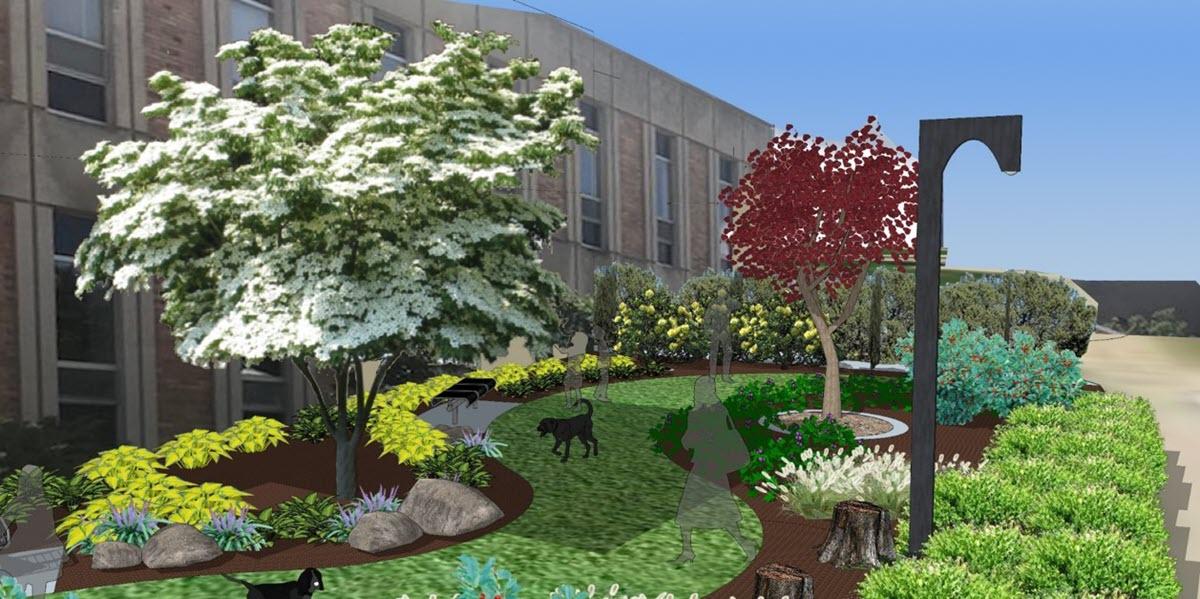 Q: What physical elements did you include in your design? 
YC: "With the limited space of the site, I used a curvilinear turf path to maximize walking area. Two benches are going to be incorporated into the garden for people to enjoy the outdoor space while waiting for their pets. Boulders and tree stumps are added into the space both for decorative and practical purposes. Low groundcovers and ornamental grasses will be planted adjacent to pathways to make the pathways feel larger. Medium-sized shrubs will be used by the sidewalk to create semi-private space for the garden. All plants utilized will be pet friendly to avoid sensitivity or toxicity. We are still working with the donor family to select the right sculptural element(s). Whatever is chosen, it will definitely highlight the purpose of the facility."  
Q: What is the timeline for this project? 
YC: "The design will be finalized by next spring, with tentative project completion by early summer 2021." 
Q: How will the endowment be used? 
MB: "Expenditures from the endowment will be used to provide an elevated level of landscape maintenance, landscape enhancements, and/or the addition of gardens or irrigation surrounding the College of Veterinary Medicine buildings. This would include renovation, maintenance and renewal to site furniture, statues, and other hardscaping. Primary attention will be paid to the main entrance gardens, and any additional funds may be used for ancillary gardens or landscape upgrades." 
Q: Has your transition to Landscape Services been a positive one? 
YC: "During my transition period, and to better understand my job duties, Matt Bailey and I biked around campus talking about the support needs of Landscape Services in which I could be involved. I've gained lots of design experience in my career and am very excited to finally have the chance to connect directly with our front-line staff who know the campus like the back of their hands. Their feedback on my work will be invaluable to my future designs."