IPF installs new and upgraded campus lighting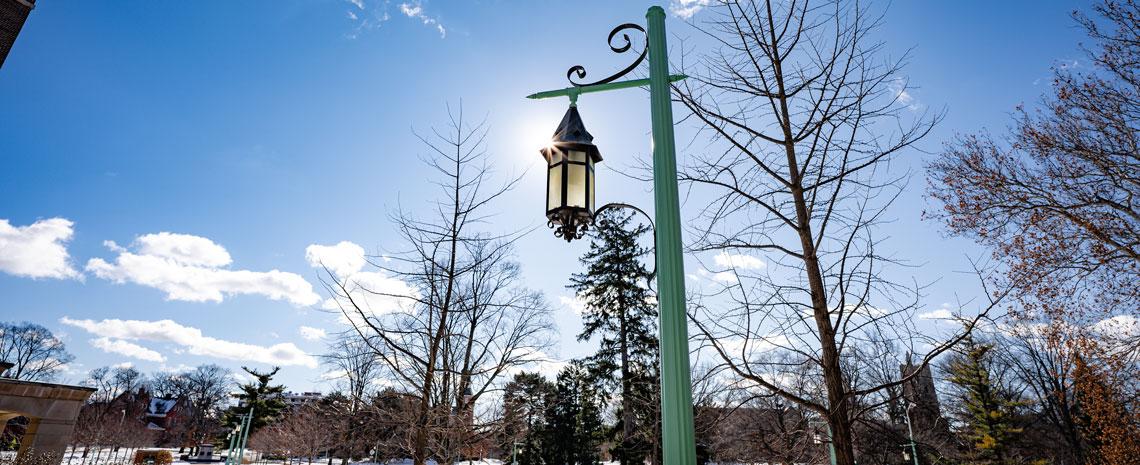 Danielle Fowler
September 8, 2022
Infrastructure Planning and Facilities (IPF) has recently completed a campuswide update of exterior lighting in coordination with the MSU Department of Police and Public Safety. The update will reduce MSU's energy usage and also increase safety for Spartans who are traversing campus at night.
The project has two main components: upgrading existing lighting with LEDs, known as relamping, and adding brand new lamps on MSU's East Lansing campus.
Almost 2,000 exterior lamps across campus—along roads, walking paths, and in parking lots—were upgraded to LED lighting which uses significantly less electricity and lasts much longer. In addition, over 1,000 new lamps were installed throughout campus.
"The original impetus for this project was safety and security," said Ken Beach, IPF electrical engineer and project lead. "Keeping Spartans safe is always our priority."
And though that was the primary goal, there were additional considerations for the scope of the project: sustainability and responsible stewardship of MSU's resources.
"We thought a lot about balancing improving safety across campus while also reducing our carbon footprint and being responsible with our funds," Beach said.
To this end, the crew utilized as many of MSU's existing fixtures as possible rather than replacing everything across the board. Because of this effort, the final cost of the project came in at a fraction of what IPF had expected during the initial project planning phase. 
"We're familiar with what we already have so we knew we could work with a lot of our existing infrastructure," Beach said. "Relamping existing fixtures hit all three of our goals."
Balancing the complexity of MSU's overarching goals and serving the Spartan community responsibly are major priorities for IPF.
 "This kind of knowledge, experience and discretion is what makes our teams so valuable," said Dan Bollman, vice president for Strategic Infrastructure Planning and Facilities. "Not only do they have the expertise, they have the knowledge and foresight to make decisions that maximize our impact and put the wellbeing of Spartans first. An outside company may not prioritize those goals."
The three-person street light crew who completed this project was electricians Clayton Duel, Mike Hamilton and Ron Taylor. "I want to make sure to acknowledge the tremendous effort our street light crew put forth," said Beach. "They've really made a difference for everyone who uses MSU's campus."