Wilson Road extension project complete with traffic signal now operating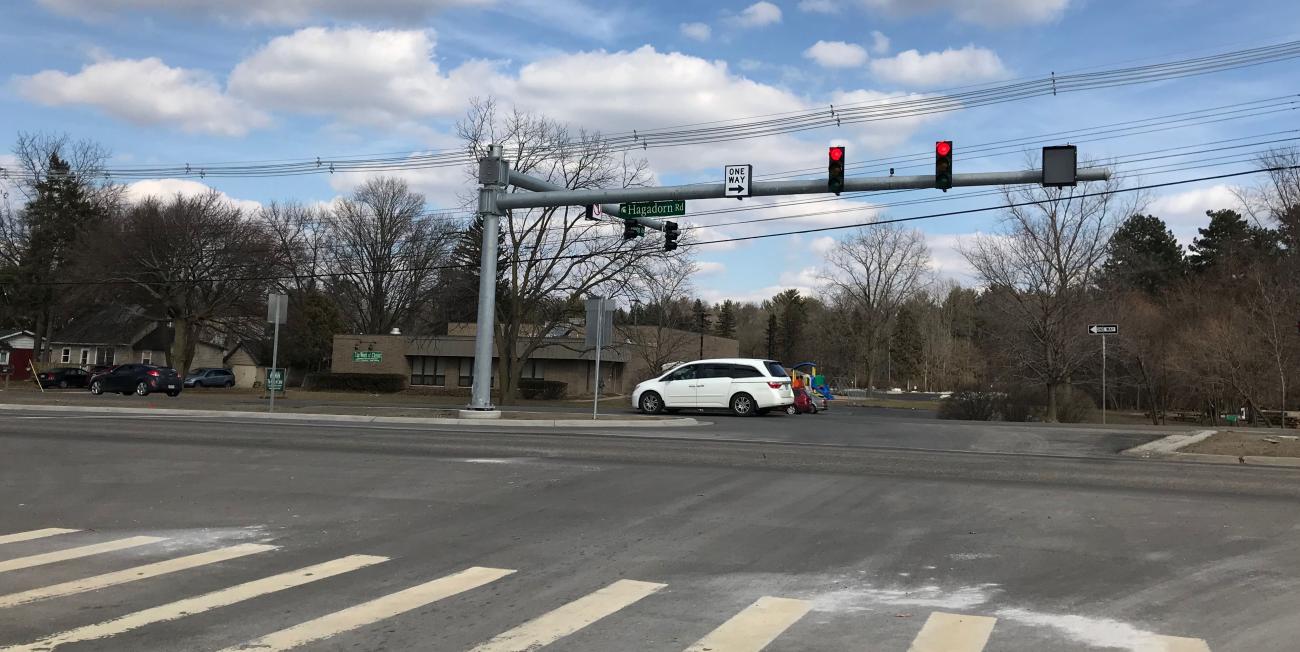 April 9, 2019
March 27, 2019
The recent activation of the traffic lights at the new intersection of Wilson and Hagadorn roads signals the start of smoother commuting for campus users.
The signal, which is coordinated with the nearby railroad crossing, is designed to reduce traffic congestion in the area. The activation of these lights marks the substantial completion of the Wilson Road Extension project, which was partially funded by a grant from the Michigan Department of Transportation.
"Collaborative efforts were essential in the success of the project," said Dave Wilber, IPF landscape architect III. "MSU's accounting team worked closely with the city of East Lansing's accounting team and with MDOT."
The project began as the result of a traffic study conducted regarding the effects on road congestion of the opening of the Facility for Rare Isotope Beams, which is projected to add an additional 400 staff members to campus. Previously, Shaw Lane was the only campus entrance off Hagadorn Road north of Service Road. Additionally, the parking lot driveways near Hubbard Hall were inadequate for the amount of traffic using them.
"There was definitely a need to improve traffic flow and safety for pedestrians, bicycles and motor vehicles," Wilber said.
The expansion of Wilson Road included not only changes to the road itself but also to parking lots by Fee Hall. The reconfiguration of the roadway resulted in the renaming of the previous north/south section of Wilson Road to Conrad Road and the addition of a new traffic signal where it intersects with Shaw Lane.  Pedestrian traffic also has been improved by this project push-button crossing systems and crossings that fully comply with the federal Americans with Disabilities Act.
Kudos for the hard work and dedication of all IPF staff involved in the project, especially to Planning, Design and Construction's Dave Wilber, Andy Linebaugh, Marc Trotter and John LeFevre.