Farm Lane Bridge Reconstruction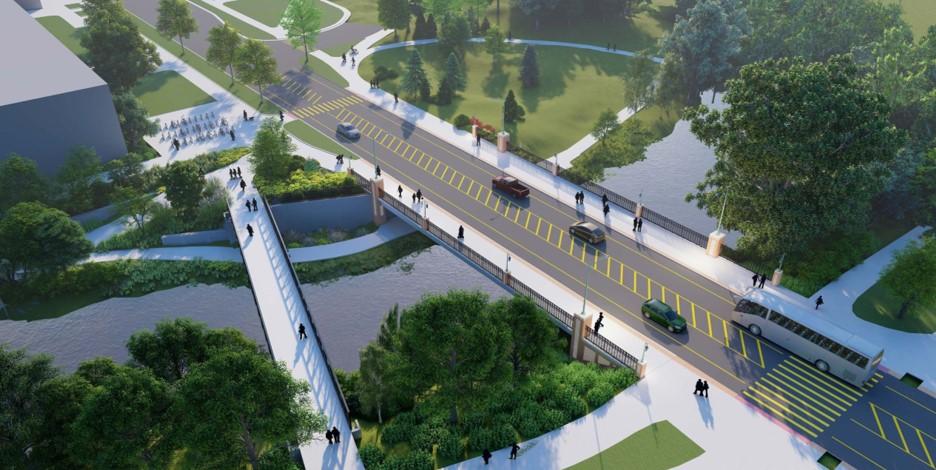 Overview of Scope:
The $44 million project includes demolishing and reconstructing the Farm Lane bridge, constructing a new pedestrian bridge, and resituating key utilities that the bridge carries. It also will reconstruct Farm Lane between Auditorium Road and North Shaw Lane, including those intersections.
The bridge and adjacent road intersections will be closed to vehicular traffic during summer semester 2023 to resituate the utility lines and construct the pedestrian bridge. During spring and part of summer semester 2024, the bridge, originally built in 1936, will be closed and rebuilt.
The MSU Board of Trustees authorized proceeding with the project during its February 2023 meeting.
Background:
Safety inspections in 2019 and 2021 resulted in the bridge's weight limits being reduced. The easternmost traffic lane on the bridge was closed in 2021 with northbound traffic shifted to the middle lane of the bridge.
The bridge is the main north-south traffic corridor through campus and is heavily used by pedestrians, bicycles and vehicles, carrying 12,000 vehicles and 7,000 pedestrians during a typical class day. It also serves as an important infrastructure conduit over the river for utilities that include electrical and telecommunication lines. Critically, it is the only campus bridge over the Red Cedar River with a road surface above the 100-year floodplain.
Timeline:
May-September 2023:
Farm Lane bridge closed to vehicles to allow for utility work.

It will remain open for pedestrian traffic.

Farm Lane road between and including the intersections with Auditorium Road and Shaw Lane will be closed and rebuilt.

New pedestrian bridge installed to the west.

Lot 38 will have spaces taken for construction during this time and will have its Farm Lane entrance closed permanently. 
September-December 2023:
Farm Lane bridge and new pedestrian bridge open for traffic.

Nearby sidewalk detours may be necessary.
December 2023-June 2024:
Farm Lane bridge closed to vehicles and pedestrians to allow for reconstruction.
Benefits:
Replaces key infrastructure on main artery through campus and coordinates utility work, including increasing capacity for future expansion and renovations.
Improves vehicular and pedestrian safety.
Installs barrier-free entry to the Rock and a pathway down to the river sidewalk.
Adds bicycle lanes on the main bridge.
Addresses several critical infrastructure needs by adding:

Electrical distribution for air conditioning demand on north campus.
Fiber optic/communication duct to provide additional capacity for data.
A water main that provides an alternate route to serve north campus. The existing two water mains under the river were built in the 1950s and 1960s.
A steam main that will provide an alternate route that is not susceptible to flooding.
Rendering of the new Farm Lane Bridge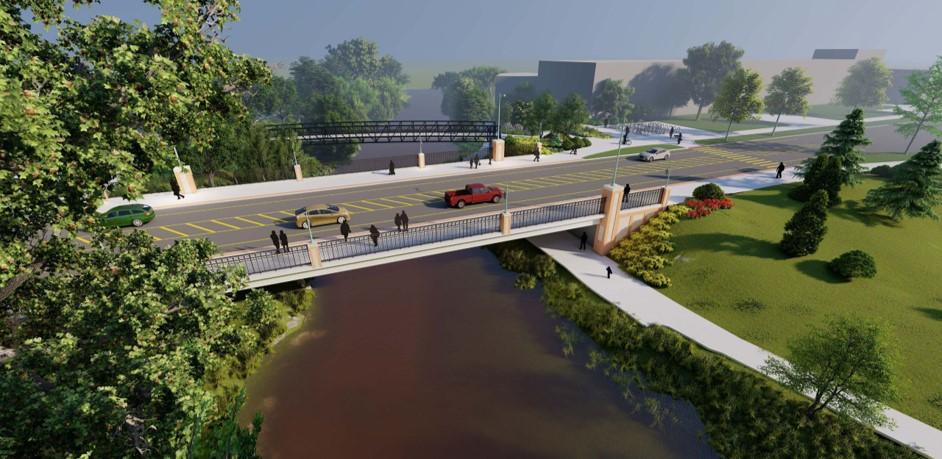 Historical Farm Lane Bridge Images
Courtesy MSU Archives.