Behind the Scenes @ MSU: Material & Logistics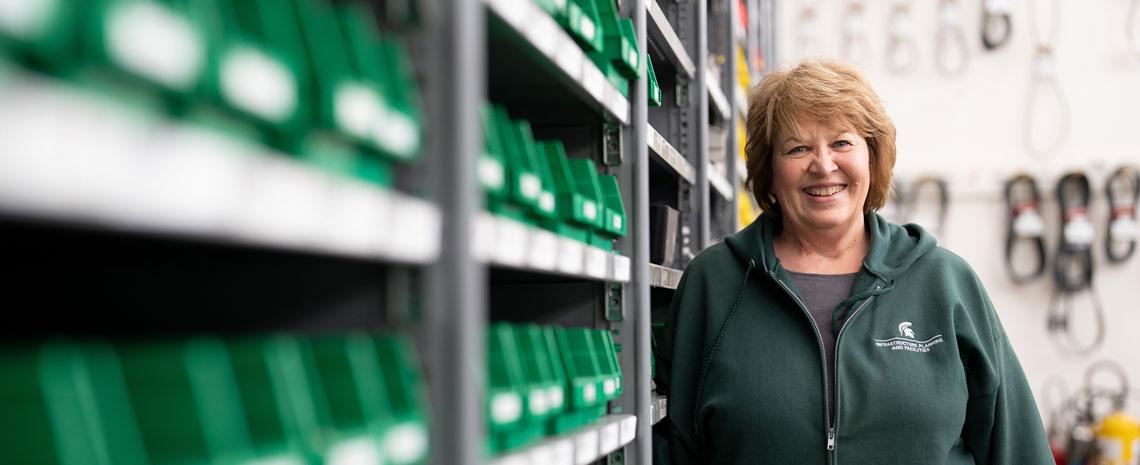 Danielle Fowler
May 10, 2023
The Material & Logistics department (M&L) in Infrastructure Planning and Facilities is one of the biggest operations on campus you've never heard about.
M&L provides receiving, staging, storage, distribution and logistical support to IPF's skilled trades workers. That means IPF's plumbers, electricians, metalworkers, HVAC specialists, carpenters, mechanics and painters always have what they need to do their jobs.
What does that look like? Major equipment rental, IPF vehicle fleet management, warehousing and storage, moving services, and one of the biggest parts of their operation: procurement.
"Tools, materials, equipment, vehicles—we're a one-stop-shop, complete direct support for everything they need," said Jeff Groll, manager of the Materials and Logistics department. "It's pencils, a pad of paper, pipe, valves and fittings, it's conduit, wire, breakers, devices, boxes. If we don't have it, we get it."
To accomplish this herculean task, M&L boasts over 42,000 square feet of storage space. The main stockroom features 16-foot-high ceilings with aisles and aisles of carefully catalogued resources. Skilled trades workers can visit the warehouse and "pick and pack" the specific parts they need for a particular job, like a Home Depot specifically for MSU infrastructure.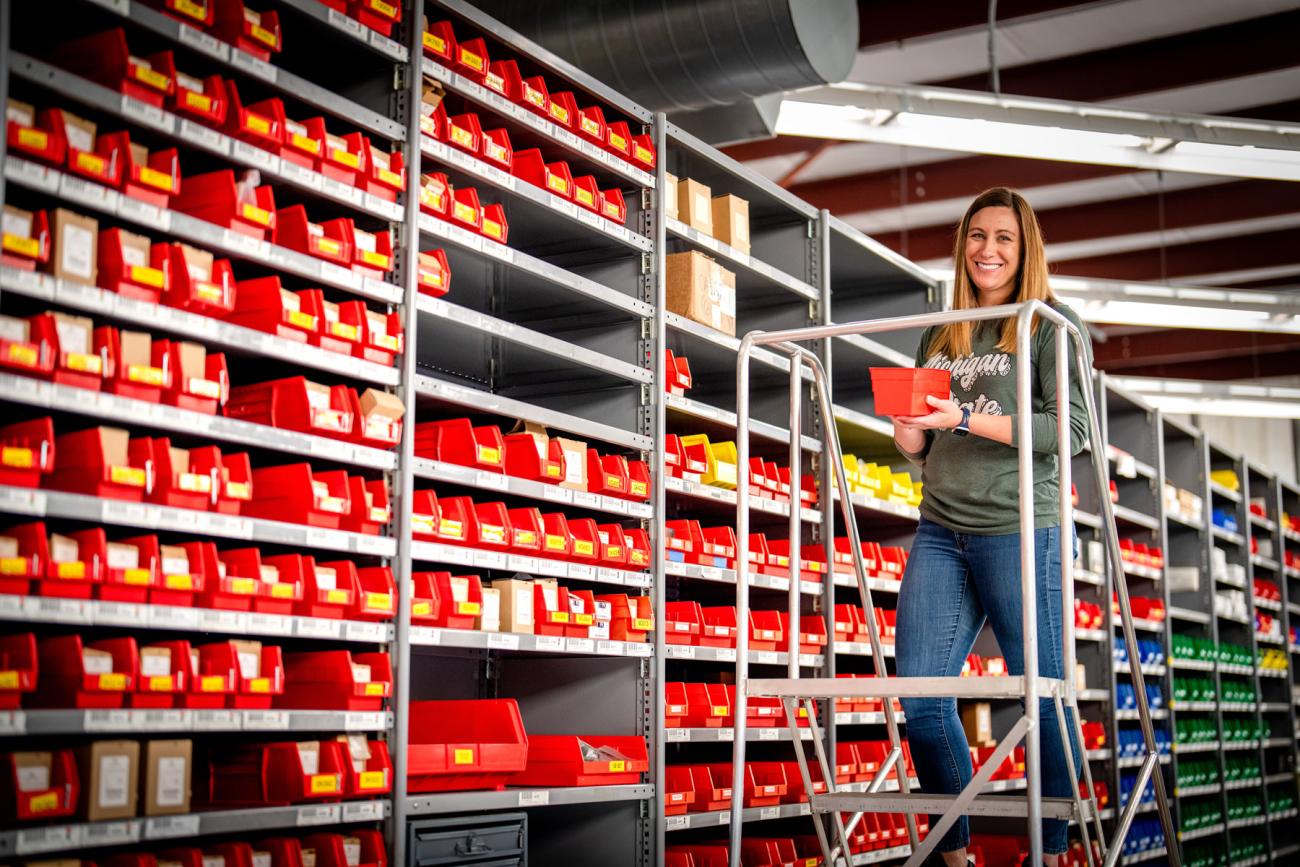 There's also a Tool Room with both power and hand tools that are common to all trades.
For what they don't have on hand, M&L places an average of 120 orders every day from over 330 vendors. "We order it for them, and we stage it and deliver it to their jobsite," said Groll. "None of our skilled trades workers can do their jobs without us doing ours, so it's important that we get it right."
Like other areas within IPF, Materials & Logistics operates 24/7, 365 days a year. It's impossible to predict what types of situations may arise: a maintenance issue, a damaged light pole, or any other type of work that MSU's ~570 buildings may need.
Not only does the Material & Logistics department take care of their IPF customers, they also responsibly steward MSU's resources in their procurement process, continuously increasing savings by bidding out purchases with vendors. From 2021-2022, purchasers at M&L saved the university over $604,000 through the bidding process.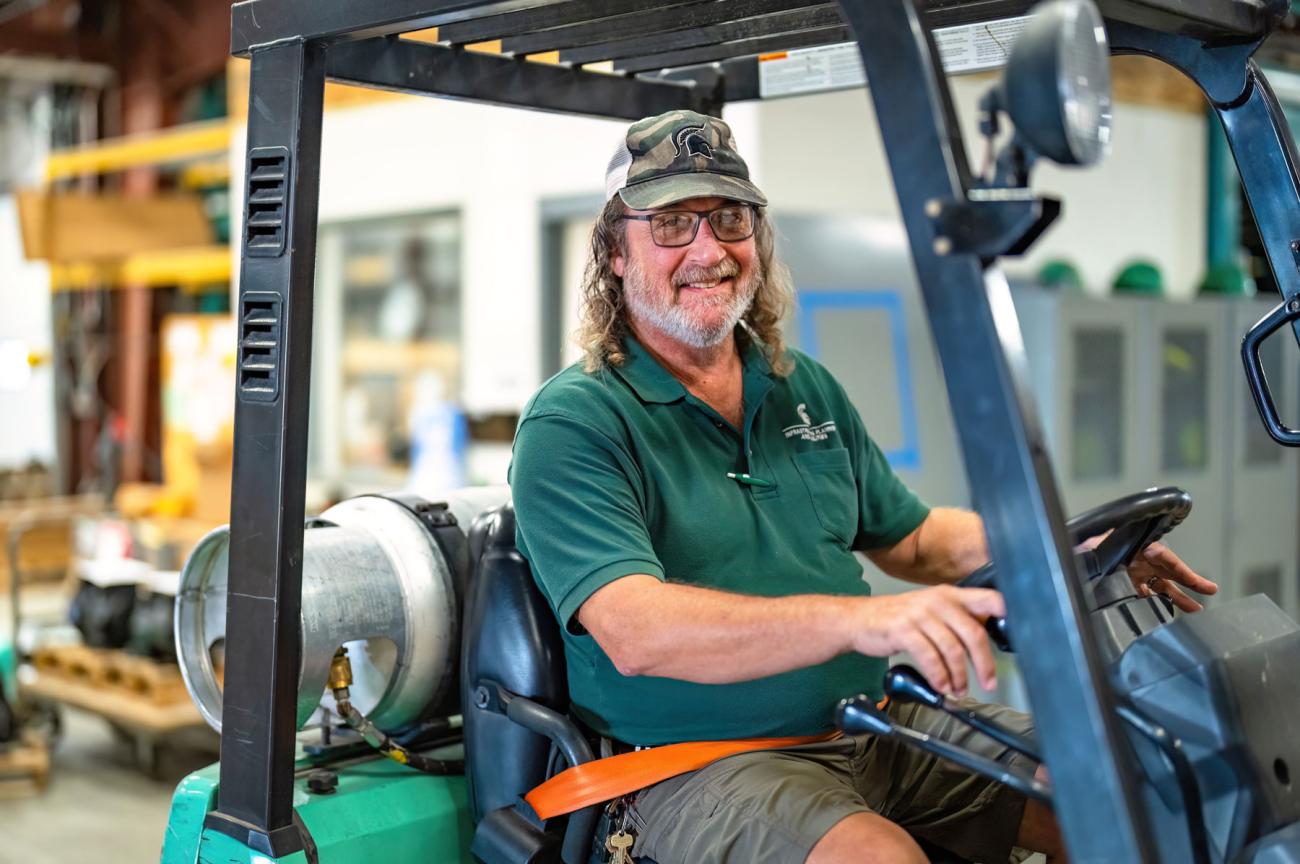 The Material & Logistics team is also one of the best in the business in inventory management.
A little bit of inventory management 101: inventory variance is the difference between the records of the stock a business has (their "books") compared to what's physically present in the store or warehouse. This happens in all businesses, and the goal is to make this number as small as possible (or, in other words, successfully track every individual screw and coupling that's ordered and used by IPF).
Last year, Material & Logistics had an inventory variance of less than 1% with an average of .52% over the last five years. Anything less than 2% is considered high performance, and anything less than 1% is industry standard best-in-class.
M&L worked with MSU's Department of Supply Chain Management to review their existing processes and implement a system called "ABC analysis" that allows M&L to accurately track its inventory on a regular basis. "We have the number one school of supply chain management right here in our front yard," said Groll. "It made sense to work with their graduate program to refine how we do business."
Learn more about IPF's Material & Logistics: More than setting the stage: the IPF Setup Crew