Downed MSU trees find new life on campus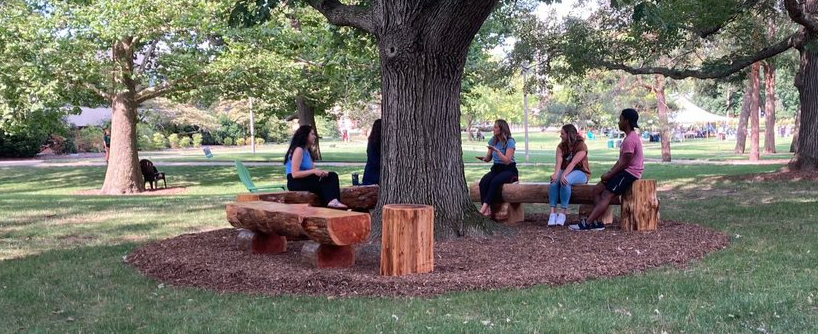 Danielle Fowler
July 27, 2022
MSU's East Lansing campus is an urban arboretum, home to over 20,000 trees of various species including White Oak, Norway Spruce, Eastern White Pine, and many more. But what happens when trees need to be removed because of damage, safety concerns, or new construction?
Arborists at IPF, in continuous collaboration with the Department of Forestry, the Office of Sustainability, and the Beal Botanical Garden, are committed not only to maintaining but also improving our arboretum by following a one-for-one replacement policy with various tree species that thrive in Michigan. Over 300 trees were planted in 2020 alone.
The trees that are removed are not discarded but are used in a few different ways. Some are turned into mulch, which is then used in MSU's landscaping beds. Others are used for more creative pursuits and are worked into beautiful furniture by local craftspeople as part of the MSU Shadows Collection.
IPF's Landscape Services also uses downed trees to craft outdoor furniture that stays right here on campus. Last year IPF worked with the College of Education to install seating areas outside of Erickson Hall, and recently worked with the College of Veterinary Medicine to create more modern-style pieces.
"The furniture can be used as an outdoor classroom or a small group meeting area," said Yun Cao, a landscape architect with Landscape Services. "It's also a place where students, faculty and staff can gather to just enjoy the outdoors."
Are there plans in the works to create more pieces like this? "We're still in our first phase of entrepreneurship," said Cao with a smile. "When we sell these pieces to our clients, we'll use the funds to plant more trees on campus. It's a sustainable cycle that benefits Spartans in more ways than one."
Learn more about MSU's tree history on MSU Today, see all of MSU's trees on the MSU Tree Map, and find a new place to explore with a guide to campus natural areas.