Hidden Lake Gardens : Events
Tuesday, April 11, 2023
7:00 p.m. - 8:30 p.m.
Seed Ball Making Workshop
All ages
Join Lee Walsh to learn how to make your own seed balls and to experiment with this method for your own garden. Seed balls are an easy and sustainable way to grow clusters of plants anywhere as the technique aides in germination, produces higher germination rates and is useful for tiny seeds that are difficult to handle. Please plan to bring $5 to cover the cost of seeds. Garden admission is waived for all attendees of this event.
Tuesday, April 18, 2023
7:00 p.m. - 8:00 p.m.
Earth Day Celebration at Hidden Lake Gardens
All ages
Learn about the benefits of trees and observe a tree planting ceremony with local scouts. Each family will receive a tree seedling to take home. Please meet in front of the Visitors Center. Sponsored by the Tecumseh District Library.
For questions, contact Hidden Lake Gardens 517-431-2060, hlg@msu.edu or Chuck Harpst 517-423-2238, charpst@tecumsehlibrary.org.
Friday, April 28, 2023
10:00 p.m. - 4:00 p.m  
Bonsai Courtyard Opens
All ages
A sure sign of spring, the bonsai return to the courtyard after spending winter in the new bonsai storage facility.
Tuesday, May 9, 2023
7:00 p.m. - 8:30 p.m.
River Raisin Watershed Council Presentation
All ages
Saturday, May 20, 2023
8:00 a.m. - 4:00 p.m.
Hosta Leaf Show and Hosta Sale
Sunday, August 20, 2023
8:00 a.m. - 4:00 p.m.
Tuesday, September 12, 2023
7:00 p.m. - 8:30 p.m.
Avian Experience with Owls
Saturday, September 16, 2023
9:00 a.m.
Run for the Hills!  1 Mile & 5K Run / Walk
All ages
The hilliest course in southeast Michigan!  All participants will receive a T-shirt and participation medal.
Virtual race will also be available and can be completed off-site or on-site beginning September 17th through October 1st, Tuesday - Sundays only.
Registration information for both types of races coming soon...
Sunday, September 17, 2023
10:00 a.m. - 6:00 p.m.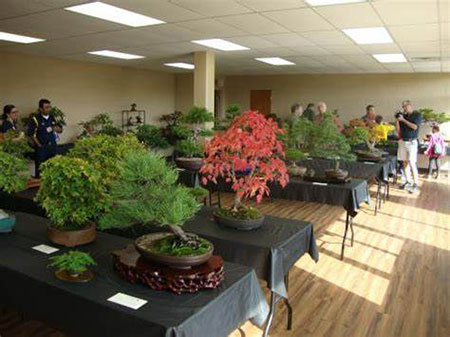 The Art of Bonsai
A bonsai show along with bonsai inspired art returning for the first time since 2019. Event to also include a bonsai bazaar with a variety of vendors, demonstrations by highly experienced bonsai artists as well as an introductory presentation on bonsai. A complete schedule of events to be posted soon.
Saturday, October 7, 2023
10:00 a.m. - 2:00 p.m.
Hog Warts and Toad Bellies:  The Magic of Autumn at Hidden Lake Gardens
All ages
A family-friendly fairy tale festival featuring art and craft vendors, local authors, guided nature walks (including the Fairies Way and A Knight's Adventure trail), storytelling and music performances, workshops and classes, a fairy tale picnic, and more! $5.00 per person entry fee, max $20 per family.
Tuesday, October 10, 2023
7:00 p.m. - 8:30 p.m.
The Benefits of Controlled Burns of Natural Areas Presentation
Friday, December 29, 2023
6:00 p.m. - 9:00 p.m.
All ages
Under the Silver Moon Walk
The clear dark of wintry nights, the stars shine with spreading light, our luminaries of eve shimmer for thee under the silver moon bright.
Come celebrate light and shadow at our first annual Under the Silver Moon Walk. This magical after-hours event will include a trail of luminaries to light your path from the Visitor Center, around the lake, and into the forest to experience our canopy walk in the darkness. All Conservatory biomes will also be open to enjoy and explore the beauty within.
This will be a self-guided walk and will require proper attire for winter trekking. Bring your flame-free lanterns or flashlights as you wind through our sleepy forest celebrating our inner light that shines brightly through the year.
Save this date! It is only cold outside if you're standing still, so let's get walking at Hidden Lake Gardens UNDER THE SILVER MOON!