Hidden Lake Gardens
Open Tuesdays - Sundays, 9:00 a.m. to 5:00 p.m.
Sky Walk & Conservatory Open 10:00 a.m. to 4:00 p.m.
Gift Shop Open, Now Tuesdays - Sundays, 10:00 a.m. to 4:00 p.m.
6214 W Monroe Road (Hwy M-50) Tipton, MI 49287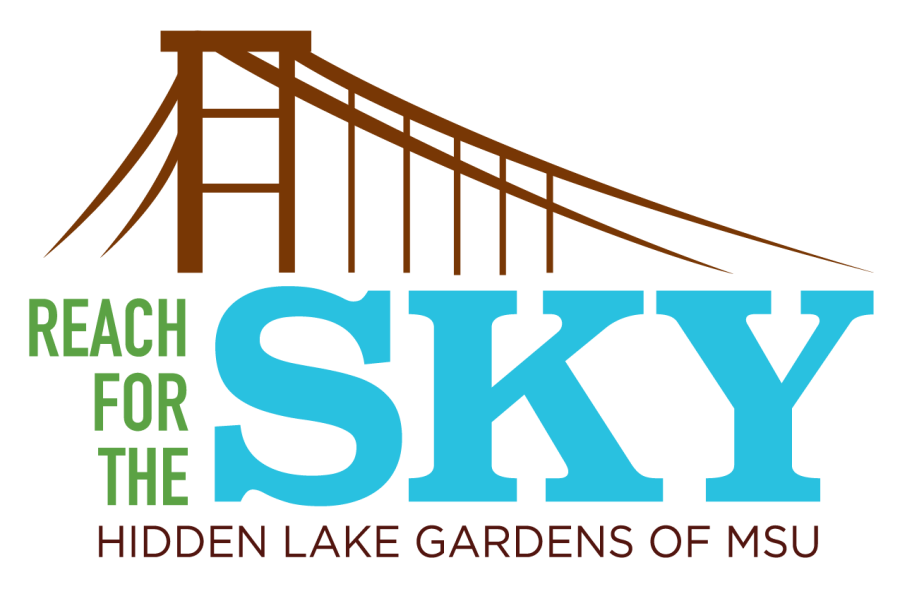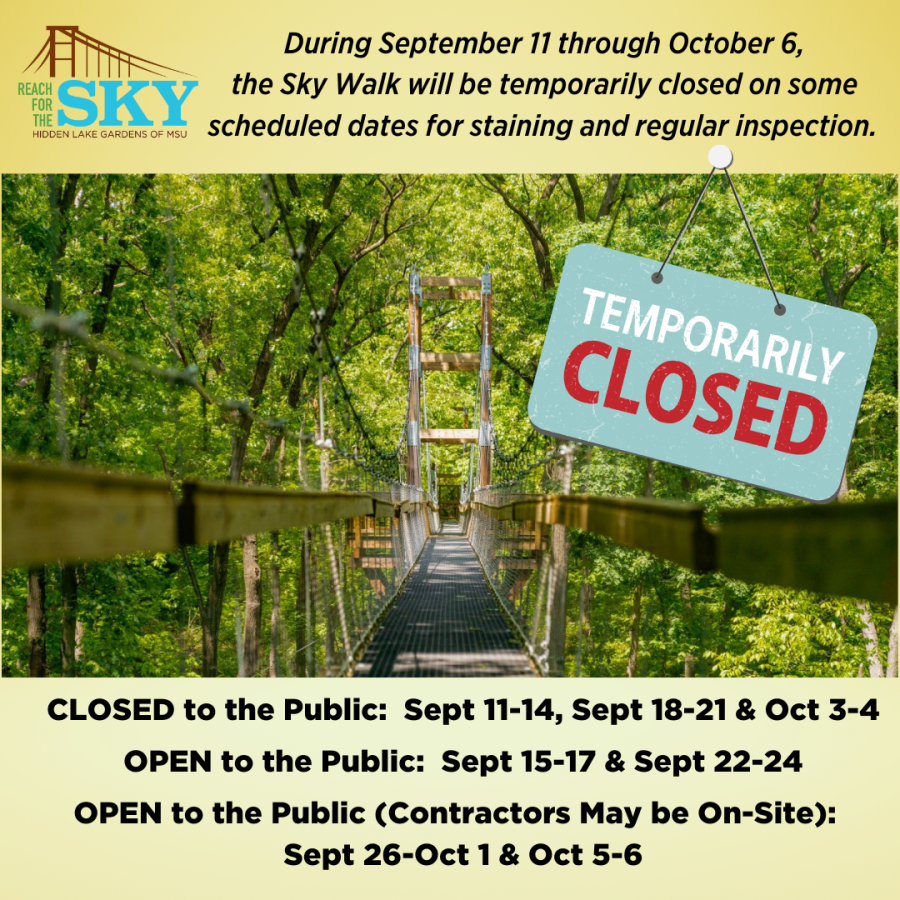 Important to Note:  The Sky Walk is a 1/2 mile walk from our Visitors Center.  A portion of the trail is a gravel path with a steep incline.  A multi-use trail with improved walking conditions will be available later this year.
Sky Walk Closure:  The Sky Walk will be closed temporarily for staining and regular inspection on September 11-14, September18-21, and October 3-4.  It will be open all other dates Tuesdays through Sundays in September and October, but please be aware contractors may be on-site working over September 26 - October 1 and October 5-6. 
Volunteer docents needed at our Sky Walk!  We have recently launched a new volunteer maganagement system to streamline volunteer applications and scheduling.  If you have been considering becoming a volunteer, there has never been a better time.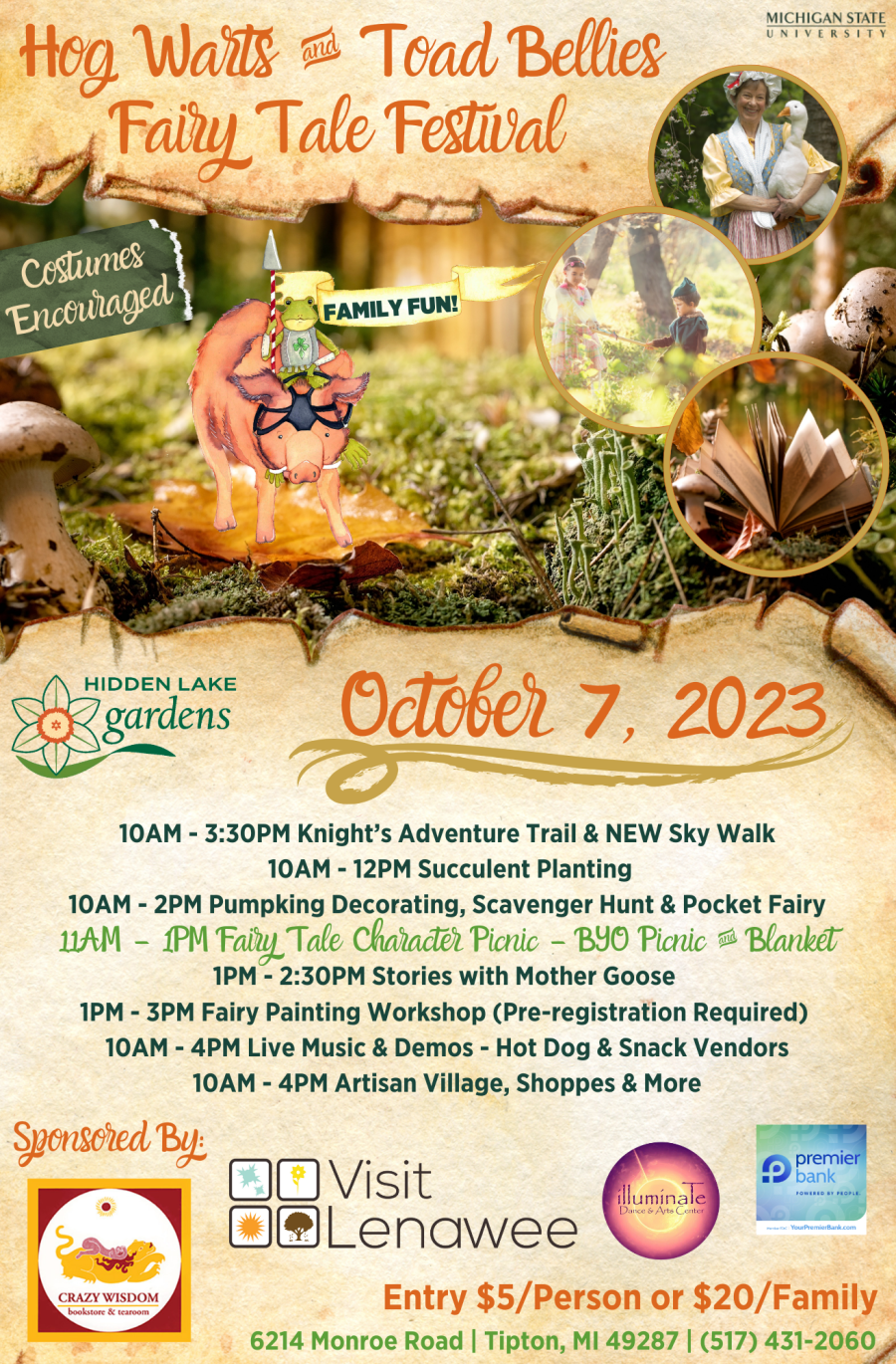 Come experience our all new fall festival on October 7, 2023!  It will be a day filled with family fun starting at 10:00 a.m.  Become a knight on the Knight's Adventure Trail, search for Gnomes and other creatures around Hidden Lake Gardens, and hear stories by Mother Goose herself.  Make sure to check out our full schedule of demonstrations and live music at our Gazebo, including the opportunity to be "knighted" on the hour.  DIY stations for pumpkin painting, succulent planting, and the 'Fairy in Fall' canvas painting workshop (pre-registration for this activity only).  Bring your own picnic and blanket or purchase treats from our snack and hot dog vendors to picnic with your favorite Fairy Tale characters. Browse the countless selection of nature-base crafts and ware at the Artisan Village & Shoppes.  Don't forget to visit our NEW Sky Walk for the first time or to see it again this time anew with fall color!  Sponsored by the Crazy Wisdom Community Journal, Visit Lenawee, Premier Bank and Illuminate Dance & Art Studio.  Learn more at Hog Warts & Toad Bellies Fairy Tale Festival | Infrastructure Planning and Facilities (msu.edu)