Reach for the Sky Canopy Walk
IMPORTANT TO NOTE:  The Sky Walk will be open year-round, weather-permitting, Tuesday through Sundays 10:00 a.m. to 4:00 p.m.  Any necessary closures due to weather or other unexpected occurrence will be posted on our website and Facebook page.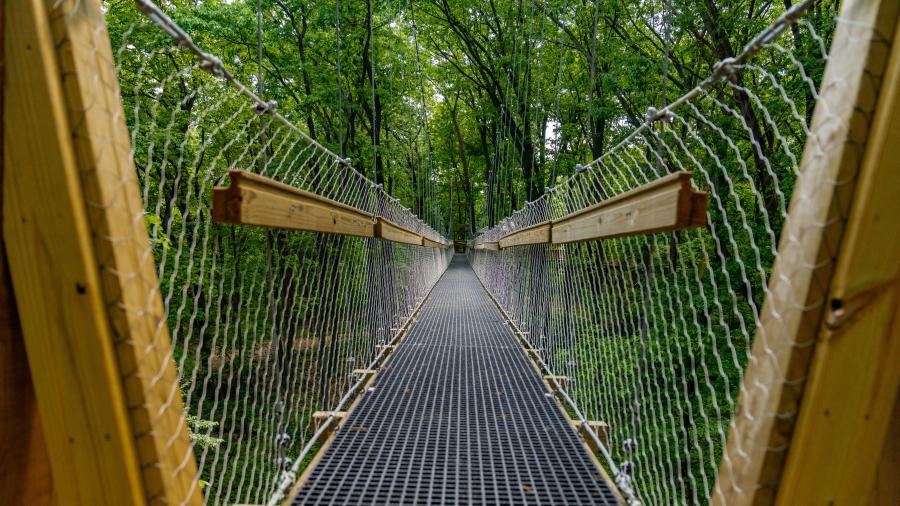 Funded through our Reach for the Sky initiative, this at-tree-level walk allows visitors to experience the tree canopy like never before with ways to connect with nature via up-close observation of leaves, branches, birds, insects and other woodland wildlife above the ground.
This one-of-a-kind contemporary attraction will appeal to both local residents and tourists while contributing to the cultural setting of the Lenawee, Jackson, Hillsdale and Washtenaw County communities. The project is designed to provide significant opportunities for education, outreach, research, visitor experience, tourism and economic development. 
HOURS
10:00 a.m. to 4:00 p.m.
Tuesdays through Sundays, April to October
Open November to March, weather permitting.
COST
Included with General Admission or Membership
THE JOHN AND SUSAN GRUEL MEMORIAL NATURE TRAIL
Coming Soon!!!  Hidden Lake Gardens is installing a new multi-access trail to connect the Trailhead Parking lot to the Sky Walk. This one-third mile natural trail will enable visitors of varying abilities to traverse through the woodland enroute to the Reach for the Sky Canopy Walk.  The Sky Walk is wheelchair accessible, and, once completed, this new trail will provide hikers utilizing wheelchairs, strollers, or assistive devices for walking the opportunity for an engaging nature experience.
Contributions to the John and Susan Gruel Memorial Nature Trail can be made in the Gift Shop, via telephone by calling Hidden Lake Gardens at 517-431-2060, or mailing a check made payable to Hidden Lake Gardens, 6214 W. Monroe Road, Tipton, MI 49287
John Gruel was a passionate enthusiast for nature and an amazing ambassador of Hidden Lake Gardens and its Reach for the Sky Canopy Walk.  Your gift will honor John's support in the form of this new Nature Trail.
SPECIFICATIONS
The Sky Walk, built from Southern Yellow Pine, stands 65 feet above ground level at its highest point suspending visitors over a glacial kettle hole, showcasing the unique topography and peaceful forest of Hidden Lake Gardens. The suspension bridge is 374 feet in length with the entire structure encompassing 726 feet.  Phoenix Experiential Designs, located in Sugar Grove, North Carolina, designed the attraction for safety and enjoyment using mostly natural materials to blend in with the woodland environment.
REACH FOR THE SKY CANOPY WALK FAQ
Here are answers to some of the most frequently asked questions about the Sky Walk at Hidden Lake Gardens. Have a question that's not answered here? Contact us. 
Are animals allowed on the Sky Walk?

For the safety of our guests, animals are not permitted on the Sky Walk.  In the instance you plan to bring your pet to the garden and would like to visit the Sky Walk, please plan to bring one or more accompanying guests with you to take turns crossing the Sky Walk. Please see our general

Frequently Asked Questions

for more information on bringing a pet to Hidden Lake Gardens. For individuals requiring a service animal, please call in advance.

Service Animal Policy | MSU - Resource Center for Persons with Disabilities.

Where should I park to visit the Sky Walk?

The closest parking available to the Sky Walk is the Trailhead parking lot.  Locate by following the canopy walk signs.  If Trailhead parking lot is full, visitors will be redirected to parking at our Visitors Center and Conservatory.

Where is the Sky Walk at Hidden Lake Gardens?

The Sky Walk is about a ½ mile walk from our Visitors Center parking lot and a ¼ mile walk from our Hiking Trails parking lot.  Access walkways are a combination of paved, gravel and woodchipped surfaces and include an uphill walk with a steep incline in some areas.  Participants must be in reasonably good walking and heart health condition. 

Is there a special ticket or fee to visit the Sky Walk?

Visitors can experience the Sky Walk at no extra cost.  The attraction, along with all other attractions at Hidden Lake Gardens, are available for our daily admission fee or included with your annual membership.  Timed tickets may be offered to Sky Walk visitors at no additional cost on especially busy days to prevent long wait times.

Is the Sky Walk accessible?

The Sky Walk is 36" wide and wheelchair friendly.  However, the approach to the Sky Walk is challenging for people using assistive devices for walking or a wheelchair. If you need reasonable accommodation, please call at least a week ahead to arrange.  

We look forward to opening our multi-use pedestrian trail later this year.  Reasonable accommodation reservations will not be available until the trail is complete.

Are stroller/wagons allowed on the Sky Walk?

Yes!  The Sky Walk is designed for stroller, wagon and wheelchair use as well as other assistive devices. However, the current approach is gravel with a steep incline in one portion and may be difficult to push and maneuver strollers, wagons, wheelchairs, etc.  We look forward to opening our multi-use trail later this year.

Is there a weight limit on the Sky Walk?

There is no individual weight limit for the Sky Walk.  Each span of suspension bridge is limited to a maximum of 10 individuals at any given time.  This standard was designated for the utmost safety and allows 10 individuals of any size to cross safely well within the designed limits.  A staff member or volunteer will be at the entrance of the Sky Walk, when open, to enforce the limit of 10 individuals.

Are restrooms available near the Sky Walk?

Portable restrooms will be available near the Sky Walk and will include wheelchair accessible facilities.  Conventional restroom facilities are available inside our Visitors Center and in our exterior restroom building located just outside our Visitors Center.

Will the Sky Walk be open during inclement weather?

Certain severe weather conditions, such as thunderstorms, heavy rains, high winds or snow, may require the Sky Walk to evacuate or close for unscheduled periods for the safety of our guests.  Any unexpected closures will be announced over our phone message, website and Facebook pages.

Does the Sky Walk receive regular maintenance?

The Sky Walk receives regular inspections and maintenance to ensure the highest level of safety by the original installation team, Phoenix Experiential Designs.

Are drones allowed on the Sky Walk?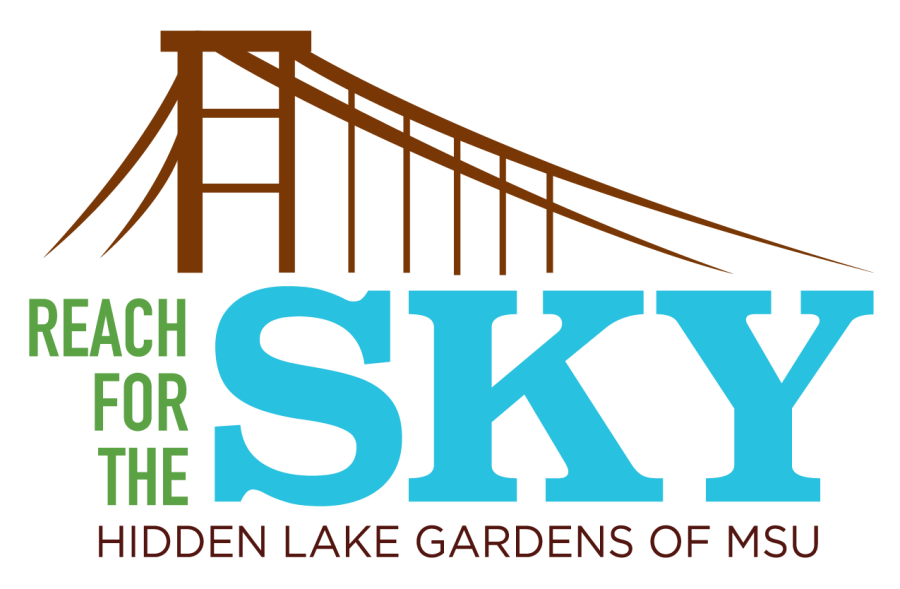 GENERAL ETIQUETTE
Please help keep Hidden Lake Gardens healthy and beautiful for the benefit and education of all by respecting the exhibits, grounds, trees, and plants. 
Be aware a visit to the Sky Walk involves a ½ mile walk from our Visitors Center leading to bridges that sway and move that require walking up and down on decking and uneven surfaces. If you are unable to perform these tasks, please do not use the Sky Walk.
For the health, safety and enjoyment of all visitors, please adhere to the following rules below.
Use railings at all times.

Speak softly and refrain from yelling to avoid startling others or disturbing nature.

NO more than 10 people on each suspension bridge at one time.

NO climbing or sitting on railings.

NO running, bouncing or swaying on suspension bridges.

NO throwing or tossing items over suspension bridges.

NO food or open beverages are allowed.

NO smoking, vaping or tobacco use is permitted.  The entire Hidden Lake Gardens campus is a non-smoking property.

All children under the age of 18 must be accompanied by an adult.

All personal items must be secure.  Guests are encouraged to properly secure any loose personal items, such as jewelry, keys and cell phones.  Loose objects may fall out of pockets or off platforms and become lost, damaged, broken or a safety risk for guests and/or staff underneath the attraction.

Guests must be able to comprehend and follow all safety instructions.

Guests must be in reasonably good walking and heart health conditions to physically walk/climb through the entirety of the Sky Walk and maneuver through bridges and decking elevated at various heights.    

Appropriate footwear is required.  Shoes must be secure and suitable for walking across the open-air decking of the suspension bridges.  Examples of appropriate footwear include sneakers, hiking shoes, boots and other similar flat, secured footwear.  High heel and wedge-type footwear are not ideal for this activity. 

Proper precautions for sun, insects and staying on trails to avoid poison ivy highly recommended.