IPF names new Ast. Vice President for Real Estate and Capital Planning
November 22, 2021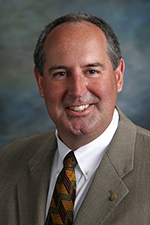 MSU Infrastructure Planning and Facilities has named Dick Temple as IPF's new assistant vice president for Real Estate and Capital Planning. He will report to Dan Bollman, vice president for strategic infrastructure planning and facilities.
In the newly created assistant vice president position, Temple will provide greater visibility and focus to the university's approach to land acquisition and development, as well as lead a strategic approach toward real estate endeavors, and expansion and development opportunities, consistent with the university's new strategic plan.
Temple comes to IPF from the MSU Office of the Executive Vice President for Health Sciences where he was responsible for facility and real estate strategy, and oversaw properties in Grand Rapids, Flint, East Lansing and Detroit. He also played a critical role in the development of the Grand Rapids Innovation Park, which now includes the 163,000-square-foot Grand Rapids Research Center and the 200,000-square-foot Doug Meijer Medical Innovation Building, the 135,000 square-foot Perrigo North America Headquarters and a 600-space parking deck.
Previously, he worked in the private sector at URS Corp. as principal-in-charge of its Michigan higher education practice, and The Christman Co. as pre-design manager, among other positions. Additionally, he is a licensed architect and a LEED Accredited Professional with a bachelor's degree in business administration and a master's degree in architecture from the University of Texas at Austin.
The search committee was composed of:
Dave Brewer (Chair), Director, IPF Building Services

Charles Hasemann, Assistant Vice President, Innovation & Economic Development

Jerry Kooiman, Assistant Dean, College of Human Medicine

Barb Kranz, Assistant Provost, Institutional Space Planning and Management

John LeFevre, Director, Planning, Design & Design

Chuck Reid, Director, Real Estate Operations

Michelle Rutkowski, Senior Human Resources Office, IPF Human Resources
---
Since its founding in 1855, MSU has operated from its main campus in East Lansing, which now comprises about 5,200 acres. But the university has grown far beyond its roots in East Lansing with significant properties and operations in Detroit, Grand Rapids and Flint. 
In total, the university owns more than 26,000 acres in more than 20 counties, such as the 5,760-acre Dunbar Forest in Chippewa County and the 3,900-acre Kellogg Biological Station in Kalamazoo County. It also runs the Grand Rapids Innovation Park, a health care innovation hub that features multiple research buildings, and the MSU College of Human Medicine headquarters in downtown Grand Rapids. MSU has 564 buildings totaling 24.8 million square feet, most of that on the East Lansing campus.
To better focus the university's approach to land acquisition and development, IPF formed the Office of Real Estate and Capital Planning, which is made up of these departments:
Planning, Design and Construction, which plans and manages major capital construction projects
Real Estate Operations, formerly called the Land Management Office, which leads real estate and leasing operations, and property management for multiple off-campus locations
Campus Planning, which guides campus land use consistent with the university's master plan
Capital Renewal, which oversees how IPF identifies and prioritizes infrastructure maintenance projects